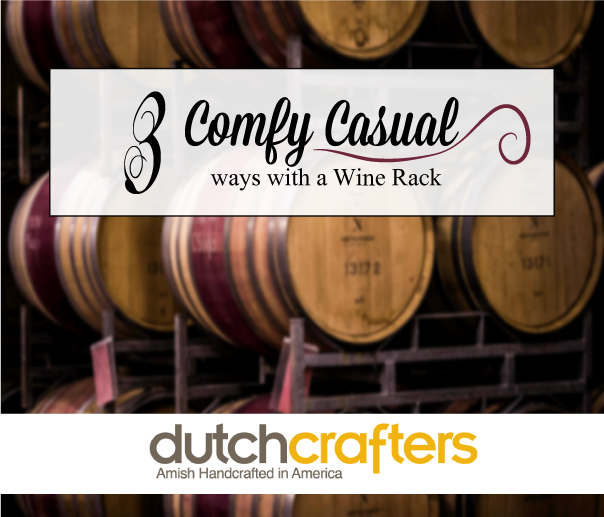 3 Comfy Casual Ways with a Wine Rack
I heard this myth that most homes in rural France have small wine cellars, just like the rest of us (Stateside) have cluttered basements. Now, I don't know if that's true, but if it is? They're missing out on a classic, convenient wine rack. One of these three will look at least twice as good as wandering down to the basement for a refill.
Wine Rack 1: The All-In-One Solution
For your game room, your family room, your man cave . . .
The Amish Napa Wine Serving Bar contains a wine rack, saving you from running to the kitchen to open the next round. The doors open with plenty of built in storage for glasses and shelves to house party bowls, candles, your ice bucket, coasters, cocktail napkins and all the essentials for serving. The gorgeous solid wood doors close up neatly, keeping everything compact and tidy when the party is over.
Additionally, this wine cabinet helps you to follow rule #1 of wine storage: Don't leave your wine bottles exposed to sunlight. By tucking them behind closed doors, you can be sure your favorite beverages age gracefully.
Wine Rack #2: The Bar Cart Buddy
A solid wood, immaculately made, freestanding wine rack next to a mid-century modern bar cart? Yes, please. The combination keeps the vibe of the room fun and retro without veering into college-apartment territory. The wine storage in this case wins extra points for coordinating with the vintage bar signs and providing extra space for extra glasses – because if there are good times to be had, it's best to be able to share them!
Wine Rack #3: Debonair Dining Room Attendant
If you were holding out for an elaborate wine rack to go with an ostentatious dining room, you won't find one in this post. A pub table set for four friends at brunch is only as fancy as you please in this Sunday-morning sort of space. Placing the wine tower in the corner keeps those clear white wine bottles aways from the sun (where the taste begins to deteriorate in less than 30 minutes) and also frees up space in a room that's on the smaller side. Matching the woods and stains – even down to the baseboards, in this case! – amps up the backbone of the room.
The result is put together without putting anyone off. Now, who's ready for lox 'n eggs?