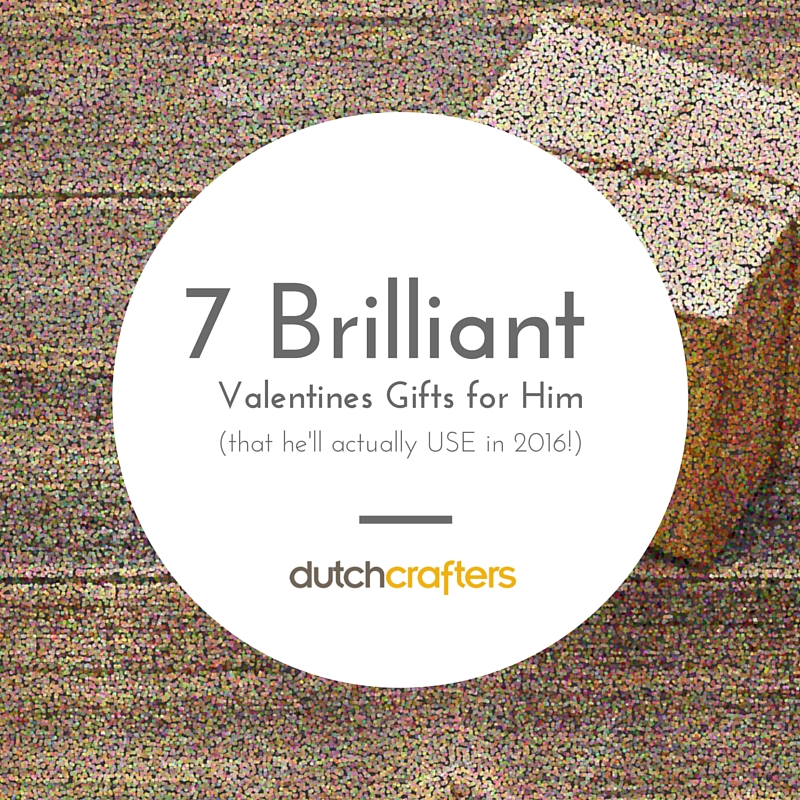 7 Brilliant Valentines Gifts for Him to Use in 2016
When was the last time you bought Valentines gifts for him? What were they? A red and pink tie one year, a cheeky pair of socks the next, a steak dinner?
Ok, I can't argue with that last one.
On the whole, we seem to forget that our Valentine's Day involves loving, thoughtful gifts for both sexes.
With that reminder, we present some inspiring Valentines gifts for him that won't succumb to disuse, mothballs, or the test of time.
Or his appetite.
10 Brilliant Valentines Gifts for Him to Use in 2016
We'll start with the smaller items, and work our way up.
Valentines gifts for him #1: Valets
I envy people who organize by nature. Don't get me wrong – I color code my closet and line up the tea in my pantry according to the time of day I'm apt to drink it.
But the important organization, the kind that gets one out the door fully intact, eludes me. Unless I invest in some careful preparation, that is.
If your honey suffers from the same sort of morning brain fog, consider solid wood mens valets as a valentines day gift for him this year. It's a simple pleasure he'll appreciate every day he leaves the house with everything he needs to keep his day on track.
[Tweet "This handy piece makes it easy for him to remember everything as he leaves for the day. #vday "]
Valentines gifts for him #2: American-made Cigar Humidor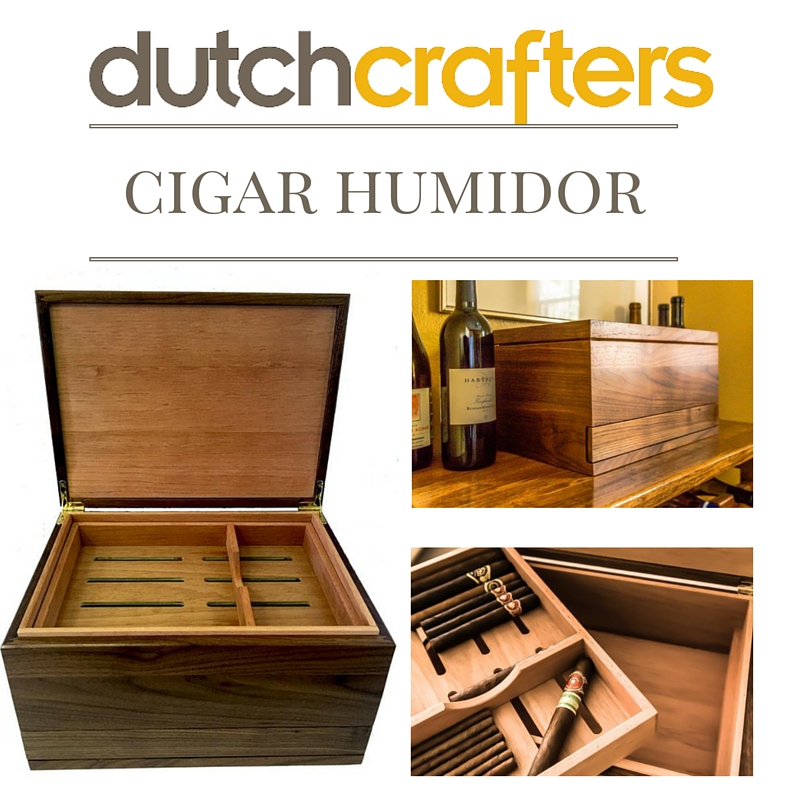 Our Dutchcrafters CEO Jim Miller is a cigar aficionado of the highest order, as far as I can tell. When we hit a company milestone, when a teammate has a baby, or when we welcome the Holiday season, you'll find him passing cigars to his employees with claps on the back and hearty chuckles.
Men aren't the only ones who appreciate a fine cigar, but it might take a keen eye to fathom the detail of this American made, solid wood cigar humidor. Each humidor is handcrafted in Amish country to Mr. Miller's discerning taste, with Spanish cedar lining and removable trays.
Do you know someone with a similar fondness for the cigar tradition? Surprise him with this humidor heartland handcrafted humidor, which guarantees he'll think of you every time he celebrates.
[Tweet "Here's a reason for a guy to celebrate #vday: this cigar humidor!"]
Valentines gifts for him #3: Flat Lid Trunk
How cold does it get where you are? Even living in Florida, where too-hot-to-move is pretty standard, these early months get downright frigid after the sun sets. As such, movie nights require blankets aplenty. Since none of our blankets match the house in any way, my partner is forever stuffing our nightly coverups back into linen closet – a decidedly unhandy, non-optimal solution.
Enter this gorgeous, handcrafted trunk.
Fresh from the woodshop, this chest already looks like your family has been passing it down for generations. In the bedroom, it's ideal for heavier, seasonal quilts. In the guest room, his visitors will appreciate a place to put their luggage and find their extra bedding and towels right inside. And in general? Well, I think one of our Product Specialists said it best:
"This is just cool. I don't know any guys who'd be upset getting this as a gift."
[Tweet ""This is just cool. I don't know any guys who'd be upset getting this as a gift.""]
Valentines gifts for him #4: Swivel Glider Rocker Chair
My uncle has two places that he goes to escape. The first is his garage, and I'll be the first to appreciate that it is a meticulous, well-loved garage. It has a space header, multiple levels of storage on different walls, labeled bins, and a looooooong, makeshift table at one end. The table overflows with projects from engine parts to broken figurines, and he happily spends hours out there tending to them.
But when the tinkering and the toying get tiresome, he heads to escape number two: the easy glider. Now, his glider is ratty, creaking and doesn't glide so much as it groans. It protests every time my uncle sinks in for his hour or two of reading time, the thin cushions offering up little more than a faint whiff of comfort long gone.
I'm emailing my aunt this mission glider chair. It swivels, it rocks; it glides. I've sat down in it myself at the woodshop in Indiana, and it's heavenly. This chair is pretty much my uncle's garage in a chair: cozy, quiet, and endlessly useful.
[Tweet "The second best place for a man to escape: swivel glider, amirite? :-)"]
Valentines gifts for him #5: Rolltop Desk
One of our managers here is a writer – like, an actual publishing-poetry writer. It's intriguing to listen to her dissect the words of others. When she reads a novel or a bit of poetry, she seems to understand fully the writer's mindset, to appreciate actually each bit of wordplay, each turn of phrase, each line break. Where I look for communication, she looks for artistry.
I put artisans like her into a category of appreciators. Good businesspeople also qualify as appreciators. When an appreciator sees a work of art, they can acknowledge the tiny bits – the brushstrokes, the keystrokes – that built the art. Or they can see a company and can understand the late nights, the financial woes, the ecstatic highs that went into building the company.
[Tweet "What kind of man appreciates a roll top desk? The BEST KIND. #vday"]
When an appreciator sees our rolltop desks in person, a silence falls over them. They run their hands over the smooth drawers, tilt their heads to admire the finished back, and slide the tambour with an appreciation that goes beyond "Boy that's pretty." They form an understanding of the incredible work that goes into a solid wood roll top desk and fall in love.
If you've got an appreciator in your life, one of our roll top desks would be a truly fulfilling valentines day gift for him.
Valentines gifts for him #6: Gun Cabinet
My cousin is just plain into guns. Rifles. He lives up in the back woods of Maine, and as soon as he could carry the water, he's been crawling around the wilderness, hunting with his father every other Sunday. He started collecting guns when his grandfather passed away and hadn't stopped, leading to quite the assemblage.
His chief concern, whenever I question his considerable stockpile, is safety. He doesn't tell me that he's worried about someone stealing his guns for their value. He doesn't wonder if he'll be able to find a rifle when he needs it (yes, they're everywhere). He tells me that if he keeps them in the barn, or in the shed, or under the bed, there's a chance that one could fall into the wrong hands. And he just can't stand that idea.
[Tweet "#Hunters know safety + quality when they see it. This gun cabinet def. passes the test! #vday "]
Our Amish woodworkers understand that fear and then build their solid wood gun cabinets to allay it. Safe, secure, and entirely solid wood, our gun display cabinets let the beauty of the sport and craftsmanship of the rifles shine. If you have a hunter in your life, you'll know that – of all the sweet or kitschy valentines gifts for him that you could find – peace of mind would be the best.
Valentines gifts for him #7: Bar
Is the Homeowners Association always gathering at his house? Is his the place everyone hits after work, to relax with a drink before heading back to their own homes?
Does he make a mean martini? Fancy himself a sommelier?
[Tweet "A solid wood home bar means drinks are always on the house! #vday"]
It could be the inevitable boost of confidence that drives him behind the bar with a shaker and some smooth, Cocktail-esque moves. Or maybe the convenience of a home bar appeals to his homebody mentality. It could his neighborly attitude or even his unyielding superiority (ahem, pickiness) when it comes to the way he likes his Old Fashioned. For every reason listed and probably 50 more, men (and women!) have a thing for having the drinks at their own house.
Go ahead, have another! With a handcrafted, solid wood home bar his drinks are always on the house :).
We've got a few more solid wood, Amish handcrafted selections in this curated collection: Gifts for Him.
Do you do valentines day gifts for the men in your life?