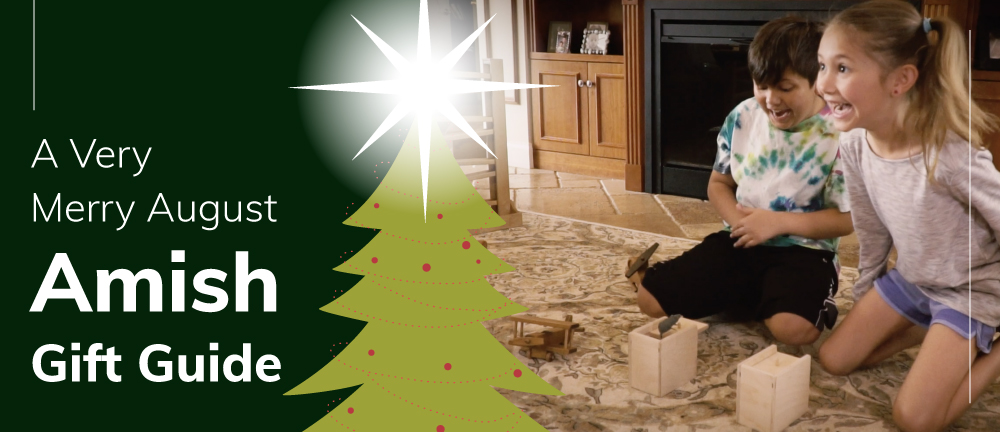 A Very Merry August Amish Gift Guide
My father-in-law is a great guy—a good man. He's 91 years old and still swims, bikes and goes to the gym.
Oh, and one other thing…he's impossible to buy a gift for.
Dad doesn't want any gifts he doesn't truly need or he won't use. Over the years, pretty much everything we've bought Dad has gone back. (We've gotten much better about saving receipts and just taping them to the box.) When Christmas comes around and it's time to buy a gift for Dad, my husband isn't really much help either, simply offering "honey, you know how he is."
We got lucky a few times with a beach hat he loved, a gift card to the dollar store (yes this is true because they have "the best cards at the best prices") and an engraved glass for his 90th birthday that he likes to have his Saturday night whiskey in.
So, I've resorted to nuts. Dad loves pistachios and gleefully opens them every year and passes them around immediately. He's always happy with nuts. Macadamias, almonds and cashews, seasoned ones, plain ones and lots more, so we've really been able to branch out with his gifts.
Whether you have a friend or family member that's easy or challenging to buy for this holiday, we hope this gift guide full of ideas from Amish country offers something new and special.
WOOD TOYS FOR THE KIDS: THE SUSTAINABLE GIFT
Often referred to as "old fashioned toys," wood toys can't be beat for their durability, sustainable nature, fun factor and the ability to be passed on.
With one of our core values being sustainability, we take every opportunity to share information on the benefits of solid wood furniture, including wooden toys.
Wood vs Plastic Toys
Wood Toys:
They're safer.
They won't end up in a landfill.
They're more durable and can withstand continued use.
They stimulate creativity.
They can be recycled.
They're educational.
They'll last so long they can be passed on for generations.
They stimulate our sense of nostalgia.
Kids like them!
Plastic Toys:
Cheap is cheap—inexpensive plastic toys are likely to break quickly.
Likely to get thrown out.
Most are headed for the landfill–recycling toys is difficult because they are made with different materials.
Plastic does not decompose.
TIPS FOR CHOOSING WOODEN TOYS
They should be made with quality hardwoods.
The surface of the toy should be smooth and sanded well.
Look for a safe, non-toxic finish.
Look for sturdy construction.
GIFTS FOR HER:
GIFTS FOR HIM:
GIFTS UNDER $500
GIFTS UNDER $200
GIFTS UNDER $100
GIFTS UNDER $50
Since Amish made products are crafted by hand, that means quality takes time. Ordering now for unique Christmas gifts from Amish country means our craftsmen can get them made in time for the holidays. If you have someone precious to you that's hard to buy a gift for like my father-in-law, maybe one of these items from Amish country will be just the ticket.
Do the Amish Exchange Christmas Gifts?
The Amish celebrate Christmas. Some Amish communities exchange gifts and some do not. They have their own traditions to commemorate the birth of Christ. Activities often include big meals, singing, and spending time together as a family. "Old Christmas" is also recognized by the Amish. Old Christmas falls 12 days after Christmas, and celebrates Epiphany, or the day the 3 wise men came to Bethlehem to see the baby Jesus. For the Amish, it is a day of rest that often includes a church service.
Amish families spend lots of time on Christmas visiting family and enjoying homemade treats.
Gifts the Amish exchange are most often handmade. If they are store bought, they are practical and useful.
Gift exchange among Amish families is kept simple. You won't find stacks of presents on Christmas morning. Decorations may include candles or garland, but you're not likely to see a Christmas tree in an Amish household. The focus is on celebrating Christ's birth.
An Amish Christmas meal is similar to non-Amish Christmas meals, often including turkey, ham and chicken. And you can always expect there will be plenty of pie for dessert.
WHAT KINDS OF GIFTS DO THE AMISH LIKE TO RECEIVE?
Amish communities differ, with some being more traditional than others. When gifting an Amish family, it's safer to choose gifts more on the plain side. Puzzles or board games are good ideas for Amish children. If you are thinking of giving a gift for the whole family, homemade candies, chocolates, maple syrup or coffee are all good ideas.