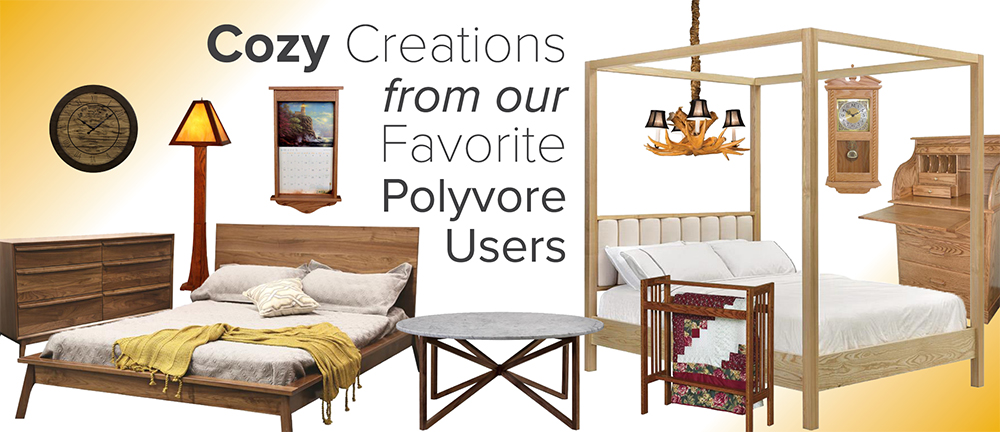 Cozy Creations from Polyvore
Note: The original Polyvore site no longer exists. We appreciate those who created boards with DutchCrafters furniture. 
With fall almost upon us, we're itching to create cozy spaces to stay warm well into winter. Lucky for us, Polyvore users have been busy making neat sets featuring DutchCrafters Amish Furniture. From bedrooms to living rooms to spots to get inspired in, they have curated our American made pieces in unique ways that we want to share with you!
Take a look below for our top picks that show ways to style our furniture for the season.
Neutral Glamour
The American Made Mid-Century Modern Valencia Coffee Table from our Keystone Collection year round.
Here, its glamorous appeal is played up using a beige canvas that is accented with sparkly details. Mirrored elements create interesting texture, while gold accents make it memorable. A few floral arrangements and a cozy rug complete the warm and inviting look.
The Valencia Coffee Table stands out as the centerpiece of this space, even in the midst of so many stunning details.
Shine Bright
Also featured in this set, the Valencia complements bright pops of a muted yellow tone that we're loving for fall. The coffee table's simple, mid-century modern style pairs perfectly with the plush pieces surrounding it.
Accessories like the vases and wall hangings in gorgeous tones of brown tie this look together. Along with the orange featured in the floral centerpiece, these hues remind us of changing leaves. This set is like a sip of apple cider!
Bold Bedrooms
Our Hastingwood Panel Bed is another favorite. The muted yellow trend is continued through accessories like the lamp base, rug, pillows, and blanket. This bed offers a straightforward design that makes playing with color a breeze.
The Hastingwood is paired with a bedside table and interesting chair with similar wood tones that create a cohesive look. The feline friend makes this room all the more inviting.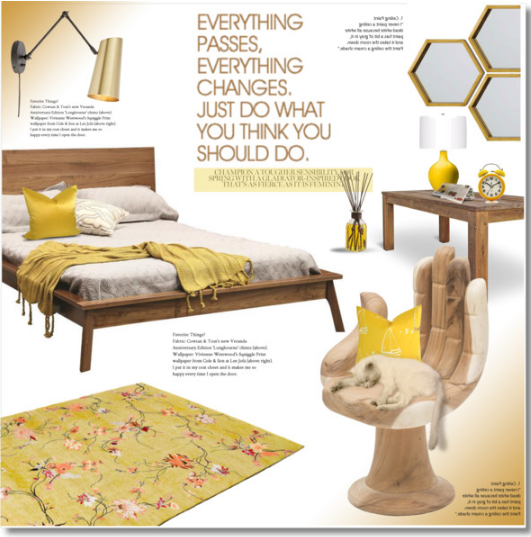 The Keystone Collection Venice Canopy Bed is dreamt up into an orange-themed bedroom we could not resist! Its timeless design is paired with fun pops of color throughout, like in the curtains, nightstand, and beautiful rug. A terrarium adds interest to this unique space that is perfect for fall, but works well for spring and summer, too.
Go Green
This next set also features our Hastingwood Panel Bed. This time, it is surrounded by greenery that is full of inspiration. Including a guitar and plenty of reading material, this room is your creative space for the winter.
The hammock, candles, and plush rug help to create a comfortable space that is sure to spark new ideas. The possibilities for this panel bed are only limited to your imagination.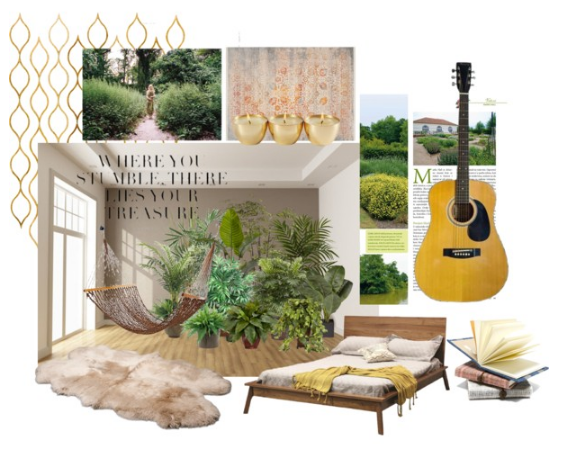 Fall is Here    
Our Amish 30" Full Pedestal Rolltop Desk is incorporated beautifully into this autumn-ready living space. This set creates a welcoming spot for family and pets alike to gather in comfort. This multi-functional room allows for working and relaxing to occur simultaneously.
The outdoorsy color palette provides an environment everyone can clear their head in. That puppy certainly looks at ease!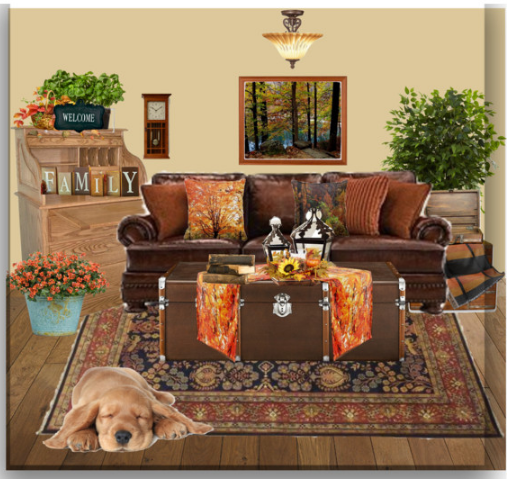 Let these Polyvore sets inspire you to style your space for fall. In which spot do you see yourself enjoying the colder months?