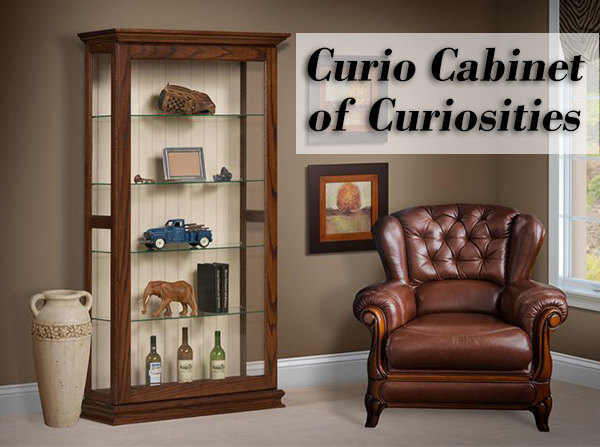 Curio Cabinet of Curiosities
Whether you are looking to house all of your treasures or camouflage an awkward angle in your home (or both!), curio cabinets serve a wide range of purposes. From classic to contemporary, we've got your collectibles covered.
The word curio is defined as a rare, unusual, or intriguing object. This opens the door for possibilities, allowing you to extend the purpose of a china cabinet to incorporate even more of your personality. Dishes are welcome here, but there is also plenty of room to organize your favorite keepsakes. Curio cabinets feature glass side panels that offer a greater range of view of the contents inside. Put your much-loved mementos on full display with the help of our top picks:
The Clean Curio
A mirrored back will help give depth to even the smallest of spaces. Our Mirror Back Curio Display Case looks excellent in the white finish shown, and would be the perfect candidate for a monochromatic theme. Pair whites and creams together for a neat and clean look. On the other hand, opting for a white finish means you can easily experiment with pops of color without going overboard. This blank canvas looks charming with brightly colored flowers displayed on top.

The Small Curio
Our American Made Curio Cabinet is a simple remedy for that hard-to-furnish area of your home. Its convenient size draws the eyes upward and provides an element of interest in an otherwise barren place. You'll be able to display plenty of treasures on its glass shelving, which is beautifully illuminated by subtle lighting. It is sure to brighten up an unused spot and give it a special touch.
The Multi-purpose Curio
Collect anything from books to picture frames or all of the above in the Console Curio Cabinet. A few prized collectibles look great among the everyday function of your favorite reads. We love the idea of mixing display pieces with items you use daily. Place a flat screen above and it is multi-functional. Some greenery on the side is the cherry (or oak, or brown maple, it's up to you!) on top of this utilitarian piece.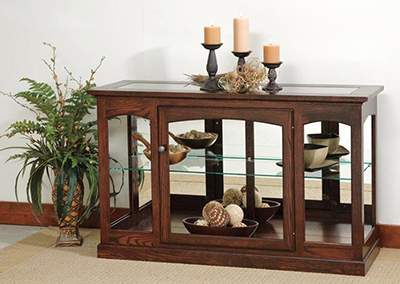 The Formal Curio
Elegance is an understatement when it comes to the Deluxe Side Light Curio Cabinet. Although there is ample space to house a number of odds and ends, we prefer a carefully curated collection of your finest pieces. No need to fill up the shelves when you can make a statement by embracing minimalism. Best of all, this cabinet's spacious enclosed bottom will allow you to keep clutter easily hidden. Maybe you'd like to change out the cabinet's contents throughout the seasons. Having all of these options cleverly stored beneath your current display will make for dauntless decorating.
Is your ideal curio cabinet rare, unusual, intriguing, or the perfect mix of all three? We'd love to help you find the perfect match. Give us a call at 866-272-6773 to start customizing today.