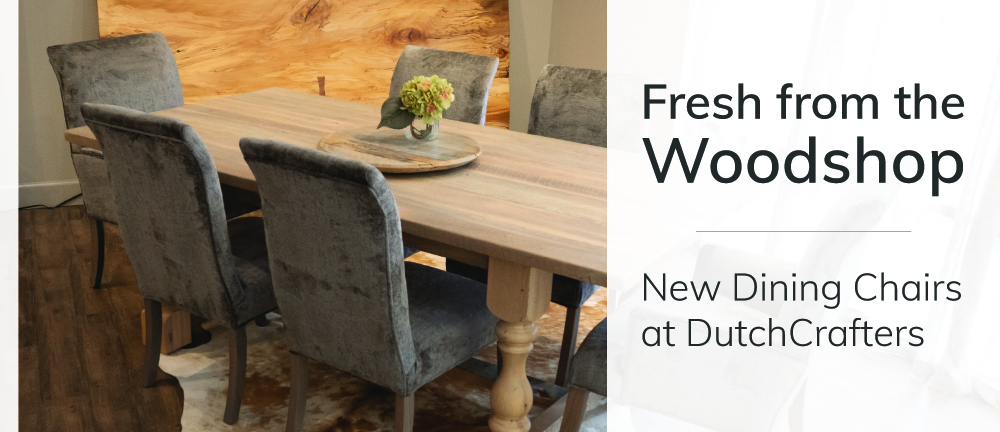 Fresh from the Woodshop: New Dining Room Chairs at DutchCrafters
When it's time to order new Amish furniture for our showroom in Sarasota, Florida, DutchCrafters' Vice-President Linse Miller is faced with lots of decisions.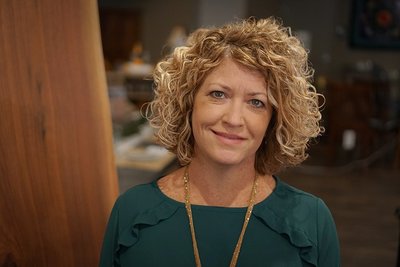 With access to over 150 Amish woodshops that make gorgeous Amish furniture and thousands of custom options at her fingertips, where does she begin?
While chatting with Linse about customizing new dining room chairs for the showroom, three things became clear: her understanding of custom furniture, her desire to supply customers with the options they're looking for, and her determination to make it clear that Amish furniture is not limited to one style.

And, while she admits that ordering custom furniture can be a challenge, it is worth it.

Keep reading for the interview with Linse.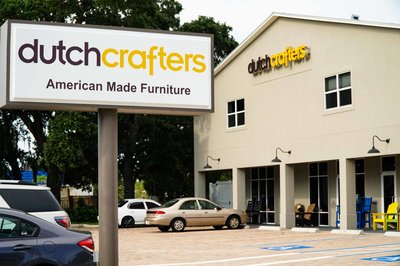 We offer so many different wood types. How do you go about choosing one?
It depends on what is under-represented in the showroom. We want to show customers what the woods look like. We want them to see what they can do with different wood types and show how woods with different finishes can look so different.
You included three new Parsons chairs and a mid-century modern dining table in this new order. What made you go for these styles?
We like to showcase a variety of woods and finishes in the showroom. I like to show the different styles that can be made and I look to branch out of the stereotype of what people think Amish furniture should look like, which is mostly traditional styles.
I tend to lean heavily on what people don't expect from Amish furniture, so they can see what we can really do. If they want traditional, of course, we can do that. But there's a whole world of Amish made contemporary designs too, including transitional (a combination of contemporary and traditional) and mid-century modern that are all Amish made.
Let's take a look at these gorgeous chairs! What can you tell me about the Amish Sheridon Parsons Chair?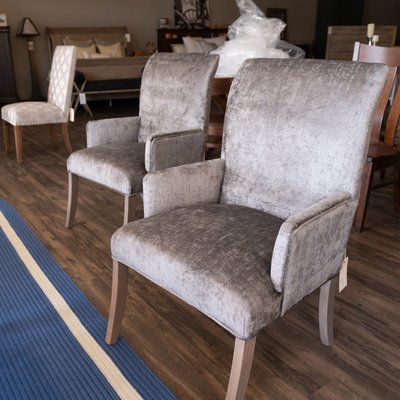 When I got this barnwood table, I knew I wanted Parsons chairs to go with it. To me, it has a farmhouse look, but more of an upscale farmhouse. The back of the Sheridon Parsons Chair is curved and there's a curve in the legs that adds a touch of elegance.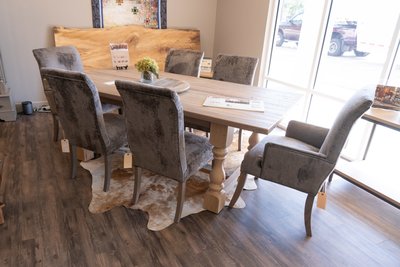 I love the finish (Old Yeller) on the table with the gray tones, and knew I wanted a gray fabric to help bring it out. The first thing I notice about fabric is how it feels, but I also knew I wanted a velvety soft touch to go with the old wood. The arms on the armchairs are upholstered, and you don't always find that. If you're going to sit in a chair for a while, you want it to feel nice.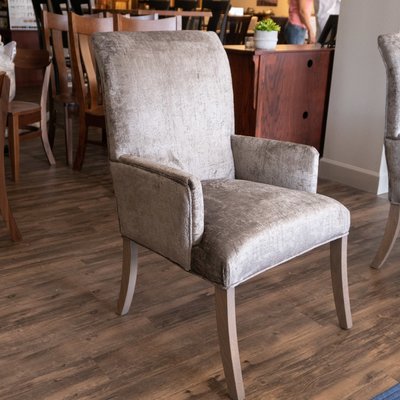 What can you tell me about our Amish Canaan Parsons Chair?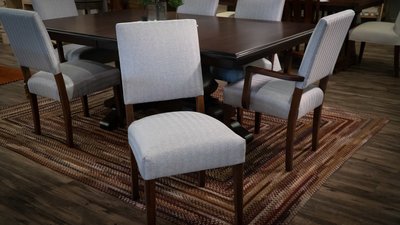 These chairs are more of a contemporary look that could go with a mid-century modern dining table or a double pedestal like the Kingston that's more traditional. This is a parsons chair that has a little more wood in it — it's more a blend of wood and upholstery. It's a firmer upholstered chair, you can feel it in the seat. I had a hard time choosing the fabric. I knew I wanted something with some design in it with gray tones.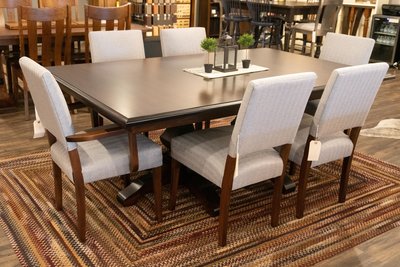 I think these chairs transform the look of this table from traditional to a more modern look. These Canaan chairs also have a lower back which I like. Some people are looking for chairs in the dining room that have a lower height so they don't block a window view or artwork hanging on the walls. These are significantly lower than others we offer.
Tell me about this more traditional Parson, our Amish Corbin Parsons Dining Chair.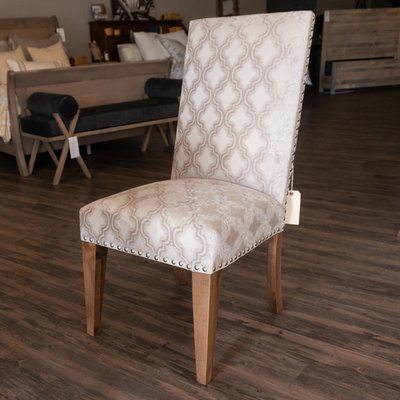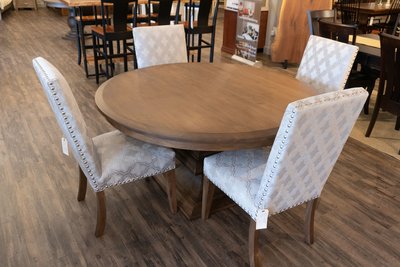 Here I went for Parsons chairs that wouldn't be overwhelmed and dwarfed by the base of our Normandy Table. The challenge for me was picking the fabric. I knew I wanted a pattern. You want to pick something that's not too busy and that you won't get tired of. I thought this was the perfect balance of having a pattern and design that's soft and understated. I think the nailhead trim goes great with it. You don't want to use nailhead trim with busy patterns.
Choosing these fabrics reminded me of how hard it is for our customers to zero in on what they are looking for. It's challenging to pick from so many styles and options. I asked for a lot of advice and help, and I've been doing this for years! I recommend getting as much feedback as you can. Ask neighbors, friends, your mom, etc.
Let's talk about this solid wood design, our Pierre Side Dining Chair.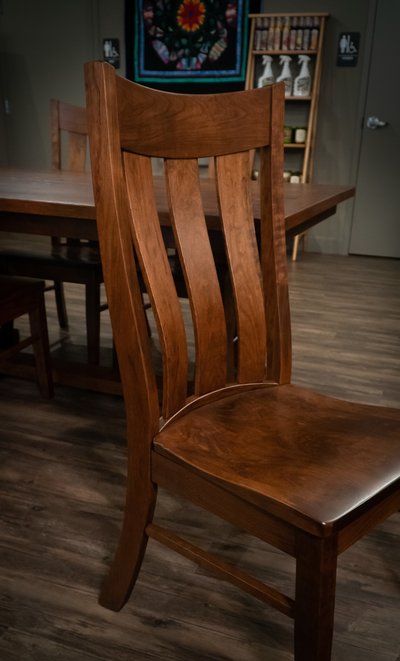 I love showcasing the cherry wood in this one. And I like using it in the showroom as an example of mixing dining chair styles. Not everything has to match perfectly to achieve a balanced look.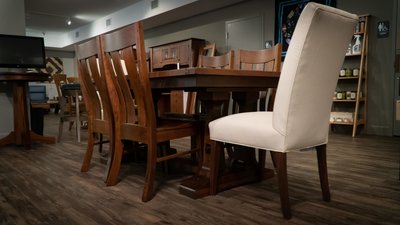 What made you select this table and chair set?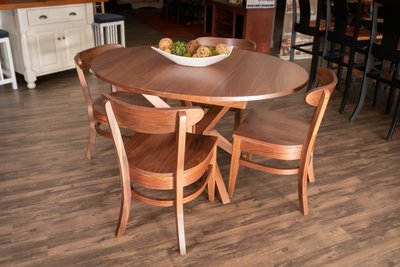 This set has a mid-century modern look. To me, this represents what people think Amish furniture is not. But to me, it's what Amish furniture is —beautiful, current, and up to date. I love the walnut wood. I couldn't imagine it in another wood.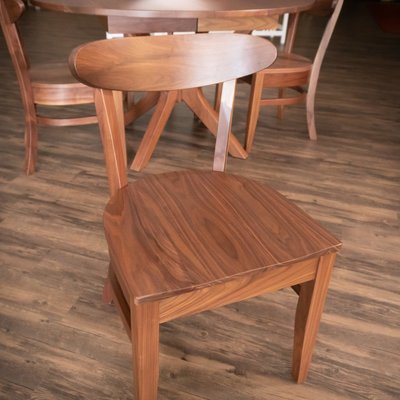 This is natural walnut wood with a natural finish. I think this set would work well in a kitchen or dining room. With all its curves, this set shows the beauty of the wood.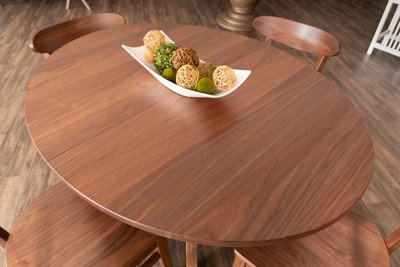 What advice do you have for selecting a stain?
Choosing stains takes time, and that's OK. Don't rush your decisions. I tend to be drawn to natural looks and stains that let the wood come through. It's a personal preference and depends on the style of the home. I also love things that are distressed. Scratches and things happen, so distressing options are a great feature to consider. That way, if wear and tear happens you don't notice as much.
But remember while it starts with your ideas, with DutchCrafters, you don't have to figure it out all by yourself. We offer a complete custom experience — from sending out wood samples to getting personal advice from a furniture specialist.