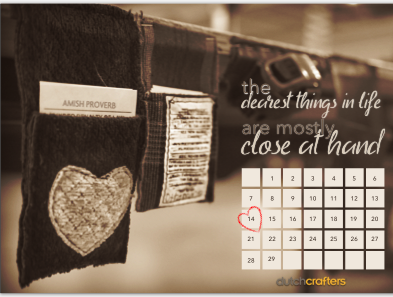 Get inspired: Inspirational Amish Proverb Wallpaper for Feb 2016
It's the month of love! Show your desktop some love with this Amish Proverb Wallpaper :).
We've been known to spread our fair share of Amish Proverbs, and we think this one will serve you well through the month!
Inspirational Amish Proverb Calendar Wallpaper: February 2016
What's that little pouch, you ask? Why it's a sweet little pocket of tools for one of our Amish fabric shops in Indiana!
The neat row of pouches shown house all the little things a sewer, cutter, or measurement-taker might need. This table is where they'll select and fit the fabric on your Dutchcrafters Amish upholstered chair or couch.
Isn't it nice to know that they bother to make something like this drafting table toolbelt beautiful as well as functional? Might give you an idea how our Amish woodworkers feel about the furniture they make…
Here's a refresher on how to load the picture to your desktop: Inspirational Calendar Wallpaper: January 2016