Gun Cabinet Options: Cave, Cottage, and Camp!
Because you can do better than the linen closet.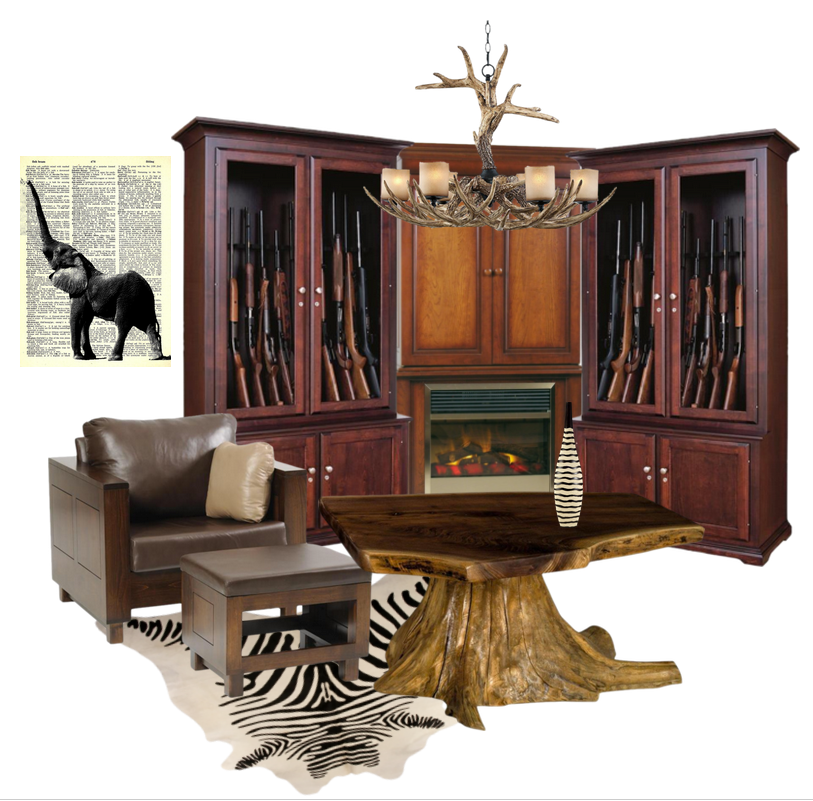 Gun Cabinet Option 1: In A Man Cave!
We're not exactly fans of the term "Man-Cave" (so exclusionary!) but this design just plain begs for it. A deep leather lounger, plus a distinctive, hearty piece like this Live Edge coffee table with a stump base give the room a big game, big time personality.
Add the entertainment center with fireplace insert for a a dose of comfort, and (of course) dual 12-Gun Cabinets, and this room is fit for Teddy Roosevelt!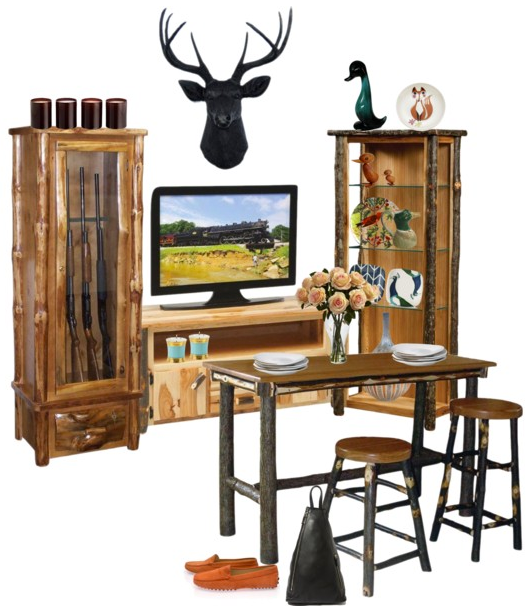 Gun Cabinet Option 2: In a Cottage!
Share the wealth in this 'His & Hers' hickory dream! Perfect for a small, rustic hideaway in the country, we think this cottage option looks adorable with a hickory pub table and chairs set in front of a matching hickory TV stand. Opposing collections (firearms vs. china and figurines) blend seamlessly when stored in complementary cases, like this rustic curio cabinet and it's partner, the pine log 6-Gun Cabinet 
Roses, candles, and soft spots of color feminize this otherwise masculine, natural habitat.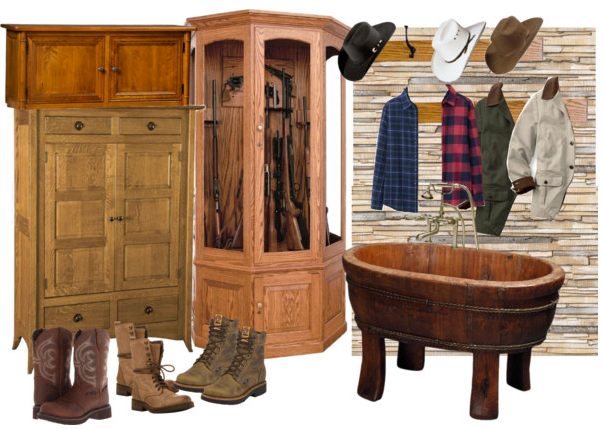 Gun Cabinet Option 3: At Camp!
Ah, camp. Where old furniture goes to die, right? Don't let that be the case! Bring lively, heirloom-quality beauty and functionality to your camp with this mudroom/entryway combo. We've included everything you'll need after a day of enjoying the hunting season: a hat rack and coat rack for your and your friends' accouterments, a wall cabinet for small-item storage, plus a larger Shaker cabinet for bags or out-of-season items.
This 16-Gun Cabinet fits neatly into the corner while still providing a ton of space, and we even included a spot for you & the dogs to wash up before heading into the main house!
As you can see, our Amish Gun Cabinets not only add functional, safe storage for your firearms to any property you own, but they also build character and charm right into the room!
Go ahead and give one (ahem) a shot :-).