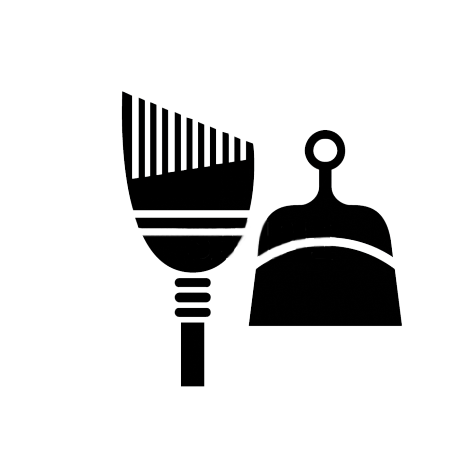 How to Start your Spring Cleaning . . . RIGHT NOW
Welcome to April! What better way to greet the month of showers than tackling the granddaddy of all chores — the Spring Clean.
Now, we all know that making a list is pretty much the best method of procrastination, ever. Luckily for the stellar procrastinator in all of us, it can also prove wildly useful when you literally can't get to the task. Ahead, how to use spare moments (like, you know, the ones that you have right now) to get a jump on your spring cleaning.
Let's Actually Get That Ball Rolling, Wherever You Are
The Zones
Zone out the various different living spaces of your home — we've chosen some pretty typical examples, but yours may vary. Think of this step as limiting the scope of your cleaning for a certain period of time, which we'll determine next. As such, "the first floor bedrooms" is a more useful zone than "the first floor" (and if your house is one story? "The first floor" is just plain cheating).
Try these on for size (in no particular order):
• Kitchen
• Entry
• Bathrooms
• Bedrooms
• Office/Den
• Living Room
• Dining Room
Optional bonus zones: Garage, Car(s), Laundry Room (bless your heart for cleaning your laundry room), Porch/Patio/Otherwise Outdoors
Time Management
Decide on a time frame for the whole house, then a time LIMIT for each zone is more important than you're probably thinking that it is. "I'll clean it 'til it's done" is amazingly ineffective, usually for one of two reasons:
1. You get carried away. Or distracted. Or both. In any case, you'll glance up from your toothbrush-scrubbing of the baseboards to discover that three hours flew by, and you're only a third of the way into your first zone.
2. You get complacent. You're spring cleaning, aren't you? This kind of deep clean happens, what, twice a year? Unless you give yourself a set amount of time to really get into the trenches in each zone, you may find yourself brushing off the less-trafficked areas, then later regretting their ensuing downward spiral.
To figure out your ideal zone time, work backwards from the amount of time that you'd like to spend on the whole house. A weekend? A day? A zone every day for a week? Figure out a chunk (or several chunks) of time that you can reasonably spare to get this done within a week, and go for it.
We like an hour for small zones (guest bedroom) and two for large or complex zones (kitchen).
Grab 'n Go
To Grab: Check back here tomorrow for our fairly-comprehensive cleaning list. Print it out and make a really ugly show of it in each zone. So ugly that you (and all the other house occupants) want to take it down as quickly as possible every time that you walk by it.
To Go: By this, we mean get GOING. We've laid out some super-productive ways to plan this spree, so get started!
We'll see you back here tomorrow, and for the rest of the week, with a master cleaning list, useful little tips for tough spots, bonus cleans, green cleans and other Spring Cleaning Paraphernalia.