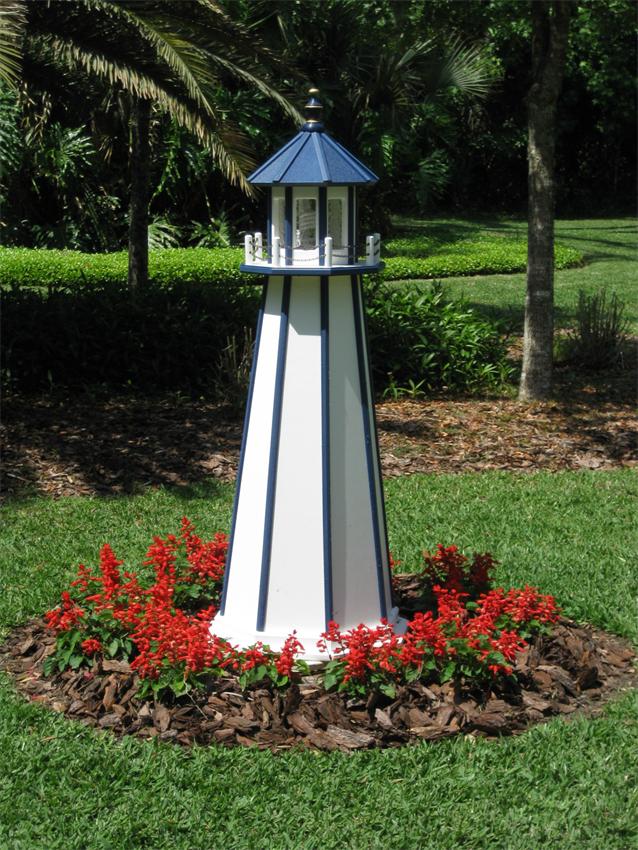 5 Great Ideas for Outdoor Lighthouses

Ideas for Amish Made Outdoor Lighthouses
One of the very first Amish made products that we offered when we first opened our virtual doors at DutchCrafters in 2003 was the Amish made lighthouse. Since then, we've sold thousands of these outdoor nautical lighthouses in many different styles and sizes: the lighthouses are modeled after actual lighthouses such as the Cape May or Cape Hatteras and available in sizes ranging from 2′ – 20′.
As we've talked with our wonderful customers over the last decade of selling these American made lighthouses, we've learned about some of the ways that they've been used. Here are a few of the more popular and most interesting:
1. As a lighthouse, of course! Though we do not warranty or officially recommend that our lighthouses be used as marine navigational devices, that is precisely what many of our customers have used them for. These lighthouses are ideal at the end of a dock so that boats can see the dock at night. One year we gave one of our Amish lighthouses to my grandfather for his dock on little Fish Lake near Sturgis, Michigan – he loved it. Since he didn't have electricity on his dock, we gave him a lighthouse with a solar light, so that it provided just enough accent light that he could see where he was walking at night on the dock. A year after that, we gave another of our nautical lighthouses to my wife's granddad for his dock at Julington Creek in Jacksonville. His dock was much longer and the boats were much larger, and he enjoyed have the lighthouse right out at the end of the dock for peace of mind in knowing that boats would see it and for the beauty that it added to his seascape.
2. As an accent light for gardens or outdoor spaces. Many of our customers have purchased our outdoor lighthouses for the accent light they provide to landscapes, gardens, patios or other outdoor spaces. These lighthouses can provide soft accents to make outdoor living more enjoyable and beautify gardens even at night.
3. To cover up an ugly extrusion. Customers across the country have used our Amish made lighthouses to cover up ugly pipes, small stumps, or other eye-sores. Because they are hollow on the inside, the lighthouses can simply be placed over the top of the thing you'd like to cover up. We provide inside dimensions for the various sizes of lighthouse specifically for that reason.
4. To catch a customer's eye at a place of business. Many businesses have purchased our lighthouse to be used in conjunction with signage or at an entrance to catch the eye of customers. This can be especially useful with one of our rotating light options (be sure to check on your local regulations to make sure you're traffic-safe, etc.). Some of the most popular types of businesses that have used our lighthouses are seafood restaurants, nautical gift stores, marinas and boatyards. East End Clambakes of Long Island bought an 8′ Cape Cod Lighthouse for this purpose and Lighthouse Corner of Kaukauna near Green Bay purchase a 12′ Barnegat Lighthouse for the same purpose.
5. To convey a positive message. Because lighthouses are symbols of hope, security, promise and confidence, many churches, counseling centers, colleges and others have used our Amish made lighthouses to convey positive messages that reinforce their mission or program. This is exactly what The University of Michigan's Rackham School of Graduate Studies did when it chose a nautical theme for its Graduate School Orientation Day, "Destination Graduation – Navigating the Seas of Graduate Life." The president and dean both speak participate in the event, which included 1500 new students. A critical piece for the event was a custom-made, 4' Cape Hatteras styled, wooden lighthouse painted in the university's unique blue and gold colors.
So whether you're looking for a centerpiece for a university event or simply a gift for Granddad so he can enjoy his dock at night, our outdoor Amish made lighthouses make wonderful and functional solutions.