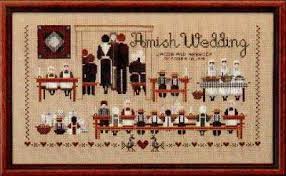 It's Beginning To Look A Lot Like…Nuptials?
It's a nice day for a white wedding!
Yes, that's right! The period of late fall and early winter typically evokes thoughts of holidays; family & friends feasting on delicious meals around a warm, inviting table. This is echoed for the Amish as its wedding season in their communities. Held only on Tuesdays or Thursdays, Amish weddings have many similarities to an English-or non-Amish-wedding, but have their individualities as well. Without a doubt, weddings and breaking bread around the table always go hand-in-hand.
The goal is the same as an English wedding-to faithfully love your spouse until death do you part. Weddings take place at (usually) the home of the bride, presided by a bishop or minister from the church. Loved ones dressed well for bountiful meals to celebrate the beginning of a new branch in the family tree. Items such as napkins are personalized; brides do have a say in some decorative aspects to the wedding. Often gifts are given, sometimes even hand crafted furniture and quilts by their families. With love in their hearts, the young couple initiates their family.
Some aspects of an Amish wedding ceremony are far different from traditional rituals. There are no honeymoons for newlyweds. They continue to live with their parents-even on their wedding night-and help the family recover from the stress of the ceremony. English couples look forward to their first official kiss, announcing them as husband and wife. For the Amish, there is no kiss or ring exchange, not surprising really when considering their modest virtues. Amish brides typically wear blue dresses as does their party. Ceremonies start early, with preparations beginning around 5 a.m. It is usually an all-day event with large productions at each meal time. Essentially, the guests of the wedding are also the staff. As soon as the first meal is over, the dish washing and cooking begin for the next.
Seemingly the most odd is the importance of celery throughout the process. Yes, celery. The vegetable. You heard correct! Celery plays a role in even planning the wedding. Engagement announcements aren't publicized or broadcasted. And they certainly aren't sent on Facebook or tweeted! Parents of the engaged couple plant large quantities of celery to ensure an abundance on the ceremonial day. Similar to any community, town chatter and speculation begins, as it's a surefire sign of an upcoming wedding. Not only used in dishes, but stalks of celery are actually displayed in vases in lieu of flowers. From food on the table to table decorations, celery plays a key role.
As in most households, the Amish dinner table is much more than a flat surface to eat upon. Plans are constructed here; decisions are made here. People are accepted into the family in this space. We put the food that nourishes our family atop of it; meals are shared among circles of loved ones.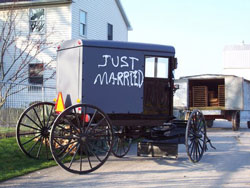 Have you attended or had an Amish wedding? Your stories and pictures are always of interest!