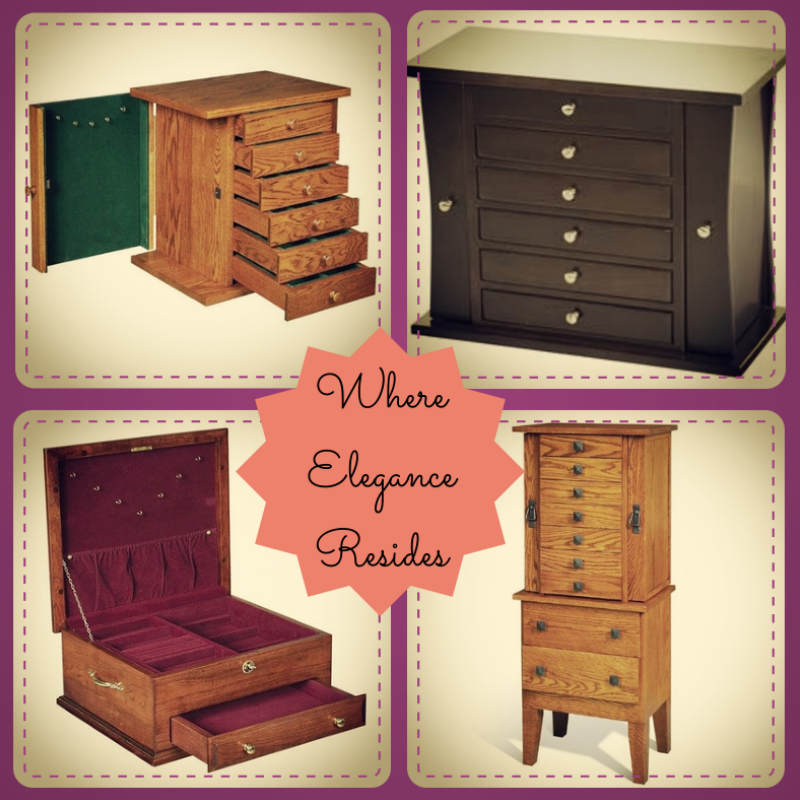 Jewelry Boxes…Where Elegance Resides!
Valentine's Day will arrive any minute!
Yes, the holidays are finally over…however this signals a new gifting challenge on the horizon. It's a new year and Valentine's Day is right around the corner. Don't waste time and money procrastinating or risk looking foolish in your efforts by giving something impersonal. You can do better than that!
One of the most timeless and classic Valentine's Day gifts is jewelry. A step up from temporary candy and flowers, jewelry can really make a statement while leaving a lasting impression. One of the many difficulties in gifting jewelry is what to purchase; from the design to type of metal and stone, there are so many selections and room for oversight. A unique and thoughtful approach is a jewelry box itself. Not only would a handcrafted, solid wood jewelry box or armoire be something beautiful and useful but it's a building block towards a lifetime of memories in the future. From wedding bands, baby bracelets, gifts, pins, keepsakes etc., this will become a haven for all small things treasured.
DutchCrafters has just what you need! Not only do we have a plethora of elegantly hand-crafted jewelry boxes and armoires, but we have selections in our "Quick Ship" area that we can ship out right away with no specialty crafting time needed. In most cases with 100% American made, Amish handcrafting, there is an 8-12 week lead time dedicated to ordering and manufacturing. These stunning pieces were made in advance, but do have specialty choice selections such as engraving and select decorative embellishments.
A jewelry box or jewelry armoire is naturally ideal for holding jewelry but can be doubled in purpose in several other ways. Storing small cosmetics and perfume bottles is a no-brainer; a feminine alternative to a floppy plastic tote. Another perfect storage solution here for other small keepsakes and baubles like buttons or hair accessories. With a wide array of choices in woods and design, one could even find use of this in a more masculine manner. We've had customers use them as a decorative tackle and tool storage places! Storing small media is a possibility as well; finding a safe and secure place for SD and SIM cards is no longer an issue.
Don't fret, sweat or forget this Valentine's Day! Let DutchCrafters help make the occasion as special as she wants it to be!