Made in USA – Why Buy American Made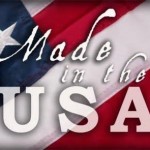 There are several good reasons to buy "Made in USA" products, below we explore a few.
"I invite the people of the United States to observe this month with appropriate programs and activities to recognize and celebrate the excellence of American products." – Ronald Reagan
The statement above is from Ronald Reagan's proclamation on December 23rd, 1985 in which he declared December as "Made in America" month. I would like to honor President Reagan's vision by exploring a few of the many reasons to buy products made in the USA.
When I see "Made in USA" I think quality, and this quality of craftsmanship is known world-wide. According to a recent study by The Boston Consulting Group, More than 80 percent of U.S. consumers and, perhaps more surprising, over 60 percent of Chinese consumers say that they are willing to pay more for products labeled "Made in USA" than for those labeled "Made in China," – The Boston Consulting Group (BCG). https://www.bcg.com/media/PressReleaseDetails.aspx?id=tcm:12-121840. This is due, in large part, to the reputation for quality, durability, and beauty that an American-made product has. Not to mention, the people of China also have a desire to "keep up with the Joneses", just as we Americans do.
The reason I will try and go out of my way to buy American is the beautifully interwoven effect it has on our economy. This aspect alone, should be enough to make us want to buy products made in the USA. Buying American-made supports American workers and the American economy. Especially during our economic recovery, how important this is! For example, when you buy a piece of Amish furniture from Dutchcrafters, that money goes to an Amish woodworker in the USA. Then when they need to purchase more materials, they purchase from a local dealer and that money stays in our American economy. The suppliers of the materials may then buy food from a local grocery store and further the economic benefits, by keeping that money flowing through our economy rather than out of it. This cycle also makes it possible for those businesses to hire more employees and help the unemployed find work again.
Now, I won't say that I am the most eco-friendly person out there. I forget to recycle my soda cans from time to time, I drive a gas-powered car, and I definitely take longer showers than necessary. But I will say that I care about the environment and try to do my part to help out. Buying products made in the USA is a great way we can all contribute to helping the environment. Let's quickly look at one of the benefits, ecologically, of buying American furniture over furniture manufactured abroad. When it comes to American made furniture over furniture made in China or elsewhere abroad, you can take solace in knowing that buying furniture made in the USA will be the ecologically friendly choice. Think about it, a foreign counterpart to an Amish woodworker, even if they use no electricity and sustainable foresting (as the Amish do), would still leave a larger ecological impact behind. This is solely because of the fuel used to either fly or float the furniture to our shores, and then have to truck it the same or longer distances than the furniture made here by the Amish in the USA.
So, when we buy products made in the USA we are not only helping our economy, but, helping to sustain the environment, and generally receiving a higher quality product as well. For these reasons and many more, I will continue to purchase American-made products as often as possible and I invite you to do the same.
What reasons do you have for buying products made in the USA? Please drop us a line on Facebook, we'd love to hear from you!