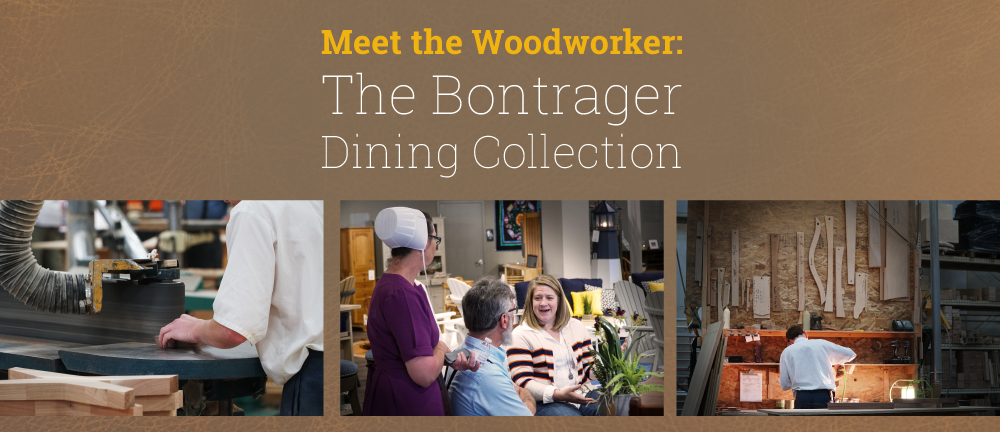 Meet the Woodworker: The Bontrager Dining Collection
It's attention to detail that keeps Noah and Margaret Bontrager producing some of the finest solid wood dining tables Amish furniture has to offer. Along with 52 employees, the Bontragers devote their time to the design and careful construction of dining tables, solid wood benches, and storage cabinets.
Noah's favorite part of handcrafting Amish furniture? Coming up with new designs.
On a recent visit to the DutchCrafters store, Noah and Margaret shared with us that they must adapt to change and look ahead to what styles customers will want.  "We have a lot of fun trying to keep up with what we think is next," Noah said.
This forward thinking has contributed to stunning tables like the Amish Normandy Pedestal Dining Table, showcased at the Northern Indiana Woodcrafters Association's 18th Annual Furniture Expo.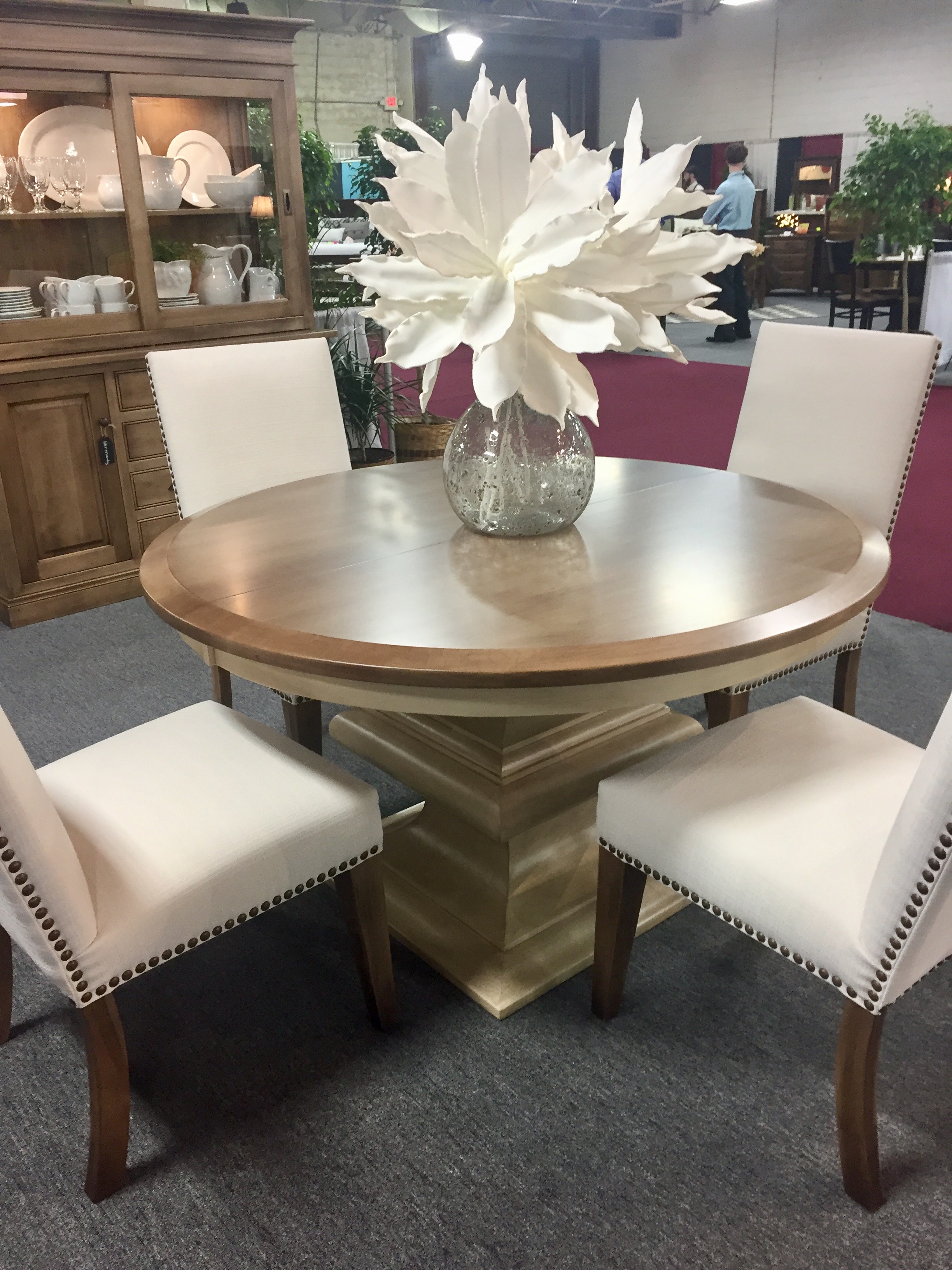 Noah started his wood shop 25 years ago. With no interest in farming as a boy, he always had his eye on his father's table saw. One day, when his father was out, he tried it.  Although he sustained a cut, his dream of crafting fine furniture continued to grow.  The first table his shop produced was an oak double pedestal table. His quality dining tables began to get noticed after he supplied a few local stores.
Noah explained to us how much things have changed after 25 years in the business. "Back when we started, customer expectations were very different," he said. "Today the bar is set very high."
Noah and his team rise to the challenge, meeting the demand for more details, more function, and new designs. With hands on each dining table and bench, the gifted artisans of the Bontrager Dining Collection create one-of-a-kind dining tables. To achieve the most precise cuts and shapes, the shop uses some of the latest machinery.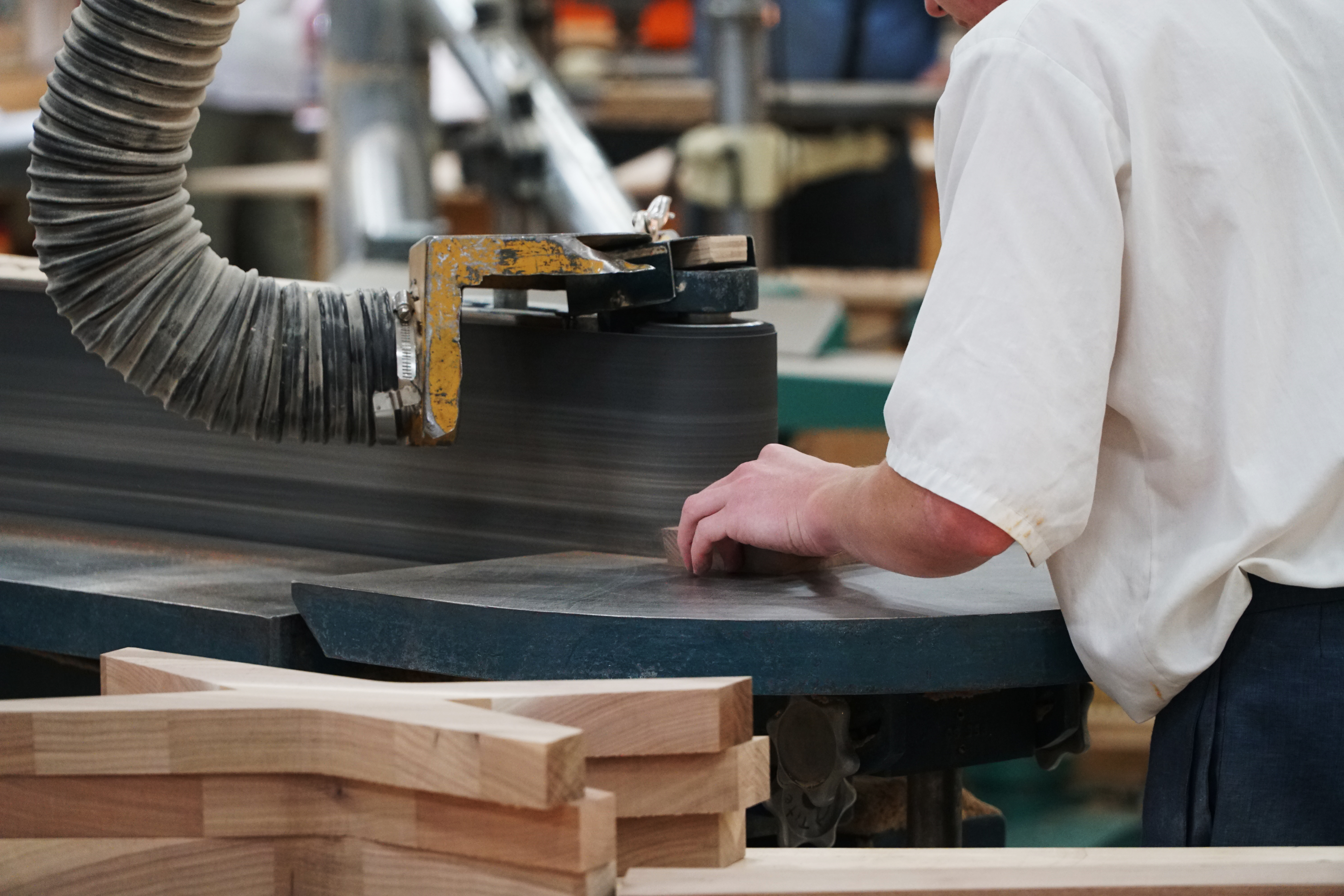 Nothing is wasted at the shop. Even wood shavings are gathered and saved for animal bedding.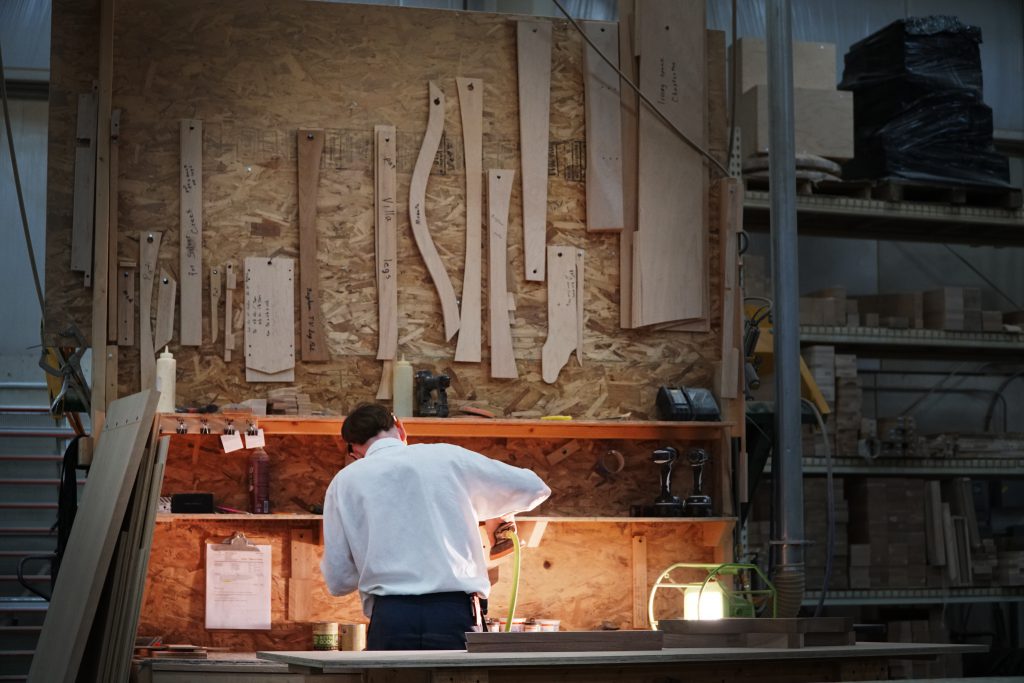 When asked what made him decide to focus on dining tables, Noah explained it was because he saw a need for them. When he started his business in 1994, no one else was making tables in Indiana. Noah's design for the Royal Mission Trestle Table earned him a foothold in the furniture industry. At the time it was created, mission style furniture was straight and square. The Royal Mission Table included a uniquely curved base. Soon after, Noah noticed other woodworkers incorporating curves in mission furniture.
Starting with an emphasis on mission style dining tables, they now offer over 40 table designs that showcase traditional and contemporary styles. Their products also include popular live edge tables, such as the Kalispel Table pictured below, that feature the natural pattern of the wood that rests right beneath the bark.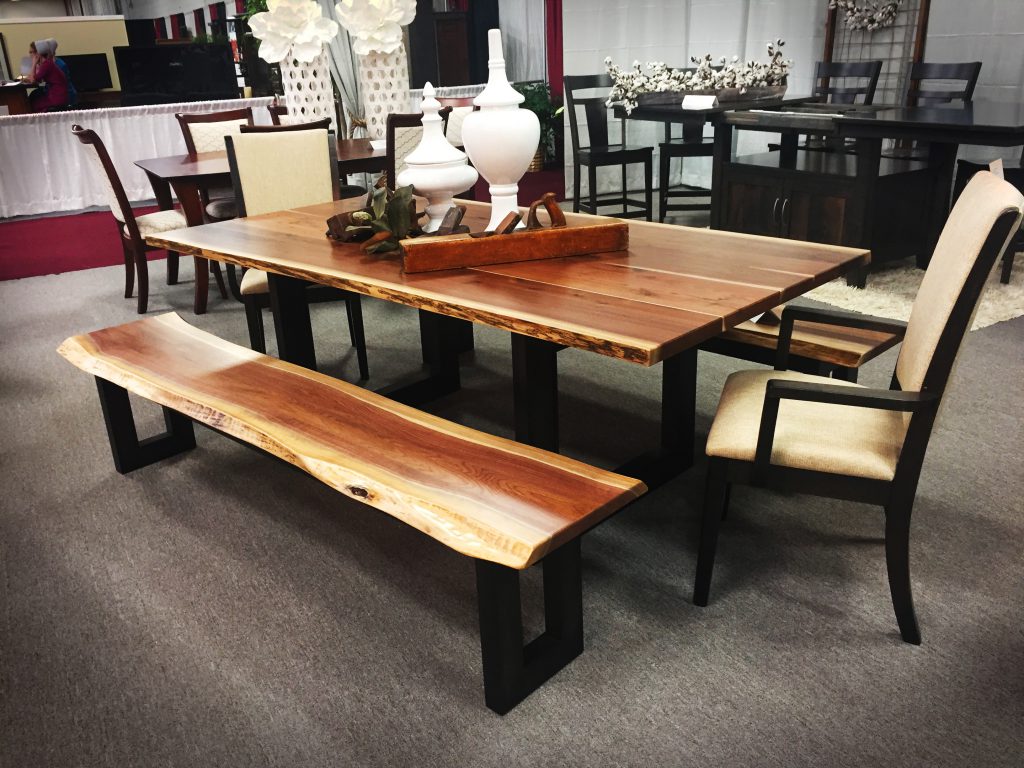 Some of Noah's favorite tables include the Amish Carlisle Shaker Table and the Amish Stanton Single Pedestal Dining Table.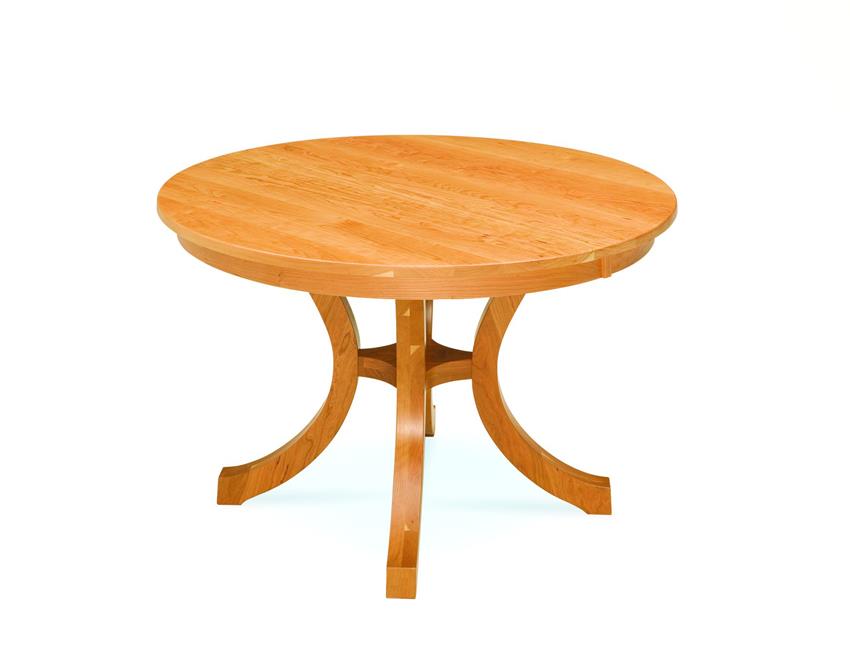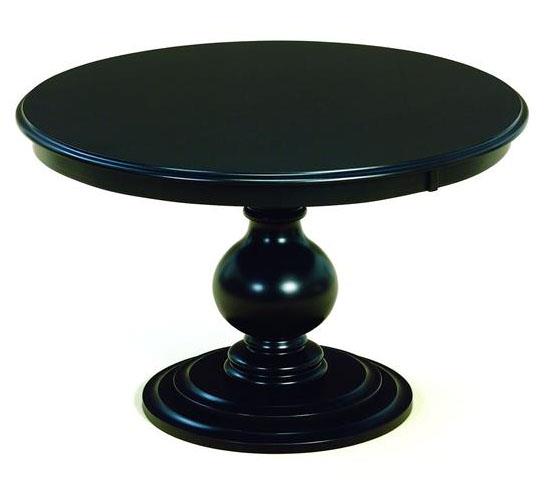 The most sought after table from the shop is the Amish Shaker Mission Dining Table.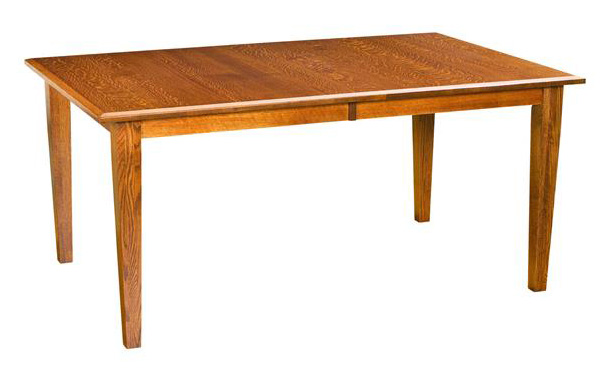 With details such as ball bearing slides that allow a table to open smoothly, table tops as thick as 1 ½", and new, creative designs, furniture from the Bontrager Dining Collection remains in high demand.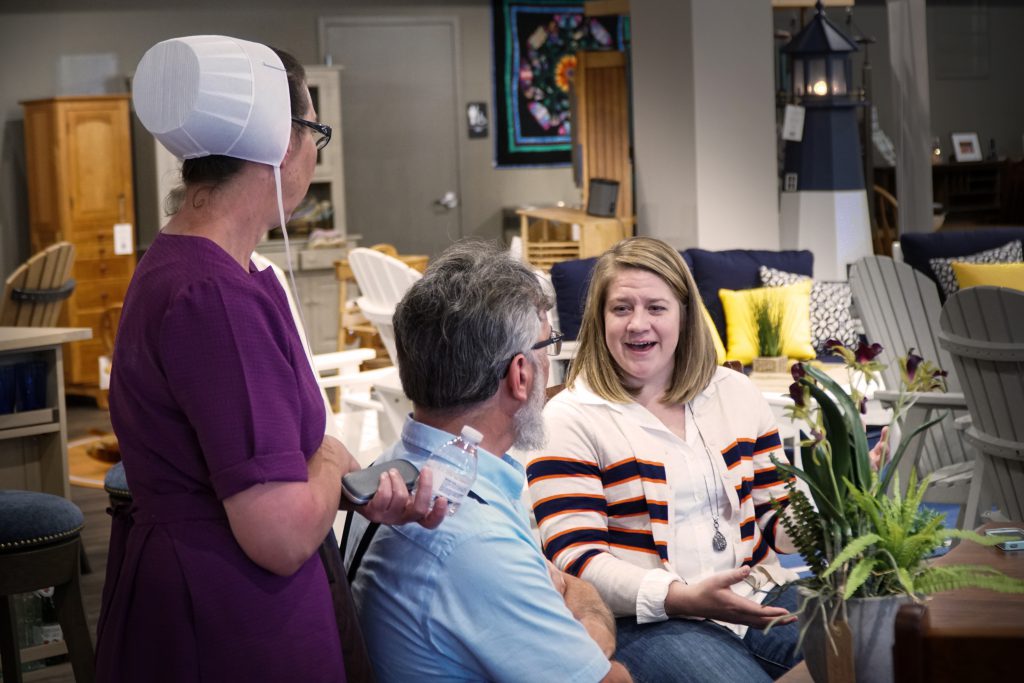 Noah and Margaret Bontrager with DutchCrafters product portfolio manager Mary Fehr.
The shop's devotion to detail has also contributed to them being a leader in the Northern Indiana furniture industry for decades.
Click here to shop the Bontrager Dining Collection