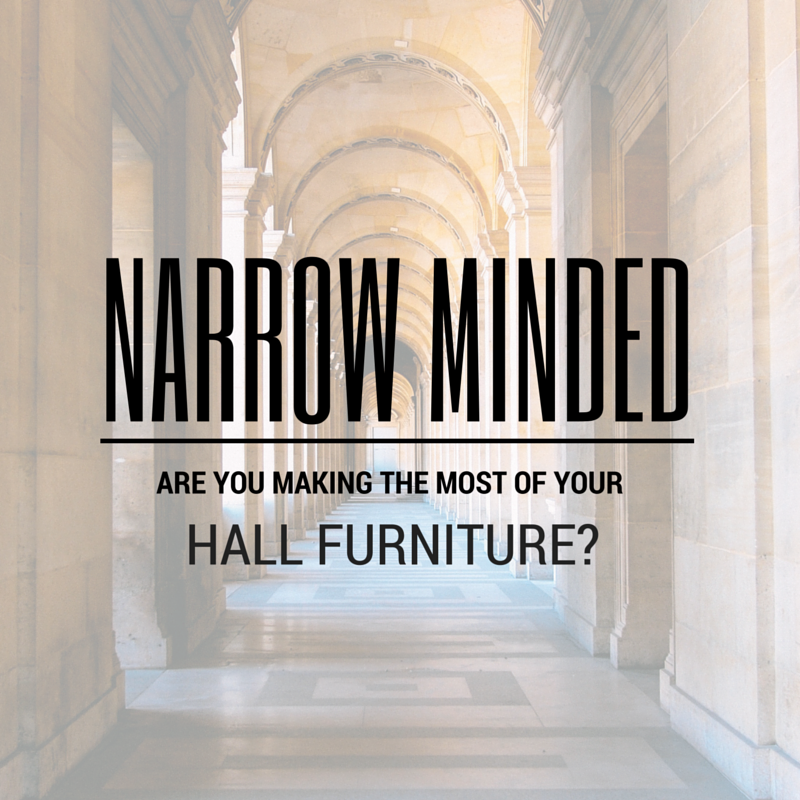 Narrow Minded: Are You Making the Most of Your Hall Furniture?
When you give your entryway the proper treatment, it can become such an inviting, organized, and ultimately inspiring initiation to your home that you'll wonder why you left it so long neglected. Your hallway can can add accessible square footage and darling display to your home, as well as necessary storage options. Check out what all you can do with hall furniture – from hall benches and shelving to display tables and shoe storage.
Have we got you pondering the potential in your entrance? Great! Let's dive right in to the hall furniture that lends a helping hand.
And you thought that you only had a hallway! Let's break this entryway's furniture and elements down a bit.
Hallway Features
These wall cutouts (at right) are a fantastic feature for smaller hallways, though the entry pictured doesn't suffer that limitation. If your hall is narrow, consider cutting peek-throughs to the next room – a warm, welcoming kitchen? A lively living room? Or -gasp! – windows to the outside world? Even at a smaller scale, windows open up the space and add interest to an otherwise flat area.
A second feature key feature here is the beamed ceiling – the wooden beans pair beautifully with the wood hall furniture beneath it, and they serve to further open up the hall while adding dimension. No ceiling beams in your immediate future? Contrasting crown moulding or other offset trim serves the same purpose.
Hall Furniture
Bookcases . . . in an entry?
Bookcases are a beautiful, stately option for more grand hallways like the one pictured. Guests can peruse your literary loves while they await a formal greeting, and there's no better place to showcase some of your treasures for immediate guest gratification.
A less opulent option is a shorter, open shelving unit for a more casual hallway. It can gather shoes upon entry in the bottom shelves, store bookbags or purses in the middle portion, then comfortably corral some of your family's necessities (keys, phones, wallets) on the top shelf for grab-and-go convenience.
Hallway Benches
An easy entryway luxury is the hall bench, and our dignified example at the top of the post boats two trestle-style options under the inviting windows. Should we try to convince you how much you'll appreciate sitting down to take off your winter boots, or while you're trussing up the kids to go out on a snowy day?
Not into the more utilitarian aspects of the entry bench? Consider that they're also standard, fabulous fare at your favorite eatery, and we're pretty sure that you'll host a few feasts of your own in the coming months. Why not give gathering guests a spot to sit while they wait for your social self?
Hall Table
The final piece of hall furniture is the inspiration photo is the hall table at the end – part tiny storage nook, part classic display shelf. Possibly a better place for waiting wallets or checkbooks, the primary purpose of this table is to show off. We like:
Family photos
Large, sculptural floral displays
Tiffany lamps
Ok, actually any lamps look good in this light
Seasonal vignettes
Ready to make a grand entrance? We have solid wood entry benches & hall trees with your favorite custom options waiting to be built just for you!