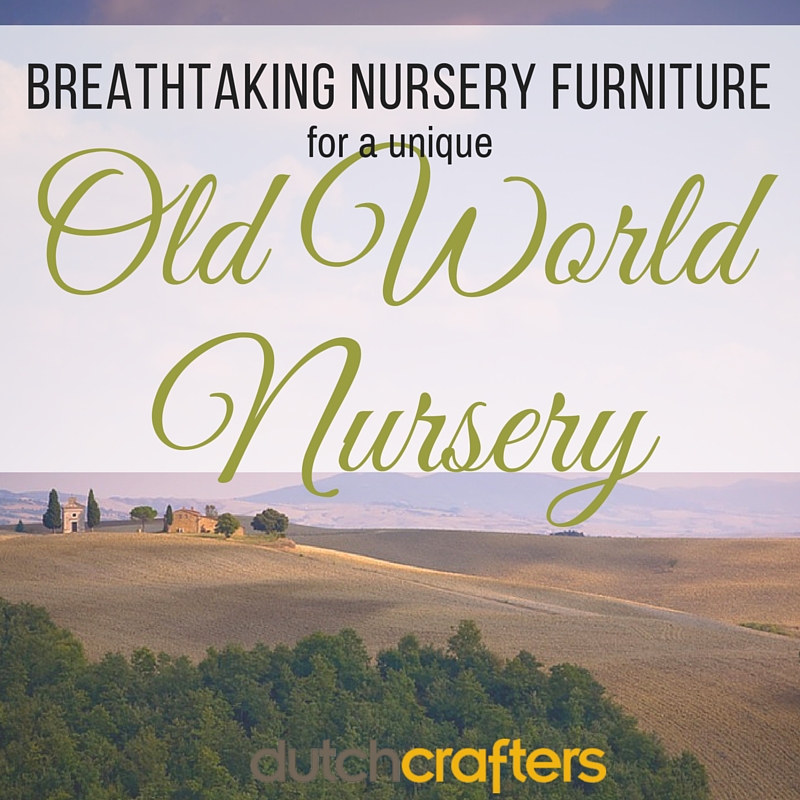 Breathtaking Nursery Furniture for a Unique Old World Nursery
Traditional Notes: An Old World Nursery
Preparing for the arrival of a new loved one is both a joyful and a daunting task. Where will this little love sleep? Where will the family sit for feeding time, nap time, and story time? Which nursery furniture speaks to the fundamental values of the family? Borrowing concepts and style from the annals of time to create an Old World Nursery might provide just the inspiration your new addition needs.
There are no right answers to the questions posed above – only unique feelings, desires, and inspiration.
Here, we explore Old World Style Nursery furniture to help ignite your imagination and guide your nursery vision.
[Tweet "Borrow concept and style from the annals of time for an Old World Nursery"]
Fanciful French Inspiration
While modern Europe remains focused on clean, minimalistic lines, much of Europe's design finds its roots in the curves and strength of the post-industrial, middle class homes that found their stride around the turn of 1900. These pieces – and the resulting nursery furniture – bring a sense of true comfort and warmth to the everyday moments that pass in them. Their deeply traditional lines bring a classical sense of security and beauty to medium and large-sized nursery spaces.
[Tweet "Fit for royalty, this French Country Crib shines in the center of an Old World style nursery"]
Cribs like the French Country Crib above showcase the kind of subtle curves and classical design notes that bring a true sense of traditional European design to the nursery. The lowered front works sweeping curves seamlessly into the crib's structure. The French Country also offers a raised panel back, a beautifully handcrafted accent that gives richly traditional beauty to the space around it.
A time-honored companion to the crib is an upholstered rocker, a piece which offers baby and guardians alike a weightless and relaxing space for feedings, naps, and long evenings of soft chatter and play. Here, we've placed an Amish Mission Rocker into the regal room above, to ground the delicate crib canopy and add structure to an otherwise curvaceous room. A golden pendant lamp crowns the room and its inhabitants.
Lavish London Influence
Gliders like the Swivel Nursery Glider below – ours is available in your choice of wood, stain, and fabric – offer unparalleled comfort and outstanding beauty. This particular model's curved arms and smooth, hand-cut upholstery complement a traditional space in both form and function. The hand-finished touches across the piece add a sense of integrity that mass-produced pieces struggle to match.
[Tweet "Elegance and grace combine for a sophisticated take on Old Euro style, featuring the Castlebury Convertible Crib."]
The Castlebury Convertible Crib brings additional taste and tradition to baby's new nursery, featuring impeccable craftsmanship and an enviable, variable convertible design. Soft silk curtains and an extravagant chandelier cast a glow along the lines of the luxurious pieces within.
[Tweet "An aristocratic nursery pampers the most precious of your possessions"]
Other classical European ideas for nursery furniture seating include our deeply-cushioned Versailles Lounge Chair, above, and our timelessly traditional, heirloom-quality Christy Rocking Chair. Both of these pieces, and the Christy especially, artfully blend subtle modern tones with the grand overtures of aristocratic Europe. A bookcase like the Castebury Kids' Bookcase brings a beautiful, time-proof close to any traditional nursery, with its deep shelves and convenient drawers inviting night after night of exploration and discovery.
Here at DutchCrafters, we're proud to work with Amish craftsmen who build every single piece of our children's and nursery furniture exclusively to order.
This time-honored process offers more opportunities for customization and custom style than any other method. We're ready to build something that exactly matches the look or the feel of the vision you have in mind for your nursery.