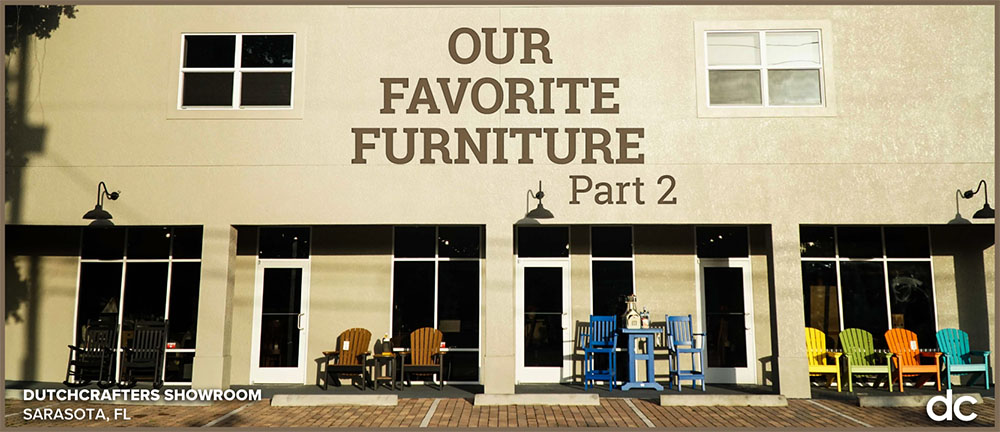 Our Favorite Furniture: Part II
The selection of Amish made, solid wood furniture in our Sarasota, FL store offers warmth, style, and function to ease your day and beautify your home.  Creating custom-made furniture is what we do best, resulting in unforgettable furnishings that are uniquely yours. This is furniture that contributes to warm memories as you gather and celebrate, rest and organize, relax and play.
From our showroom, filled with the scent of solid wood, we share more of our staff's favorite pieces with insights into the function and style that make them so special.
Ross Weimken, Product Portfolio Manager
Standing strong and tall toward the back of the store, you can't miss the navy and white striped Amish Tybee Island Wooden Lighthouse.
Valuing the work that goes into each lighthouse, Ross reflects on its origins. "The woodworker who builds this has been handcrafting these lighthouses for us since DutchCrafters began."
Ross, who enjoys spending time at home, adds that lighthouses are great ways to accent docks and any outdoor space with a nautical theme.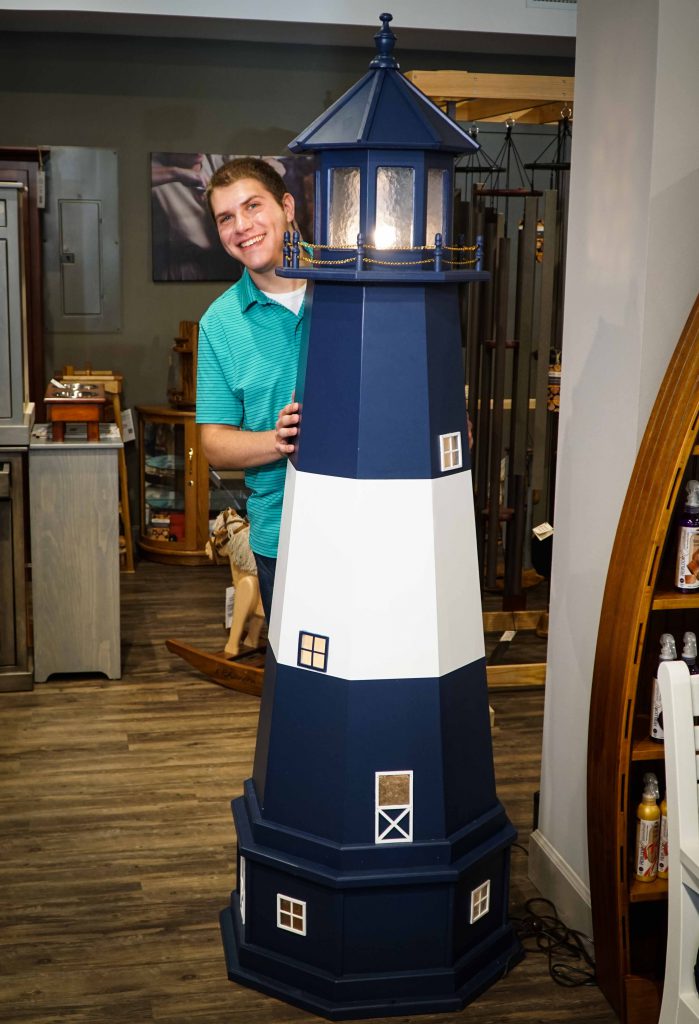 Debra Gingerich, Marketing Manager
Displayed next to a stunning solid wood bedroom set sits the Amish Revolving Shaker Jewelry Armoire.
Debra, whose perfect day starts with a walk on the beach and wraps up on the couch watching a SciFi movie with her husband and dog, is appreciative of the many functions of her selection. "It's a multitasker — a jewelry armoire, dresser and full length mirror all in one," she shares. "There's even a screen pullout for earrings, and as you turn it, you discover more, like the side openings for necklaces."
She also appreciates the warm color of the natural cherry wood and its smooth grain.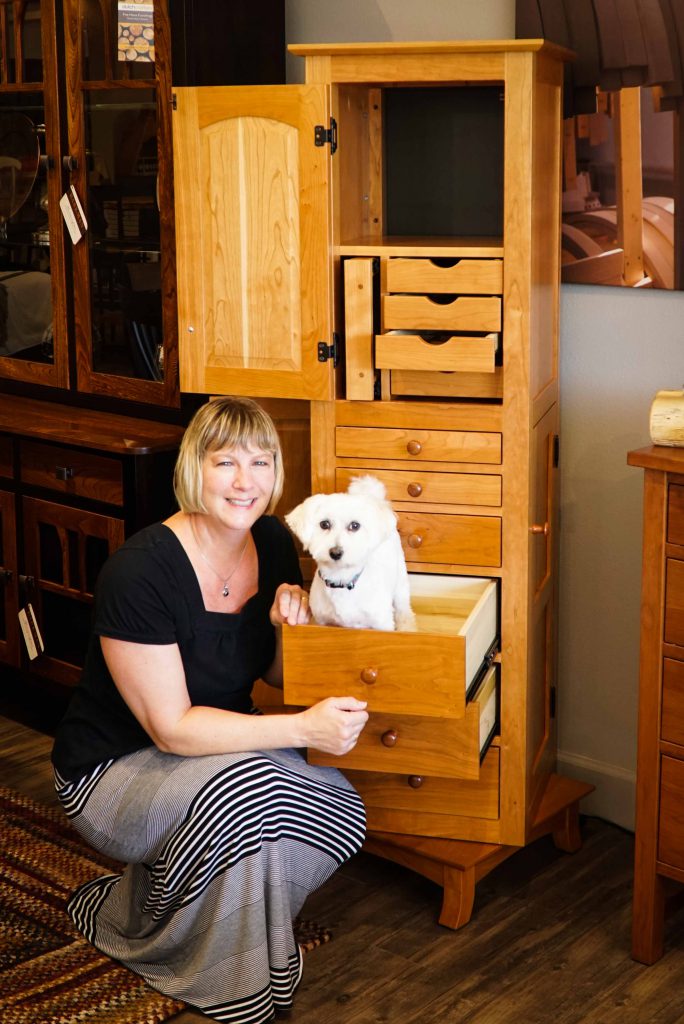 Alyssa Meyer, Sales Support
Gentle lights illuminate the headboard of the Amish Logan View Bed that stands luxurious and inviting next to its matching soft maple wood nightstand.
Alyssa loves the set because of its "elegant simplicity."
"It is a perfect mixture of modern, classy, and simple," she says. "It's not loud, yet it speaks for itself without needing anything extra."
As an avid reader, Alyssa also likes how the set's simple design conveys "a level of comfort and peace."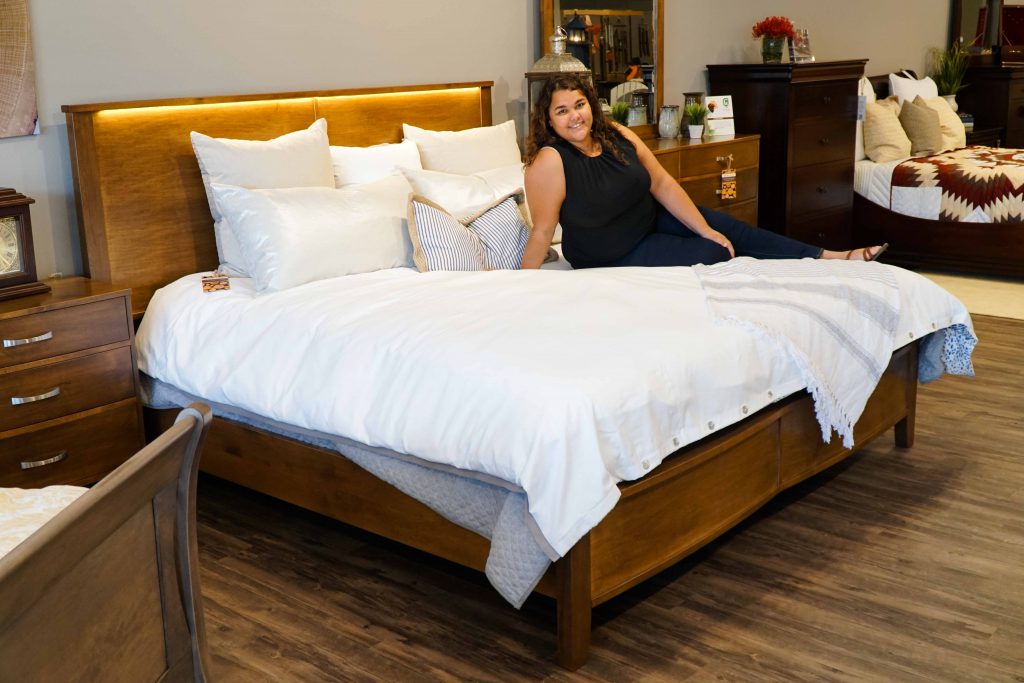 Frank Quinones, Sales and Service Manager
Just inside the front door, the warm leather seat and solid wood panels of Frank's favorite selection welcome you to sit.
The Amish Mission McCoy Recliner is "elegant and masculine," according to Frank.
Strength is a quality Frank admires and finds that the construction of this recliner fits the bill.  "It's solidly constructed, extremely comfortable and a great place to take a nap after a game of chess."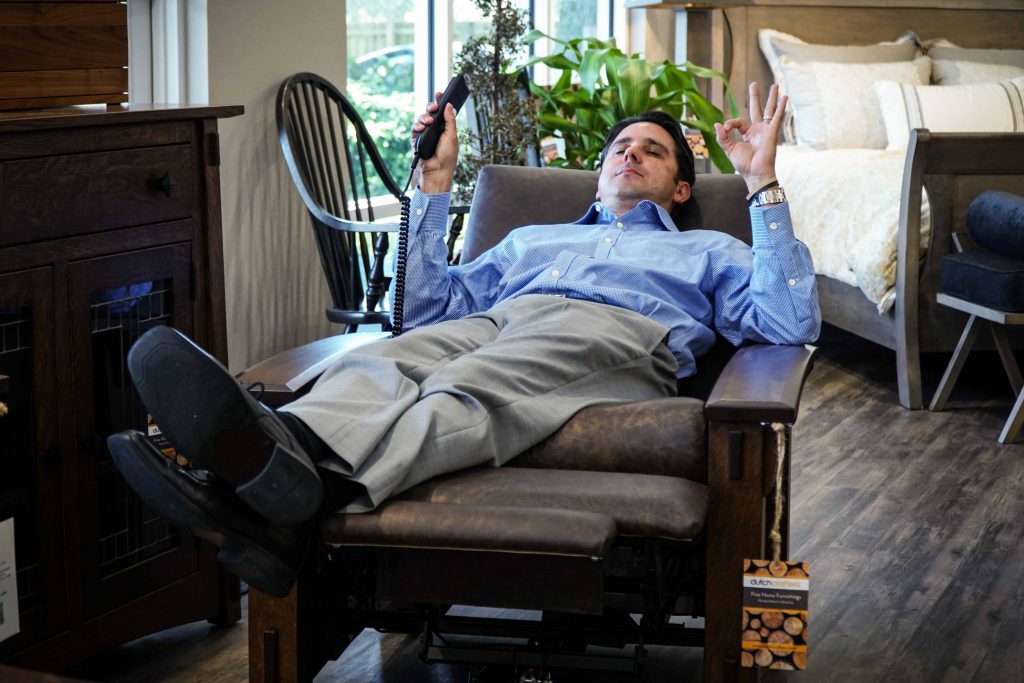 Milca Rivera, Marketing Assistant
Milca's favorite choice begins with some very special childhood memories, including the time her dad came home from work with gifts for her and her sister.
"He bought me a plastic doctor's kit with a stethoscope and a needle to administer shots," she remembers fondly. "I loved that set."
Milca's favorite items in the store are for the little ones.  She selects the Amish Maple Wood Kids Dining Table Setwith a smile.
"I'm still a child on the inside, and I love when kids use their imaginations versus playing games on an iPad or phone."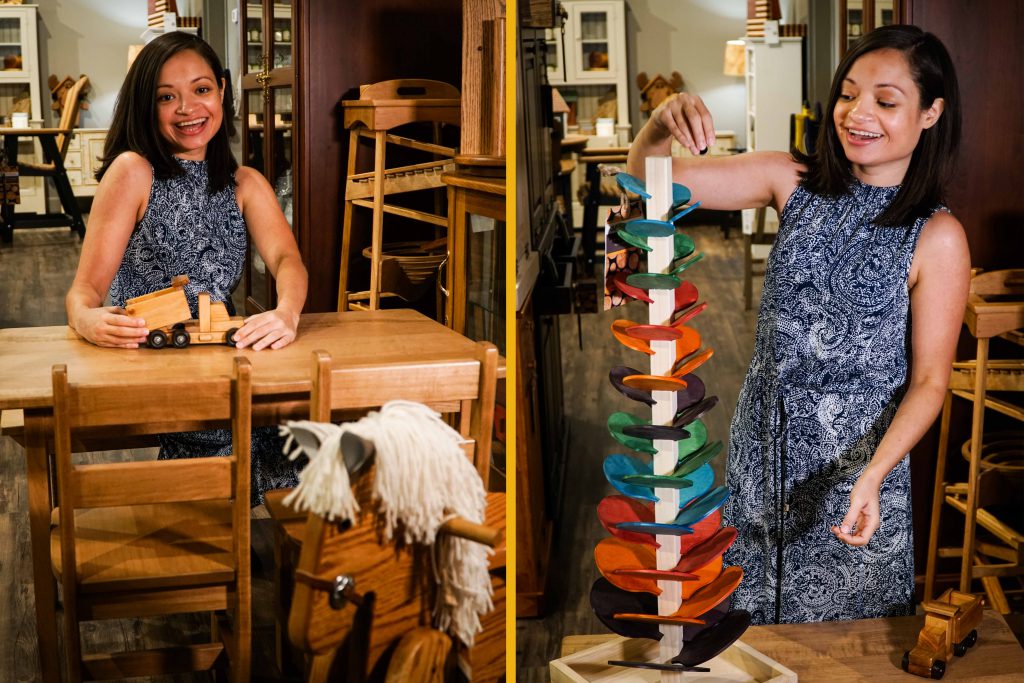 Marissa Stutzman, Bookkeeper
The raw, natural beauty of three live edge tables, Marissa's selections, draw the eyes to the center of the store.
"I can see these tables with my favorite succulents resting on them, or a display of family pictures with a few candles," she says of the Live Edge End Table, Sofa Table and Coffee Table. "Even when popular styles change, these tables are versatile enough to adapt to the trends."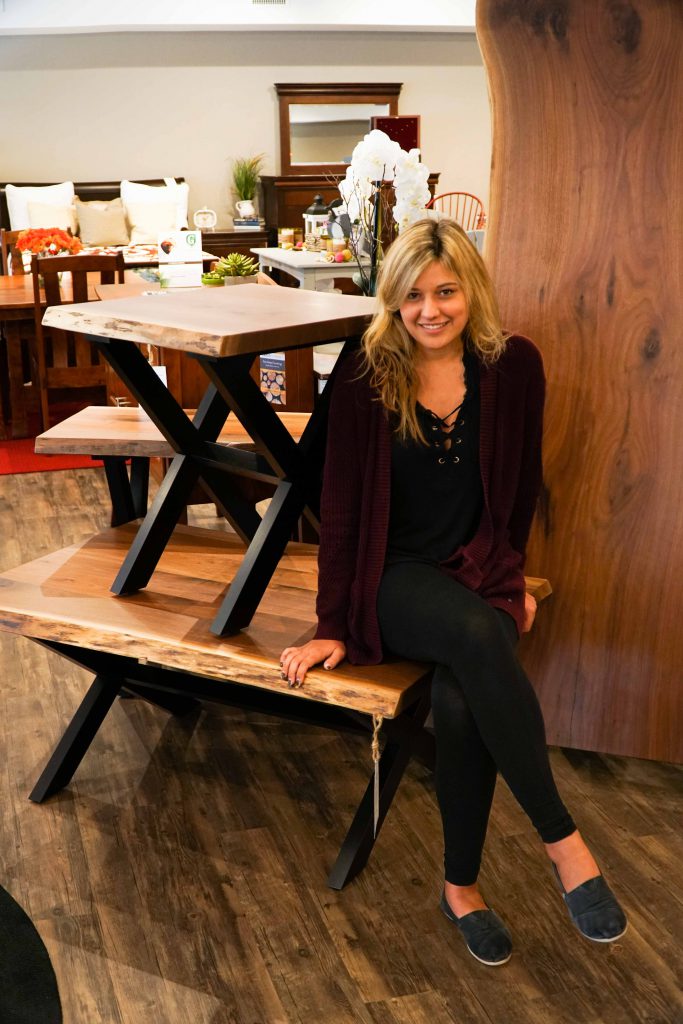 Jim Miller, CEO
Selecting one of the most customizable pieces of furniture DutchCrafters has to offer, Jim settles into the Trestle Table Corner Breakfast Nook Set.
"I like it because it has tremendous functionality," he says as he surveys the spacious storage bench.  "The design of this nook incorporates comfort, purpose, and beauty, and combines them in an exceptional way."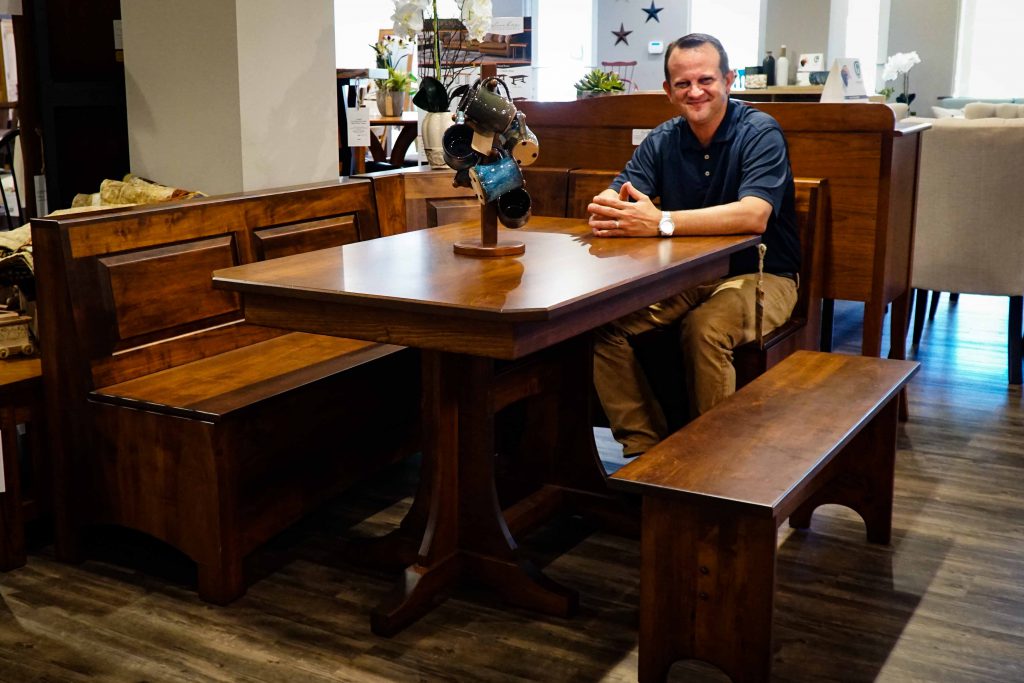 Ryan Schloneger, Showroom Furniture Specialist
Moving from the warmth of the cozy family breakfast nook to the collection of luxury dining room tables, the light gray color and grand size of the American Made Napa Valley Extension Dining Table make it unmissable.
Standing at one end of the red oak table, Ryan says he loves the how "the extensions at the ends of the table instead of the center make it unique," and also how large the table is.
"This is a table for a family," he says.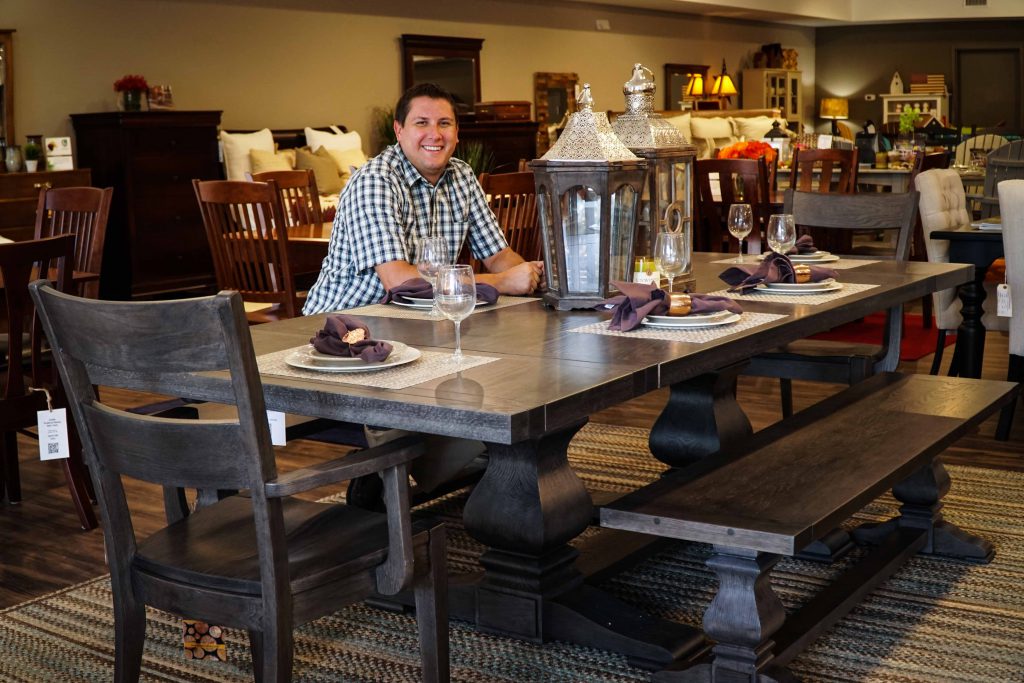 Derek Ebersole, Sales Operations
It's no surprise Derek chooses the colorful Berlin Gardens Five Piece Patio Furniture Poly Dining Set as his favorite piece. His positivity is a perfect match for the bright energy that emanates from poly lumber.
"I love being with family and friends and I enjoy being outside," he says.  "The outdoor set is an area to sit and mingle with each other."
He also likes that poly is durable, comfortable, long-lasting and doesn't require much cleaning.
"It provides a unique look and it's perfect for Florida since it can endure any weather condition," he adds.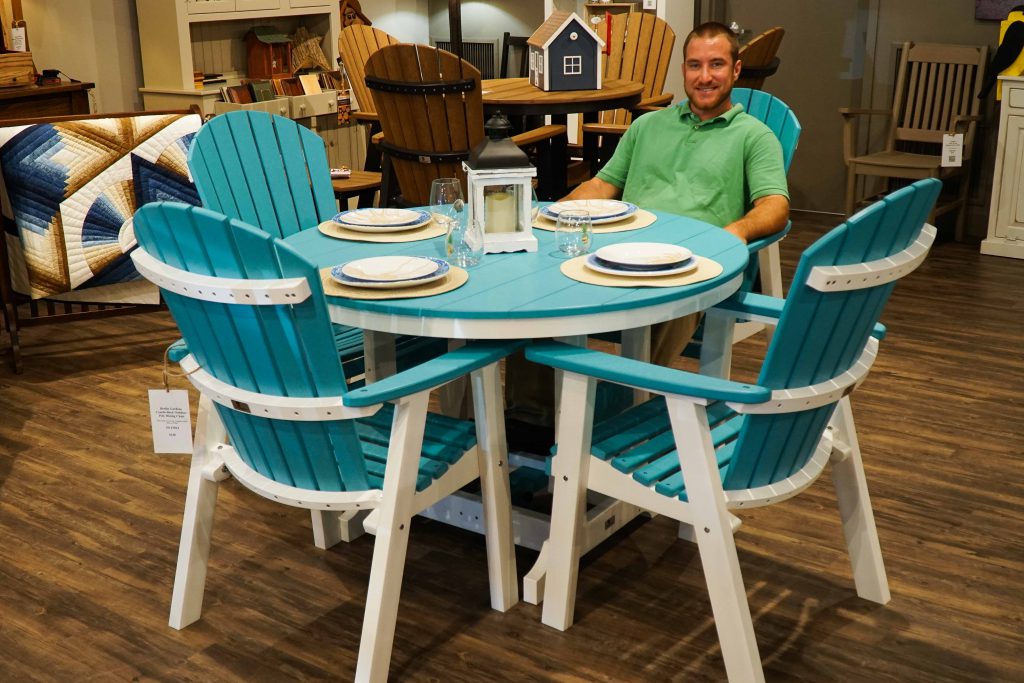 Paul Brasacchio, Showroom Manager
Paul's choice embodies the experience that DutchCrafters Amish Furniture offers to everyone who comes through the door. Sitting above neat rows of table edge options and a collection of full length table legs is the SelecTables sign.  This showcase allows clients to experiment matching different table legs and tops to create a desired look.
"I love to bring clients to the Barkman SelecTables design kiosk and encourage them to be creative," Paul says.  "For me, this program meets everything special-order clients are looking for with an incredible quality and value."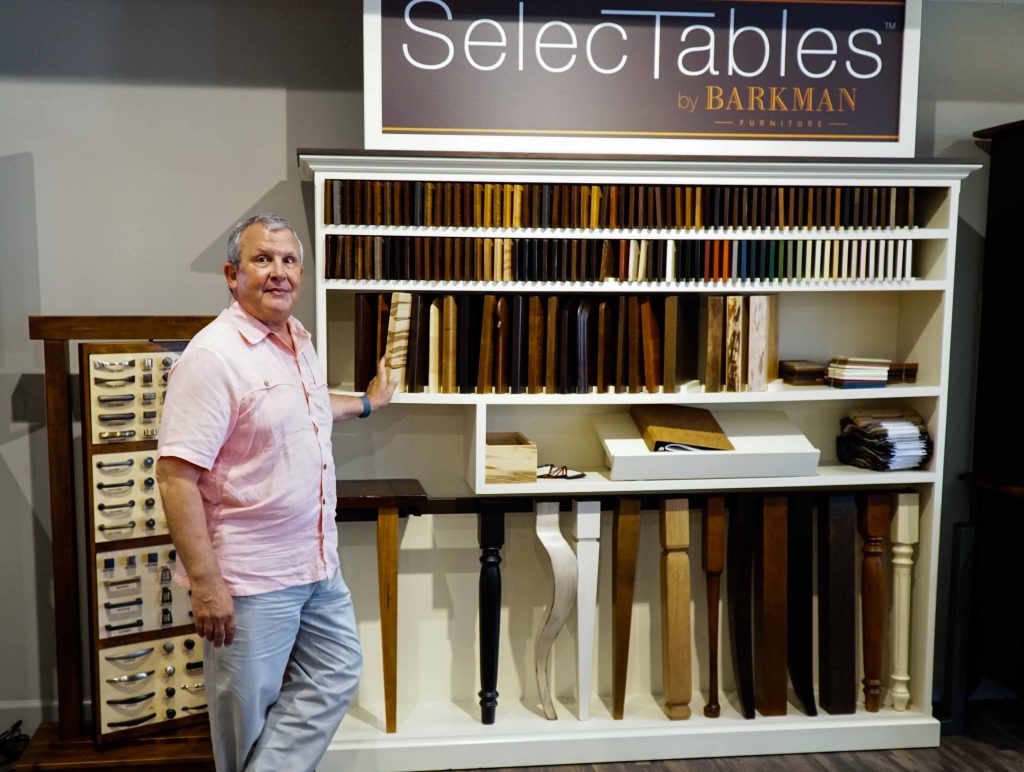 We invite you to come explore and discover your favorites in our store or on our website. There's a good chance there will be more than one.