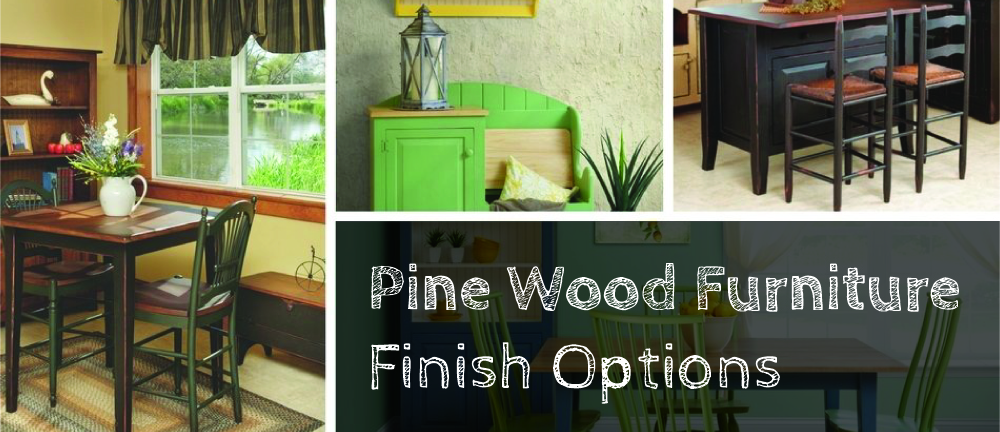 Pine Wood Furniture Finish Options at DutchCrafters
Pine wood furniture offers room to play. With its straight grain and uniform texture, pine wood takes paints and stains and shows them off with zest. In addition, this softer wood is an ideal candidate for a variety of distressing options that create a vintage, time-worn look.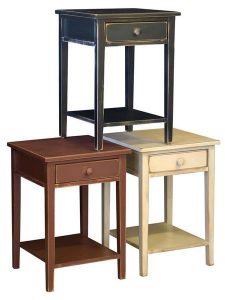 The audience for pine furniture is growing. Acquiring solid wood quality at a lower cost is quite appealing! Pine wood is a knock out for country and cottage styles and easily adapts to any room, quite often mixing nicely with other hardwoods in the same room.
DutchCrafters is your playground for creating solid wood pine furniture your way. We thought it was important to share the resources available to you and show you the easiest paths to making finish selections for your new pine furniture.
It's important to note that while we offer a wide variety of paint, stain and distressing options, we work with multiple vendors for our pine furniture and they don't all offer the same paint, stain and distressing options.
We offer 4 Indoor Pine Furniture Collections at DutchCrafters.
They are:
HERITAGE PINE COLLECTION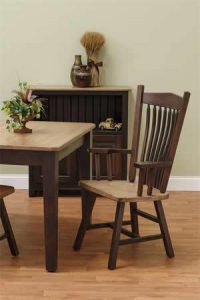 The Heritage Pine Collection emits a warm look and feel with paint colors that are neutral and warm like Classic Sage, Moss Green and Sandstone, to name a few. Stain colors come in a wide range from light to dark including Golden Oak, Mahogany, Acres Cherry and Pewter to mix things up. Glaze options add a dark tint and unique look.
Paint Options
Stain Options
Glaze Options
Distressing Options—light or heavy
For pine finish samples for the Heritage Pine Collection click here.
PRIMITIVE PINE WOOD COLLECTION
The Primitive Pine Wood Collection gets creative with rich, deep colors or sanded edges and antique paint producing looks of wear and age.
Stain Options
Primitive Paint (sanded edges)
Antique Paint (sanded with simulated cracks)
Straight Paint Colors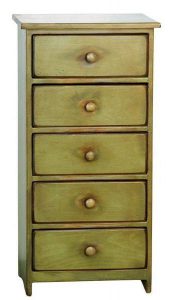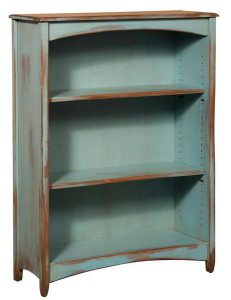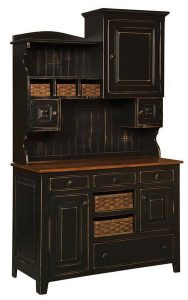 The Amish Lizzie's Painted Pine Hutch has a black painted finish with a Michael's Cherry stained top.
For pine finish samples for the Primitive Pine Wood Collection click here.
COUNTRY TRADITIONS PINE COLLECTION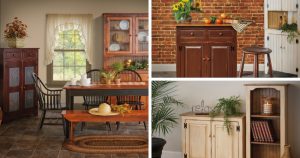 The Country Traditions Pine Collection Comes in:
Premium Stains
Premium Paints
2 Distressing Options: Country Accents Distressing=smooth grain pine with rubbed through edges or Rustic Traditions Distressing=rough sawn pine with hand planed tops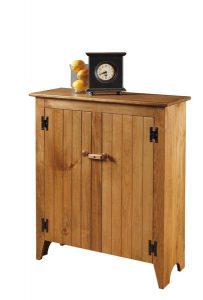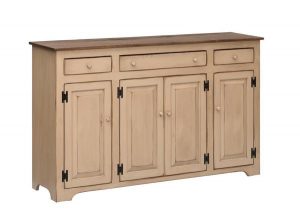 For pine finish samples for the Country Traditions Pine Furniture Collection click here. 
COUNTRY COTTAGE FURNITURE COLLECTION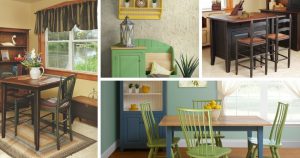 The Country Cottage Furniture Collection takes things even further with finishes, getting playful with colors from bright to neutral and offering very detailed distressing options. This pine furniture collection offers the following finishes for all pieces in this collection:
Standard Finishes: These are traditional colors that offer a vintage look. They are often combined with distressing options for a time-worn finish.
Afresh Finishes: These include bright and bold colors that are perfect for cottage style or for bright pine furniture to use in the kid's rooms.
Milk Paint Finishes: These are organic, non-toxic and environmentally safe. They are hand brushed, slightly cracked with a hand rubbed wax top coat, and made from all-natural materials like milk, clay, limestone, chalk and tinted with earth pigments.
We have pine finish samples for the Country Cottage Furniture Collection available for you to get a closer look at your options.
It's Easy to Order Pine Wood Furniture Samples
For all of our pine furniture, it's easy to select samples for each collection.
On the Product Page, simply click on the Order Finish Samples drop down located underneath the product description, then click the CLICK HERE button to take you to samples.
On a Collections Page, simply find the CLICK HERE button to take you to finish samples for all products included in that collection.
The Inside Scoop on DutchCrafters Pine Wood Furniture
DutchCrafters offers Free Shipping on all indoor pine furniture.
If you are ordering multiple pine furniture pieces from different collections and you like a finish that's offered in one collection and not the other, please ask us about it. We can try to transfer the piece to the woodshop that offers the desired finish.
We have a Sample Category page that offers another easy way to find finish samples for all collections.
Important to Note:
Distressing options will vary a little, depending on the collection. We encourage you to contact a Furniture Specialist with any questions about distressing packages.
Pine has a natural resin that can possibly bleed through a light finish and while this adds to the character of the piece, we like to let our customers know it's a possibility with light finishes.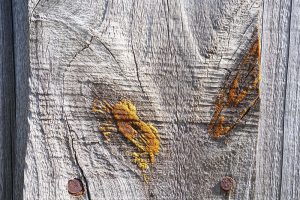 Image of natural pine resin "leaking" through a fence.
Your solid pine wood furniture will look amazing with lots of custom finish options at your fingertips. We hope this guide is helpful in getting you right where you need to go. Remember, our Furniture Specialists are always here to serve you. Email or call and we'll be happy to walk you through any additional questions about our custom pine furniture.