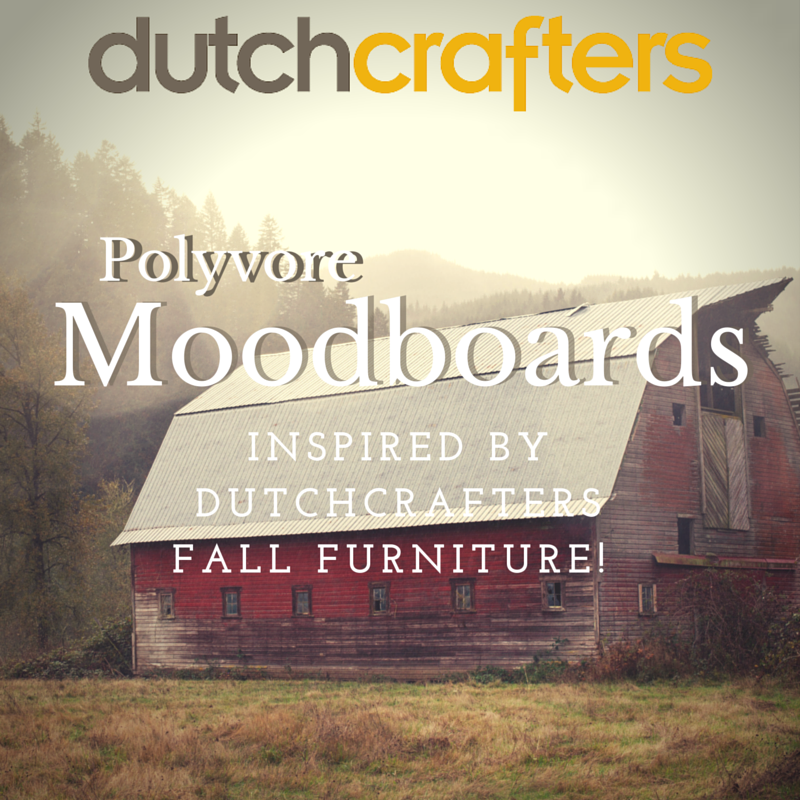 Polyvore Moodboards Inspired by Dutchcrafters Fall Furniture!
Note: The original Polyvore site no longer exists. We appreciate those who created boards with DutchCrafters furniture.
We couldn't resist having a little fun to start the pumpkin season, so when we saw that our Polyvore fans had already started working Dutchcrafters fall furniture into their moodboards, we hopped on the hayride!
See a couple of their creations:
Fall Furniture: Homey Hallow's Eve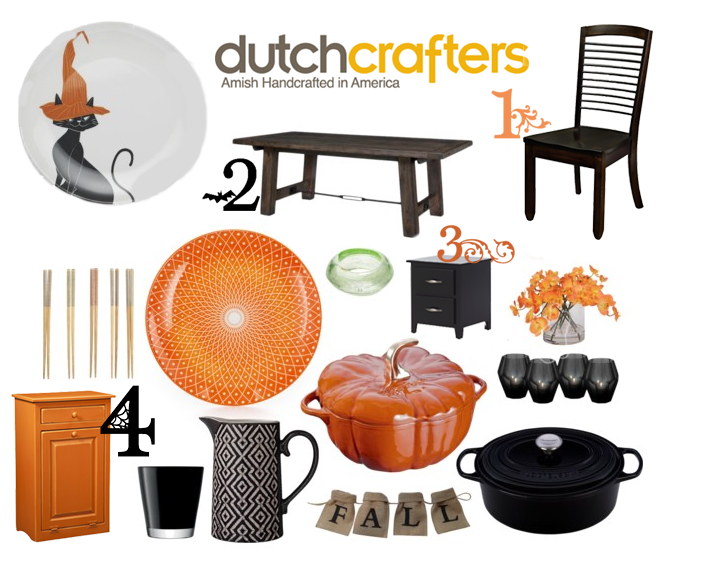 Dutchcrafters Polyvore Fan Mountain-Girl-Lynn started this Homey Hallow's Eve board[/caption]
Black cats and black pots are equally welcome in this ode to the Halloween holiday. Our NEW Ouray Dining Table  (2) awaits kitchen concoctions for the family, while the Liberty Modern Dining Chair (1) comfortably seats the eager diners.
We imagine the row of black candles down the center of the table, the garland strung on a mantle behind, and the darling orange buds popped on top of the Bay Bridge Nightstand (3) in the corner (sidenote: yes, a nightstand in a dining area. Is it formal, or ideal? Not necessarily. But if it's the right size and style? Adorable & functional).
Tuck the quirky pine trashbin cabinet  (4) in the kitchen (where no one will ever know that it's a garbage can!) with the bubbling black cauldron and seasonal pumpkin casserole dish, then serve your hors d'ouevres on the diving black cat plate. Save the orange rounds for the main dish, pour something green and fizzy from the pitcher and dig in!
Only don't forget to answer the door …
Fall Furniture: Moss + Rust Color Combo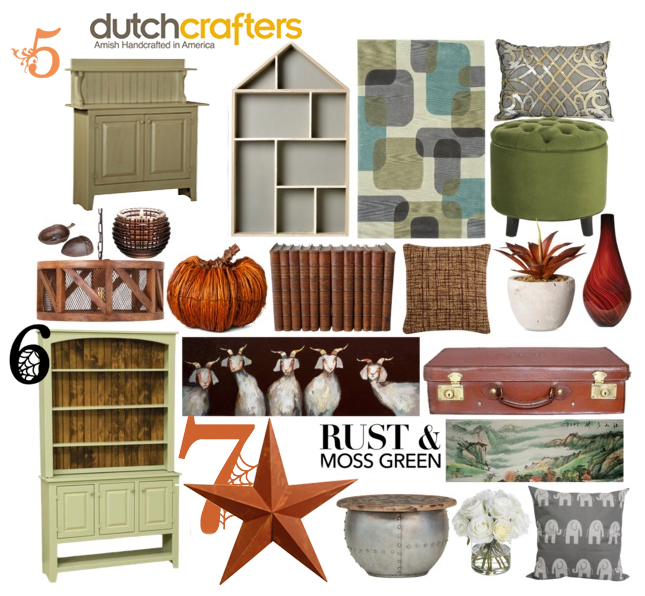 This palette by lisadcruciani is far from precious, and fits right in to our fall furniture theme.
Natural elements are a welcome change as the leaves turn a burnt orange and the grass blends to a tawny crunch beneath your feet. This swoon-worthy moodboard of farmhouse goodness feels just about right for a season made with homebodies in mind.
The first of two sideboards, our Pine Shaker Sideboard (5) is the place to store slightly less sightly items, like paper plates for down-home dinners, or your partially finished knitting projects. Add a charming bouquet of white roses to the top, and no one will be the wiser!  The second sideboard, our Pine Wood Sideboard with Hutch Top (6) will display your grandmother's fine taste in plates and dinnerware, and leave room for that straw woven pumpkin to take up residence for the season!
A curious gaggle of goats would like the chance to greet visitors at your entry hall, while a thrift-style suitcase brings out the best in aged leather, and looks cozy propped next to an umbrella stand by a front door. Of course, our Rusty Amish Barn Star (7) will welcome family members with grace from the get go, assuring all who enter that this country farmhouse will always be home.
Shop for the Family Season this week with Dutchcrafters Amish Furniture, so you can feel warm & cozy all winter long!