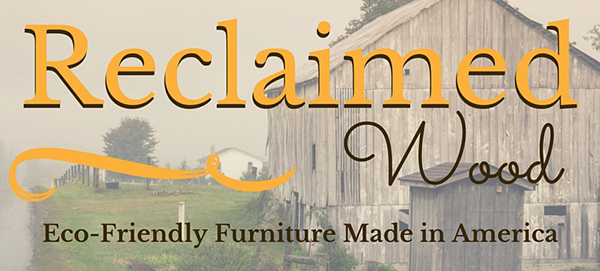 New Beginnings for Reclaimed Wood
The long journey of our reclaimed wood furniture starts in the heartland of Pennsylvania and Ohio, where it is salvaged from various locations and sorted through by hand in order to determine what can be used. This wood with a rich past starts off on its new life when it is sold to one of our Amish woodworker shops. Here, the next chapter for what is typically yellow or white pine begins, full of life and ready to serve its next purpose!
In our woodshops, reclaimed wood is kiln dried in order to ensure that insects and any other pests are vacated before the building process begins. Kiln drying is also done to reach the ideal moisture level for the wood, making for a strong, structurally sound end result for your home.
What to Expect
Initially, flaws such as nail holes, worm holes, and sun spots are all left open. Because we are lucky enough to work with a variety of skilled woodworkers, there are various finishing processes that take place for barn wood furniture. Different woodworkers use different techniques, from filling knot holes with epoxy to fitting imperfections with wood to make for a smoother finish. Holes on the bottom of reclaimed barn wood are seldom filled.
Depending on a customer's preference, there are a number of ways to smooth over the flaws of barn wood. Many people choose to leave the holes open in order to preserve the history that is inherent in reclaimed wood. This way, the wood is able to show its true, century-old character. Our woodworkers aim to keep the process of reclaiming this special material as natural as possible. Fitting the past in with a modern lifestyle results in a wonderful balance of old and new.
Styles to Suit Any Home
One of our favorite features of reclaimed wood is its adaptability to almost any taste. Impressive is the fact that even after a hundred years, it still manages to stay relevant to updated décor. Like your home, each piece of barn wood is one of a kind.
Give wood new life in these variations:
Modern Industrial
Our Modern Industrial Reclaimed Wood Bookcase has gotten some serious attention and we can see why! What better way to organize your favorite reads than in the beauty of wood that has a story of its own to tell?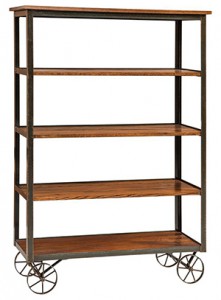 Our Modern Industrial Reclaimed TV Stand is another great option for fusing new and old flawlessly.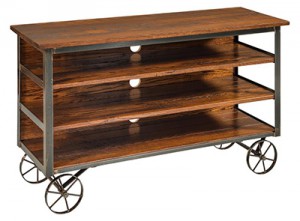 Old Barn Beam Look
Made from the beams of the barn where it was collected, the ceiling was just the start for this handsome Tall Reclaimed Barn Wood Chest.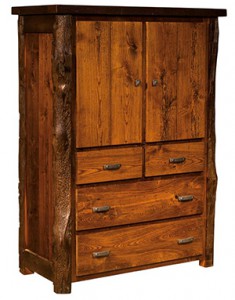 Farm House
The clean, classic lines of our Plank Farm Table are suited for homes both traditional and modern.
Barn Wood Bonus
This unique Reclaimed Wood Block Art Mirror just arrived in our Sarasota Furniture Store and not surprisingly, it is even more gorgeous in person!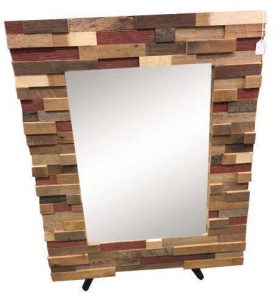 Reclaimed wood is clearly capable of so much more than what it was originally purposed for. As you can see, barn wood is an eco-friendly option that will still allow you to express personal style. Continue the story without compromising your taste in American made furniture.
Be sure to take a look at our growing range of beautiful barn wood at our Reclaimed Wood Furniture Collection.