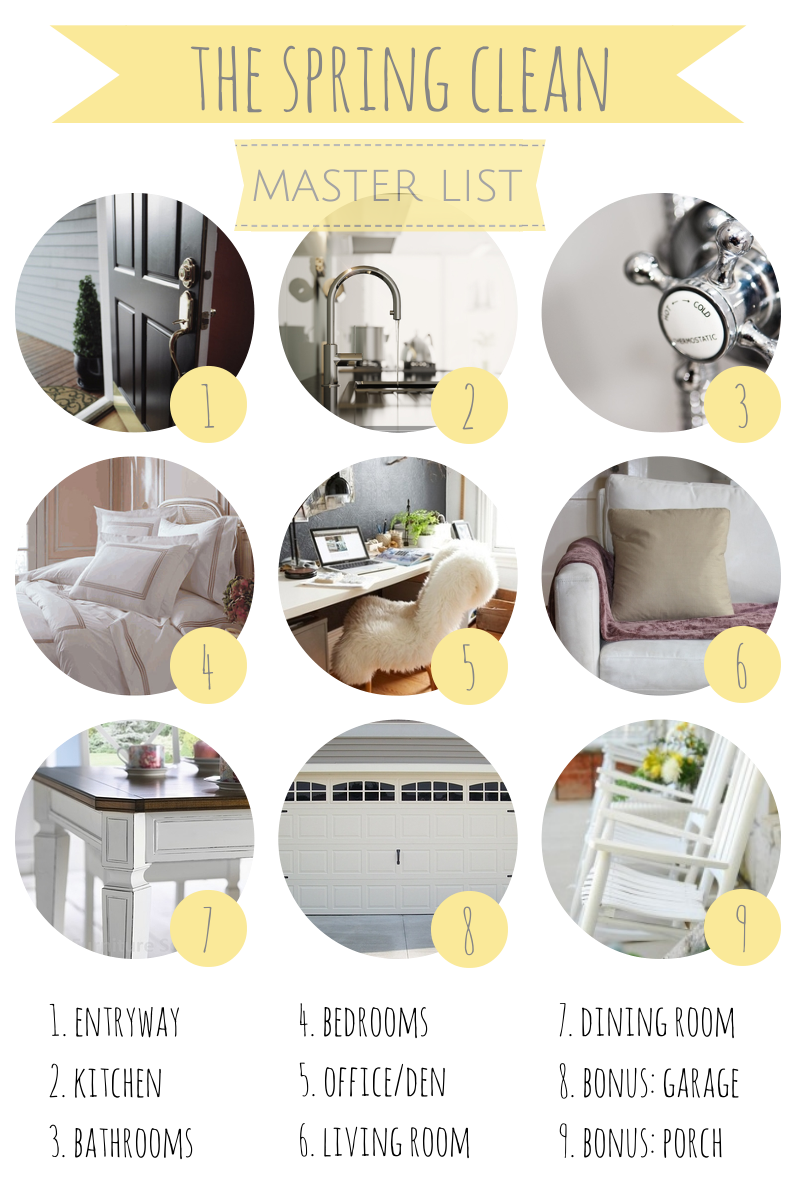 SPRING CLEAN – The Kitchen
Okay, so this list looks super-long, but . . .
 . . . from here on out,  a lot  of the first few activities are repetitive for each room. You'll be cleaning window sills in every room. Checking the walls and wiping down switchplates. With that in mind, if you're so inclined, you're welcome  just go through the house and, say, clean ALL the windows. Or ALL the light fixtures.
Anything that keeps you going/motivated! For some people, that's scratching things off a list, for others it's a snack. For still others, it's a breath of fresh air every half hour, no matter what. For some of us, well . . .  you'll see!
CLICK HERE for a printable version of the list!
Kitchen
Basics
Dust light fixtures
Clear ceiling cobwebs
Dust blinds
Treat curtains as needed [launder/spot clean/switch to summer fabrics]
Clean windows & sills
Walls – scan ceiling to baseboard for obvious marks & scrub them out

Include switchplates & doorknobs here! A quick swipe is usually sufficient

Tackle the cabinets (one at a time is best, seriously):

Empty the cabinets of contents
Wipe down inside walls, back of door, shelving
Wipe down contents before replacing what you want to keep (that's a hint to ABCC)
Wipe the front doors/handles

Tackle the drawers (again, one at a time)

Empty
Wipe down insides
Wipe down contents
Wipe down fronts & handles/pulls
OPTIONAL BREAK FOR DANCING A JIG – YOU DESERVE IT!
Scrub down your stovetop (easier for some than others, we know)

Wipe down your various elements (teapots, drip bowls, extra timers) before replacing or storing them elsewhere

YOUR DISCRETION: Start your self-cleaning oven mode. There's some solid advice AGAINST using the feature, and some people would rather wait until they're finished in the kitchen before running it, anyway. Your call.
Clean the front/knobs/buttons/dials of your dishwasher
Clean the inside of your dishwasher – here are a few popular ways
Empty out your freezer

Toss what's expired or never going to be eaten (or unrecognizable)
Defrost if necessary
Put back what's left in an organized fashion (oldest at front/on top, meats in a separate area from veggies, from deserts . . .)

Empty out your fridge – we recommend one shelf or section at a time, starting at the top

Toss anything questionable
Scrub down shelves, door shelving, remove drawers and wash in the sink
Wipe down condiment bottles and jars, especially leaking caps
Put back what's left in an organized fashion

ABCC your refrigerator door . . . you can do it . . .
Clean the fronts & handles of fridge & freezer
Tackle the small appliances (that weren't in cabinets):

Microwave, inside & out
Toaster oven, inside & out & empty pan
Coffee pot, inside (as in, where you put the water) and out

Scrub down your sink, drains (try vinegar for serious gunk) & around your faucet & knobs
Wipe down your countertops
Sweep/mop or vacuum/mop the floor (here we are, assuming that no one has carpet in their kitchen . . .)
Bonus
Sharpen your knives
Polish your silverware
Straighten your pantry

SuperBonus: Empty your pantry entirely, scrub it down like you would a cabinet, check all of your expiration dates, then return & organize the contents