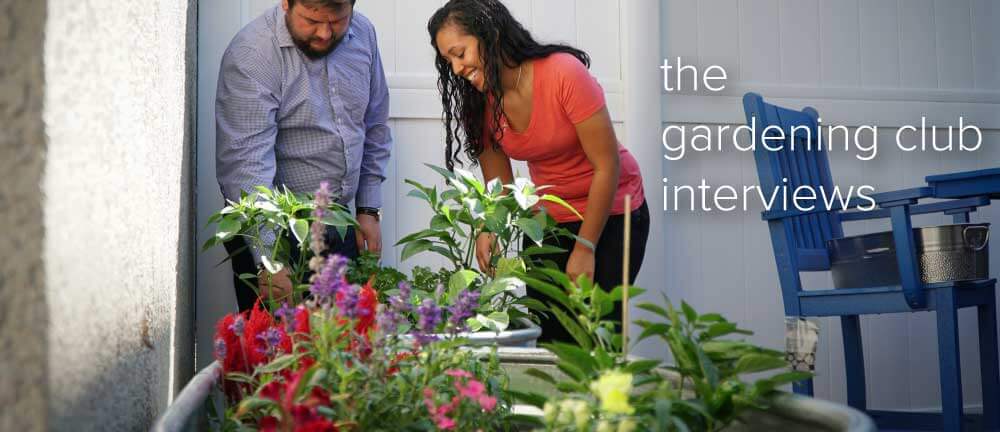 The Garden Club Interview
A garden requires patient labor and attention. Plants do not grow merely to satisfy ambitions or to fulfill good intentions. They thrive because someone expended effort on them. Liberty Hyde Bailey
In November 2017, DutchCrafters Vice President Linse Miller started a company Garden Club. With some seeds and starter plants, some garden boxes and soil, Linse sent out an invitation to the DutchCrafters team to join in growing something together. Now with 17 members and new plans on the horizon, the Garden Club hosts lunches made with their bountiful harvests, inviting the rest of the company to partake of delicious soup and salad meals they grow with their own hands.
DutchCrafters Vice President, Linse Miller
In Sarasota, Florida, the JMX Brands office building (home to DutchCrafters) sits over the DutchCrafters showroom and features a spacious patio area that runs along the north side of the building and wraps around the back. It is here that garden boxes full of carrots, cabbage and a variety of vegetables, as well as galvanized steel watering troughs overflowing with jalapenos, banana peppers, basil and a variety of flowers have been set up.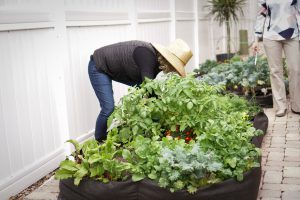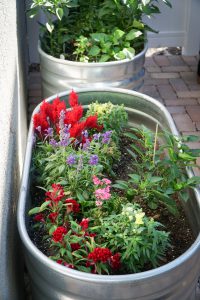 The garden boxes and galvanized steel watering troughs overflowing with growth in the DutchCrafters Garden.
I met with the Garden Club in the DutchCrafters Showroom to talk about their activities and how the Garden Club has brought them together within their work community.
BETH: Why did you start the Garden Club?
LINSE: I like to garden, and I liked the idea of having a community garden we could share in together.
BETH: Please describe some Garden Club duties.
ALL: Watering, cleaning leaves out of the planters, planting seeds and starters, cutting back arugula lettuce, picking the vegetables when they're ready to harvest, cleaning and chopping vegetables, and eating!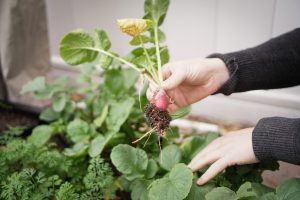 Pulling up the radishes.
BETH: What have you planted so far?
ALL: Kale, peppers, onions, romaine lettuce, jalapenos, cilantro, mint, a few types of spinach, carrots, beets, radishes, squash, cucumbers, tomatoes, bok choy, and various flowers.
DEBRA: Did we say beets? We don't need to say beets again.
LINSE: (laughing) Debra's not a fan of beets.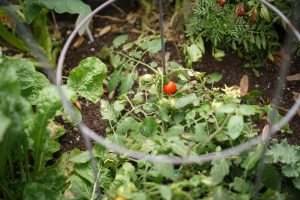 Tomatoes growing on the vine.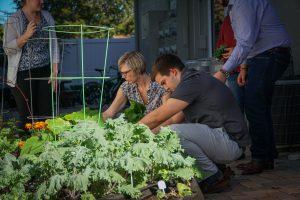 Debra and Alex helping harvest the vegetables.
BETH: Who here had a garden growing up as a kid or helped in their parent's garden?
MARY: My Mom liked to use picking vegetables in the garden as sisterly bonding time and would send my sister and I to pick whatever veggies were in there all afternoon. Our dog would lay on all of the plants.
DEBRA: Both of my parents grew up on farms and we had a large garden. We grew corn, a few kinds of beans, radishes, several types of lettuce, potatoes, and zucchini. I had to do a lot of work in it every summer, and we canned and froze for the winter months. We would plant, weed, and fertilize. My dad was a manager of a feed mill and one time he brought home some outdated feed for us to use as fertilizer that attracted a lot of black flies. Our neighbors were not happy with us that season.
LINSE: I loved the garden we had growing up. I remember watering it. I remember pulling carrots and rinsing them with the hose and eating beans right from the stalk. I think if kids are exposed to fresh veggies like that at a young age, it makes them more agreeable to them when they grow up.
DEBRA: My grandmother had a blueberry and raspberry patch, and I would go through it and pick and eat them. They're my favorite fruits to this day.
SARA: My sister and I were frequently sent outside to play. One day it had been raining for a while and we had probably aggravated our mother to the breaking point, and we were sent outside with our raincoats and rain boots to play in the yard. We took our barbies with us and began building a mountain out of the soil in a corner of our Dad's garden. We dug several pools for our dolls with a creek connecting them. It was raining, but we felt we needed to add more water, so we turned on the hose and our dolls swam, and we had a great time. We ended up ruining the corner of my Dad's garden. I don't remember getting punished, but we never found our sunshine family baby doll again.
BETH: What have you learned from your participation in the Garden Club?
ATINA: The differences between grocery store vegetables and what we grow here. With what we grow here, the colors are brighter and the veggies taste so fresh.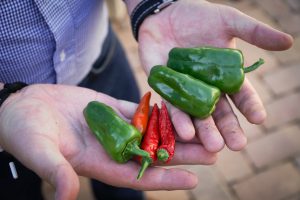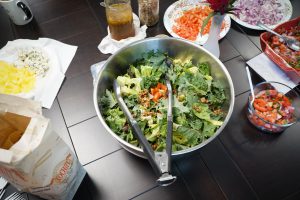 The Garden Club makes lunch with their high-yield harvest.
MARY: How quickly the veggies grow. We started some vegetables with seedlings and some with starter plants, and the seedlings grew quicker.
MARIBEL: All the water that's required.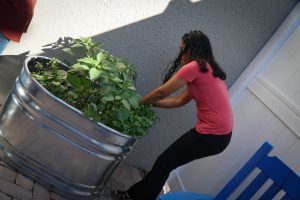 Maribel helping with watering and plant care.
LINSE: It's satisfying to grow things I've never tried to grow before like beets and peppers. They grew so fast.
BETH: What does sustainability mean to you and what are ways you've all gone green at home?
RYAN: I would say sustainability is living in a smart way; using your resources and being concerned with how you allocate your time.
SARA: I've stopped using so many paper towels.
KARI-JO: I got a water cooler instead of buying bottled water, and I always turn off all the lights in rooms I'm not using.
LINSE: We have a chart at home reminding offenders who leave the lights on that they will be charged a fee, and we use cloth napkins.
Linse at a Garden Club luncheon.
MARINA: I use reusable cloth bags for my groceries.
SAVANNAH: I reuse lots of things for art projects.
ERIN: I got a water bottle that my daughter can re-use instead of buying bottled water.
DEBRA: Our toilets are not low flow, so I filled wine bottles and set them in the tank to use less water.
BETH: How has participating in the Garden Club contributed to your work here at DutchCrafters?
MARY: Since we are growing so quickly as a company, it's great to be around people on other teams and get to know about their lives and connect as a community.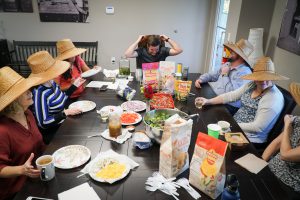 Linse has outfitted her team with straw hats to shade them when they work in the garden.
BETH: If we brought in a garden gnome for your garden, what would you name it?
RYAN: Nomi
SARA: Brown Maple
DEBRA: Levi
MATT: Polly
BETH: What's next for the JMX Garden Club?
LINSE: Since we're headed into summer weather, we bought some vegetables that are more warm weather friendly. We'll try zucchini, sweet peppers, more tomatoes, leeks, and two kinds of green beans. We're also going to try musk melons which will take up a lot of space. I'm excited to see how our new veggies do.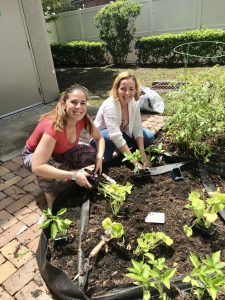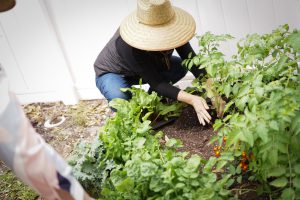 Kari Jo, Erin and Linse work on planting new veggies.
As our interview wrapped up, I went out to the patio to survey the garden accompanied by Linse, Maribel and Kari Jo. We headed back to the garden boxes just in time to see a blue jay taking off from his perch. One box was filled with healthy, fluffy green carrot tails. Linse reached down and pulled up three of them, each one revealing a plump carrot. Two were bright orange, the other, yellow.
"This is what I love," Linse said, cradling the carrots in her hands. "It's a satisfying thing to pull up a real carrot."
We hope you enjoy this recipe for Kale and Mushroom Ramen Soup from the DutchCrafters Garden Club.
Kale and Mushroom Ramen Soup
Author:
Ingredients
2 tbsp. olive oil
2 green onions, sliced
4 cloves garlic, minced
1-2 cups sliced kale or bok choy
1/2 cup sliced mushrooms
3/4 tsp. fresh ginger, grated
1/2 tsp. kosher salt
1/4 tsp. black pepper
1 tsp. chili garlic sauce
2-3 cups vegetable stock
Ramen noodles
Toppings (Optional)
Thinly sliced carrots sauteed and browned in chili oil
Hot Sriracha sauce
Cilantro
Sliced jalapenos
Instructions
In a high-sided skillet set on medium high heat, add olive oil. Once the oil is hot add garlic, green onions, kale and mushrooms. Saute until they just start to soften.
Add ginger, salt, pepper and chili garlic sauce. Quickly stir to combine and pour in vegetable stock.
Bring mixture to a boil and add ramen noodles. Break up noodles and once they are cooked remove from the heat, pour into a big bowl and drizzle with optional topping items.