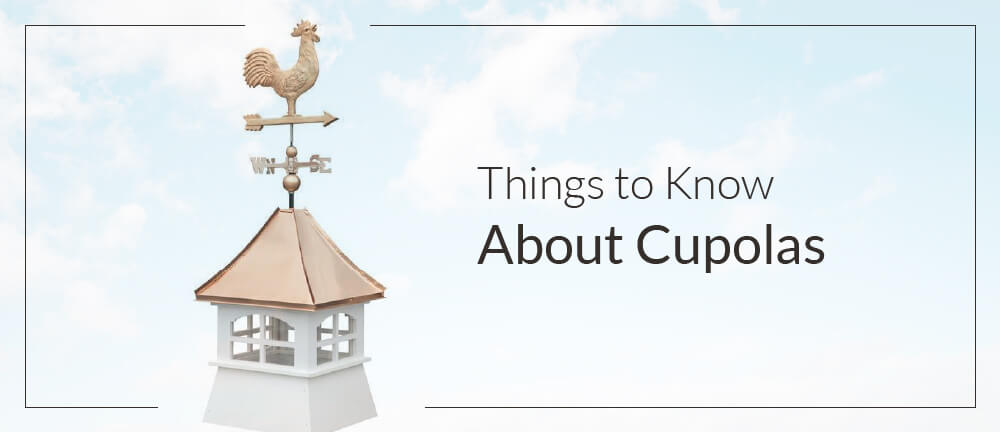 Things to Know About Cupolas
What are cupolas exactly? How do they work and how can you customize them?
We're diving into things to know about cupolas. Let's start with defining the cupola.
What is a cupola?
A cupola is a decorative and functional addition to the roof of an outdoor structure. In some cases, it offers ventilation and serves to let in light. Cupola comes from the Latin word, cupella, that means "small cup." A cupola is almost like an upside down cup, with a hollow interior to allow air to move through and let in light.
Look up for the cupolas and you'll find them. Cupolas have graced the tops of cathedrals, castles and government offices throughout history. The earliest cupolas were used on mosques and Islamic architecture as far back as the 8th century.
Cupolas have always been friends to buildings on the farm, helping to provide ventilation in barns and other farm buildings. The exchange of fresh air and release of barn air helps to keep things smelling better. Cupolas positioned on the roof over a hay loft let in air to help keep the hay dry.
How does a cupola work?
For cupolas that are not purely for decorative purposes, they are used for ventilation, to let in natural light or both. Some cupolas have louvered vents that allow air to circulate. The cupola allows air to come into an attic or barn loft space and sends the moist air back out, helping to prevent mildew growth and control odors.
A cupola with louvres looks like it has small shutters with adjustable slats, or blinds or vents on the sides. The vents are pointed down to catch wind coming up, forcing fresh air into the hollow area in the cupola and into the structure it sits on top of. The air will circulate down. The tilted slats allow in air and light, yet the angle they are tilted at keeps rainwater out as well as direct sunlight.
Some cupolas feature windows for letting in light and do not provide ventilation. They have windows instead of louvres.
Parts of a Cupola
The three main parts or a cupola are the base, the vents (middle), and the cap (top or roof). The middle vent portion can have windows, louvres or a combination of both.
What are cupolas made of?
Materials used to make cupolas include vinyl, cedar and pine wood. Aluminum and copper are used to make the tops. The best materials for cupolas are those that are low to no maintenance.
How can I customize an Amish cupola?
Amish cupolas are durable and made to last. You can customize them by choosing size and material for the cap (often aluminum or copper). You also may be able to choose the color for the middle section and the top.
There are several cupola designs that you can add a weathervane that helps predict weather by indicating changes in wind direction.
The Charm of the Cupola
Cupolas are most loved for their looks. While they do more than just look pretty, the look they add can't be denied. Adding this roof ornament shows off the height of the home, especially when the cupola is positioned at the highest point on the house. Cupolas create a focal point that draws the eye as it adds to a home, barn, shed or building's design. Cupolas are shapely and the cupola cap features different shapes that include square, hexagonal, bell shaped, round or octagonal. These shapes add to the look of the cupola.
Benefits of a Cupola
Decorative, enhances design of roof
Provides ventilation, allowing exchange of air
Lets in natural light
Keeps rain out while letting in air and/or light
Reduces chance of mildew build up in barns while helping control odors
Today the cupola is valued both for the pretty look it adds to a roof, as well as its ability to provide ventilation to cool attics and barns and let in light. These days you'll find cupolas on houses, barns, offices and even garages.
While cupolas are not everyone's cup of tea (shameless pun attempt), these things to know about cupolas prove they are more than just decoration.