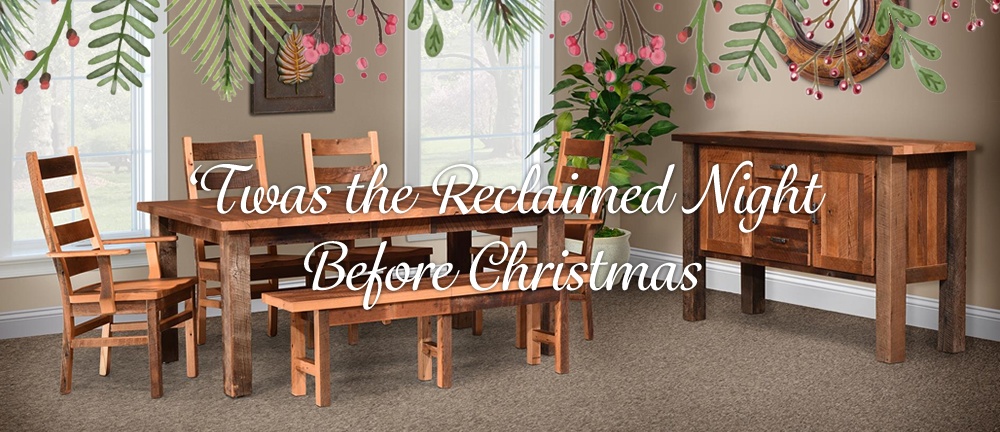 'Twas the Reclaimed Night Before Christmas
Characters:
Pinot: A sensible and upbeat Sliding Barn Door Buffet.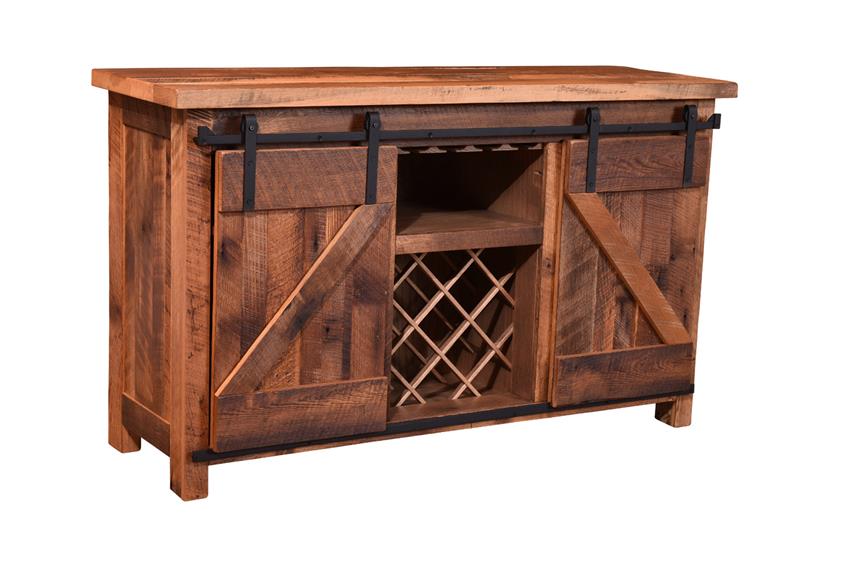 Barney: A somewhat cranky Timber Ridge Reclaimed Barn Wood Dining Table.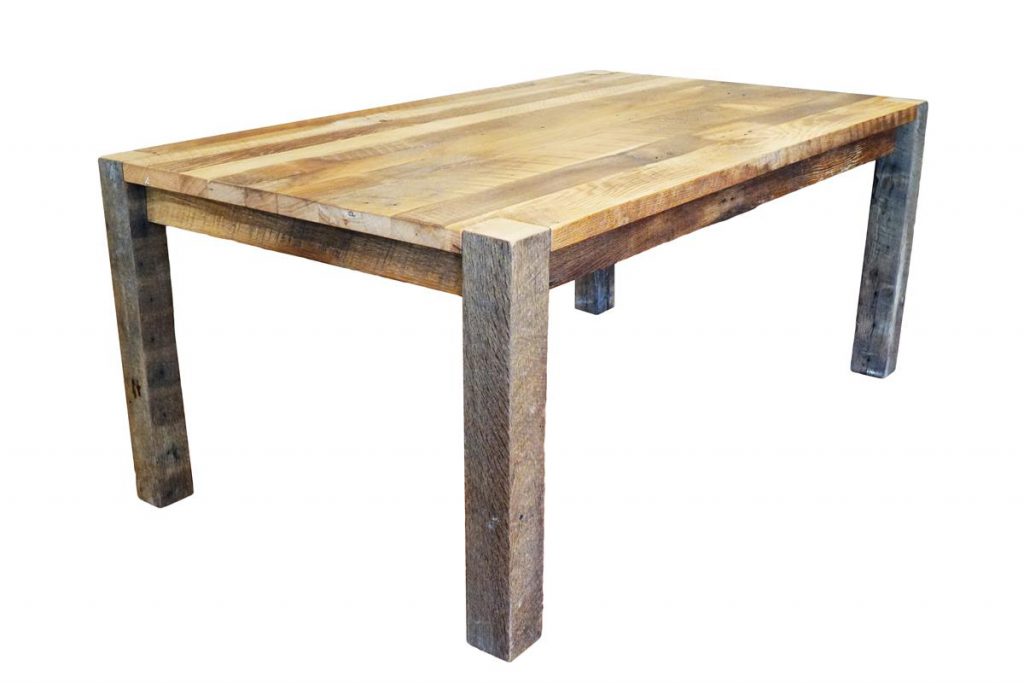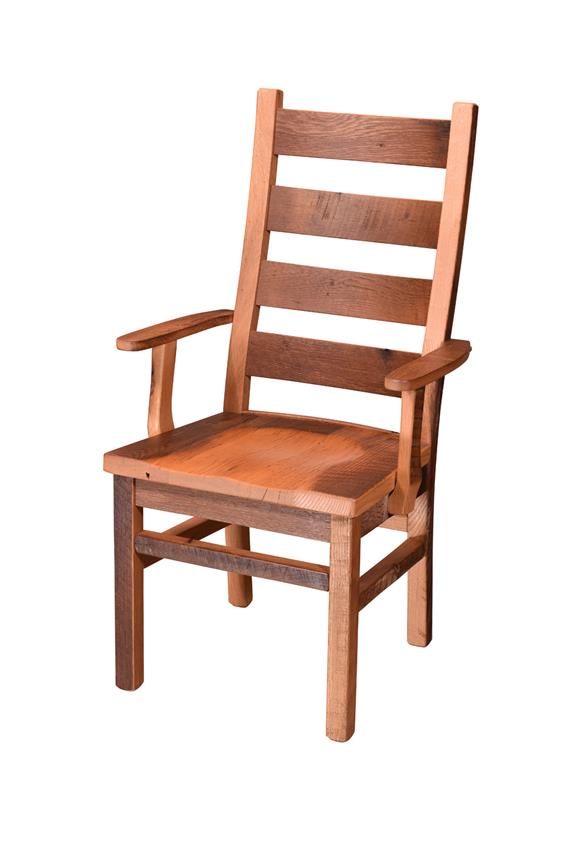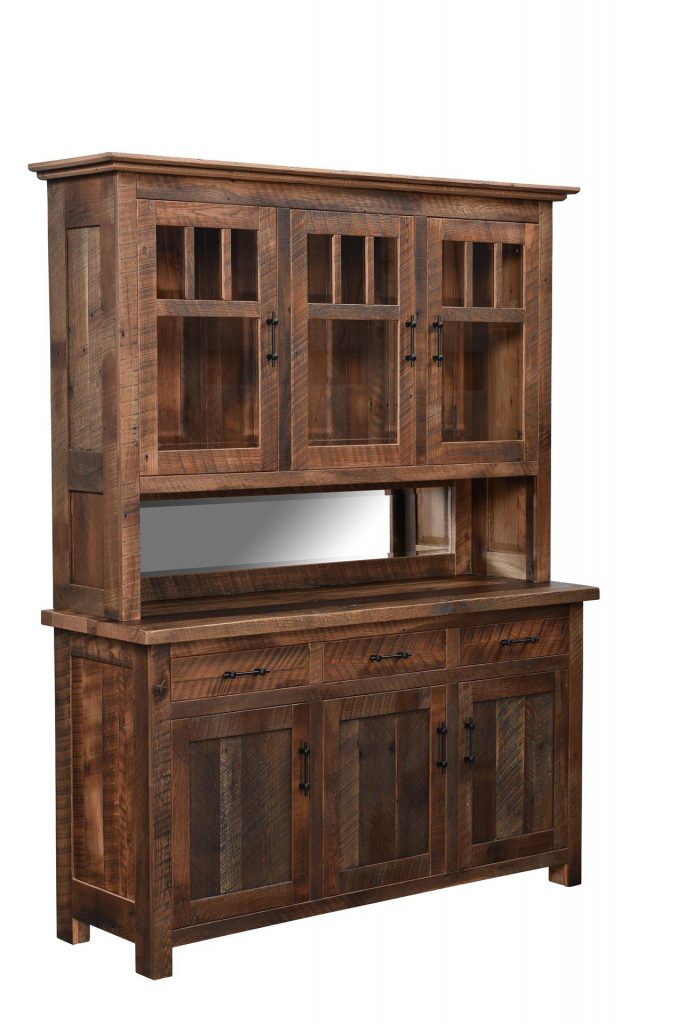 The Scene:
A Rustic Style Dining Room.
Christmas Eve 2017.
11:15 pm.
A light snow is falling as a reclaimed dining room set awaits the dawn of Christmas morning.
Pinot: I think I hear him.
Barney: Shhhh, I'm trying to sleep.
Eave: Wait — do you hear him?… I don't hear anything.
Barney: Clear the crud out of your knots and listen for your silly jingle bells, but keep it quiet, would ya?
Eave: Well, that was harsh.
Pinot: He's just mad he has to hold the milk and cookies again. I told him I would hold them this year but…
Barney: Can it, wino!
Eave: I'm so excited to see Santa! You know, when I was a barn, Santa landed his sleigh on my roof one year, instead of the house. That's why I have these deep ridges towards the back of my seat. I was a barn on Laura Ingalls' property before she was Laura Ingalls Wilder. Laura played in the barn a lot. She…
Barney: Yeah, we know. We know!
Pinot: Are you going to ask Santa for anything this year, Gable?
Gable: (Singing) "All I want for Christmas is my two front teeth, my two front teeth… hmm…"
Pinot: You don't…have any teeth Gable…but OK.
Eave: Well, I would ask for one of my nails back. You know how when our wood is reclaimed, they run it under the metal detector to remove all the nails?
Pinot: Yes, but why would you want one of your nails back Eave?
Eave: Because Laura Ingalls hammered a nail in one of my boards to hang her bridle on.
Gable: (Takes a deep breath and sings) "We've both seen it strong enough, we've both seen it fail. Gonna build our love, with hammer and nails."
Barney: Clearly I'm not going to get any sleep with you three. Hmmph.
Pinot: Is there anything you want for Christmas Barney?
Barney: Well…ahhh…nah.
Eave: What is it, Barney?
Barney: You'll think its dumb.
Pinot: I can honestly say I've never run into any barn wood that I found to be dumb. Anyone who's been going for over one hundred years like we have has some strength and smarts I say. So, what is it that you're wishing for?
Barney: I'd…I'd like to have this one sunspot removed.
Pinot: (Surprised) One of your sun spots? Really?
Eave: But your sunspots are part of what makes you original. There's no other barn wood with sunspots in the same places as yours. Think of them as cute little freckles. Laura Ingalls had cute little freckles.
Barney: I guess it's not so bad.
Pinot: Eave is right. One of the most appealing things about us reclaimed barn wood folks is our originality. All that time out on the land has shaped us.
Eave: Out on the prairie.
Pinot: The prairie, the plains, the countryside — all that time out in the elements has created a natural beauty. Every mark, nail hole, wormhole, carving, crack, and sunspot makes you an original. You should wear your marks with pride Barney.
Santa: Ho, ho, ho! Merry Christmas!
Pinot: Hi there, Santa!
Eave: Whoa! Hi, Santa. Merry Christmas! Please have a seat — have my seat. Welcome — oh my, this is just as exciting as having Laura Ingalls pitching hay up in your loft.
Santa pats Barney and runs his hand over Eave's top rail as he moves into the living room to distribute gifts under the tree. Once finished, he returns to the dining room.
Gable: "All is merry and bright, so hang your stockings and say your prayers, cause Santa Clause is comin' tonight…"
Pinot: Santa would you like a…
Barney: (Interrupting) Just hold your glasses Pinot, I'll offer Santa a snack. Santa Clause, would you like some milk and cookies?
Santa: Why I'd be delighted, Barney. (Sits and starts to eat a cookie). Why, these are delicious, and what a comfortable chair and dining table to sit at.
Eave: (Awestruck) Thank you, Santa! Those are apple fritter cookies. They were Laura Ingalls' favorite.
Santa: Ho, ho, ho, that's very fine, Eave. (Santa finishes eating and gets up to go). I must be moving on, but thank you for the fine snack. I must say, I've never had milk and cookies at such a beautiful dining room set.
Pinot: We're made of reclaimed barn wood Santa. Wood from old barns is recycled and used to make furniture like us. Since we have a weathered look, we often get used in rustic style rooms like this.
Eave: And in cabins like Laura Ingalls' childhood home.
Santa: Ho, ho, ho, how delightful. You've all made me feel warm and comfortable, and I must say, my eye was drawn to one thing, in particular, that is quite beautiful.
Pinot: What's that Santa?
Santa: Why it's this lovely little mark right here. (Santa raises a gloved finger and points directly at Barney's sunspot.) What a beautiful marking on such a fine table! Merry Christmas to all, and to all a good night!
Gable: "It's the most wonderful time of the year. They'll be parties for hosting, marshmallows for toasting, and caroling out in the snow…"
(All join in the singing as the sun begins to rise.)