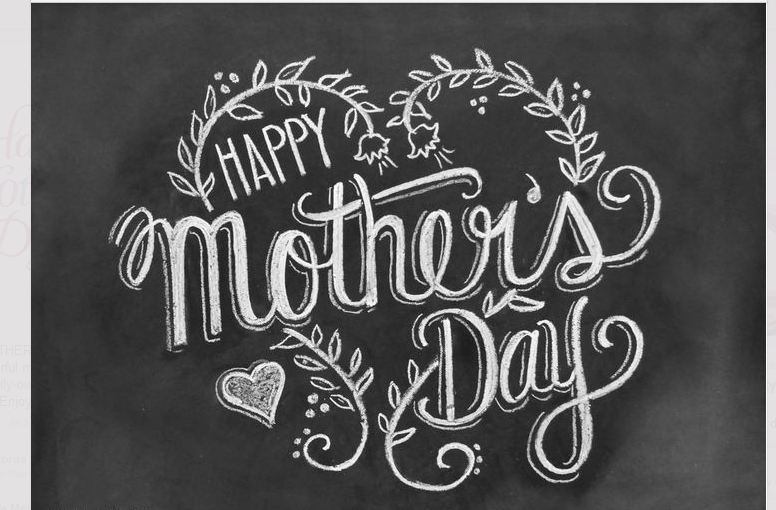 Two Simply Perfect Mother's Day Ideas
Because Mom Taught Us Well; It IS the Thought That Counts
by Jayca Pike
Of course, a small gesture to correspond with that thought doesn't hurt. Here, we've rounded up a few ideas for those of you short on time, money, brainpower-on-Sunday-mornings . . .
1. Personali-TEA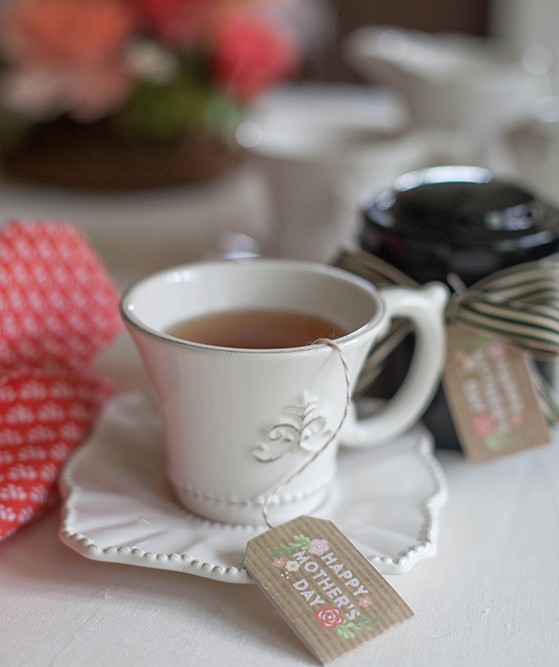 Supplies: Computer + printer + scissors + stapler or tape (or a glue gun!)
Time: About 20 minutes
Homemade tea tags are just plain darling.. Search Google for free printables (you'll find plenty, we believe in your Internet skills!), print, cut, attach to Mom's favorite tea bag et voila!
Get creative with these! "Happy Mother's Day" and "We Love You" are all well and good, but why not write her name in ink on there ? Or handcraft the whole tag — complete with doodles or sequins? Or petals or fingerprints?
This is a natural idea for a breakfast-in-bed tray, but we especially love the idea of covertly wrapping an entire box of her favorite tea's tags and putting them back in the pantry as you found them. The first time she spots one, it'll be a sweet surprise, and after that? It's a lovely reminder that you care about her every day — not just when the calendar tells you to.
2. Flag Her Down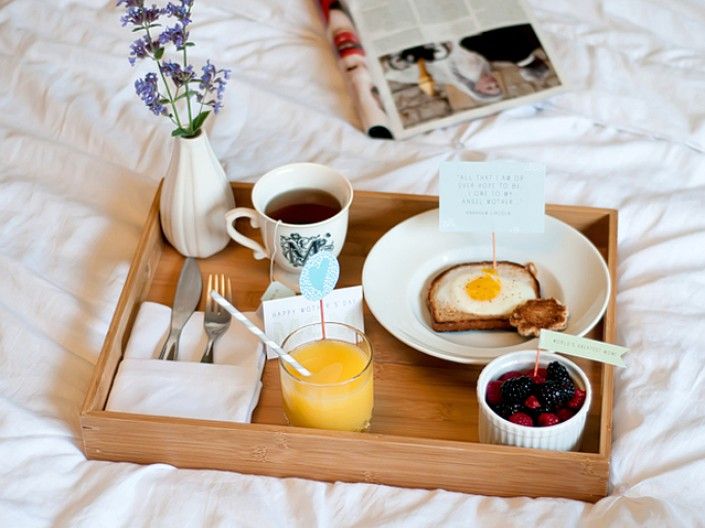 Supplies: Toothpicks + Tape (or glue gun) + Scissors + Construction paper
Time: Depends – plan on at least 10 minutes
Speaking of breakfast trays . . . why not personalize the whole shebang? Make up fun restaurant-speak for a small bowl of berries with Reddi-Whip ("Compote a la Caroline"), wrap a little flag with the name around a toothpick and prop it up in the bowl. It's so cute, and so much more endearing than a gift card that you picked up the gas station and handed over with an unsigned card (you get where we're going with this). A heart flag in a bowl of oatmeal, a decorated straw for her OJ . . . these are special, simple things that Moms appreciate almost as much the fact that you'll clean up everything afterwards.
If you've got some more time, hide little flags around the house (in potted plants, stuck into apples, use pencils instead of toothpicks and "plant" them in window boxes)). If you have a cake for later, ditch the candles and use flags, instead — each one with a different reason she's a great mother.
Mother's Day is about appreciation, and we have no doubt that you know what the Mothers in your life will appreciate the most. But we hope that we nudged you past that gas station and into more gratifying territory. After all — you'll have a birthday coming up, eventually:).
However you celebrate, warm wishes and happy blessings to all of the Mothers this Sunday, with special thanks to those we are fortunate enough to work with every day:
Alicia, Gwen, Kaity, Linse, Melonie, Natalie and Jody — thank you for all that you do for us and for your loved ones. Hugs and high-fives for your special day!