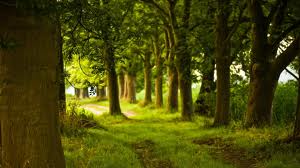 Think back through the winter. Yes, this past winter — this long, arduous trudge of never-ending and bitter winter. Think about the snow and the ice and the wind and the frozen toes, noses, cars and windows. Then think further back, before everything turned bleak and formidable. In fact, try thinking about this time last year.
Had you heard birds singing yet? Maybe a couple. Had the vibrancy of a bright green leaf caught your eye, even as it struggled through the flurries? Had children begun to play in the street again, had you walked to the mailbox without a scarf and mittens, had you enjoyed the glimmer of sunlight bouncing over the melting snowbanks?
Could you tell that Spring was coming? Could you smell it?
At DutchCrafters, we remember it well, and with a great fondness. So, in the spirit of the coming season, we're sprucing our place up a bit as well. While Mother Nature is busy putting buds on the branches and grass in the fields, we'll be putting a fresh new perspective on the blog, and elsewhere on our site. Look for original content and media with your interests in mind. Think design hints, insider tips, Amish recipes, a project or two, gift guides, holiday planning and definitely some reader- and comment- inspired posts.
So, as you find yourself getting outside to enjoy the upgrades in the weather, check back to see ours, as well! We've already saved a spot in the comments for you.