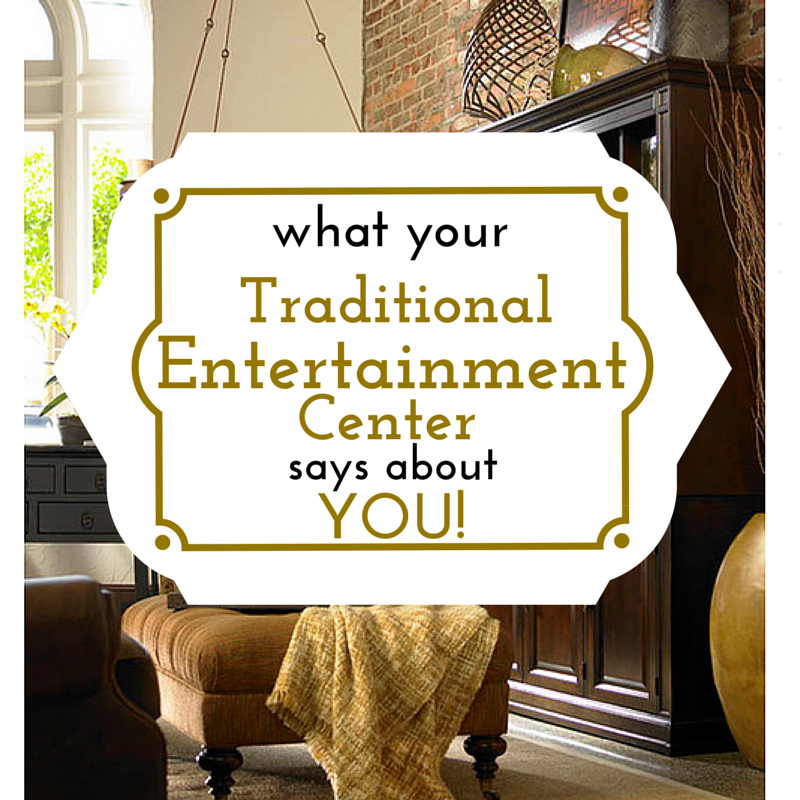 What Your Traditional TV Entertainment Center Says About You
America is tuning back into the traditional TV entertainment center (sometimes in the form of media rooms and home theaters) for tv media storage, after a short-lived phase of attempting to blend televisions into decor at all costs. So let's talk about what that gorgeous, traditional wood entertainment center says about you!
Now that we've all accepted the fact that, yes, we watch TV and no, we don't need to "hide that ugly black box," it's time to take a look at what your traditional style entertainment center is telling your guests as they shuffle into your living room.
Traditional TV Entertainment Center
You have a favorite restaurant. As a matter of fact, you eat at that restaurant every week – probably at the same time, and you usually order the same thing. You take vacations to the same wonderful bed and breakfast at the lake (or at your own summer house) as soon as the weather permits.
You enjoy antiquing. You're not afraid of a floral print on a textile, and neutral walls are your best friends.
You'll skirt a bed, an ottoman, a couch and an armchair, yet manage to avoid looking Victorian.
If you enjoy traditional furniture, it's not that you're mired in the same old, same old routine – it's more a matter of comfort, and of understanding your personal preferences.
If it a'int broke, don't fix it.
Make the Most of your Traditional TV Entertainment Center
A traditional solid wood entertainment center adds to the living room coziness that's typically at a traditionalist's heart. Up the ante with darker wood tones and stains (our Cherry OCS 114 stain is literally named "traditional" due to it's deep color).
Bypass curvature, off-set shelving, and open legs — they'll shiver your timbers no matter how rich and dark the wood tones.
To keep your traditional TV entertainment center fresh, layer interesting pieces made from non-wood materials in the adjoining shelves — mirrors, figurines, marble, shell or small book collections. Line a few of these shelves with unusual textures, like netting, knits, or embroidered bits.
Also, stock the shelves with some interesting shapes – plates, globes, and even plants come to mind.
Look for other solid wood furniture with hefty molding and trim to match your wooden entertainment unit.
If you have wood floors underfoot, be sure to break up the space a bit with an exotic rug or two – their hearty patterns will balance the weight of your entertainment unit.
Small changes like this keep your traditional living room entertainment center from telling visitors that you haven't seen the interior of a house beyond your own since Reagan was in office, or that you may have only just removed the plastic from those couches that they're sitting on!
What are some other ways you traditionalists keep things from getting fusty in your homes?