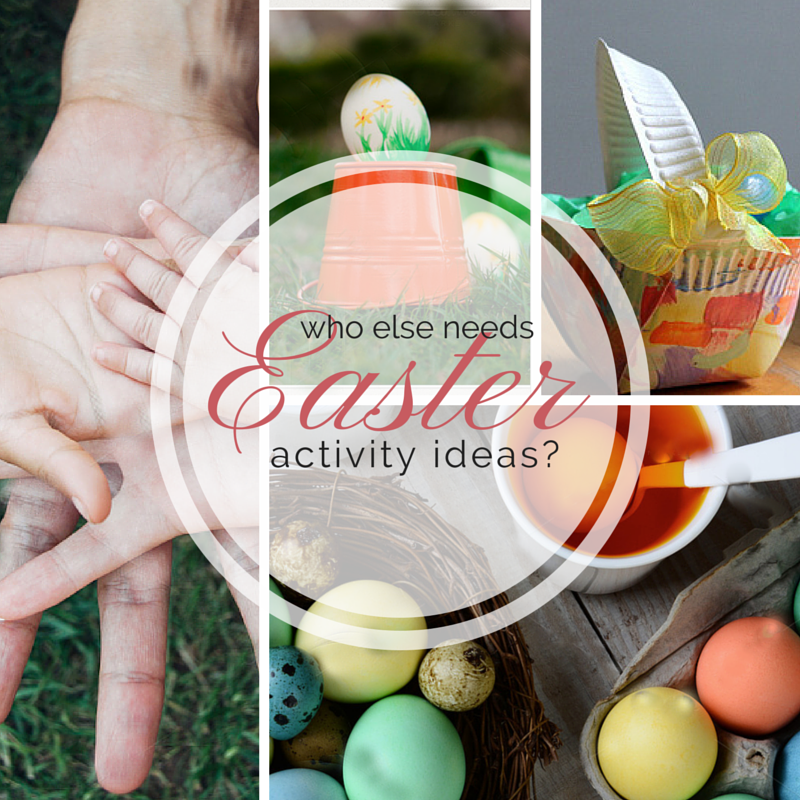 Who Else Needs Easter Activity Ideas?
Spring has sprung! Now that it's warm enough to enjoy the outdoors again, we here at DutchCrafters have set our minds to the next big event in our personal calendars: Easter Weekend. Here are four safe & simple Easter activity ideas to try this Sunday:
To us, Easter is a unique and wonderful time. It's a perfect time for reflection, for a fresh start or a reawakening of joys, and for gratitude. It also provides a one-of-a-kind opportunity for celebrating life and everything that life brings. With the full meaning of the season on our minds, we pulled together our top tips and most fun-filled ideas for making this year's Easter Weekend the best yet.
1. Egg Dye that Isn't Pungent
Not looking forward to the vinegary smells of the traditional egg dye this year? Worry not!
You'll Need:
Kool-Aid in as many bright flavors as you want. One packet per color should do – you can usually get around five for $1.
Disposable plastic bowls or cups to hold Kool-Aid dye
Straws for mixing
As many hard-boiled eggs as you're keen on dyeing
You'll Do:
Gather a few volunteer egg-dippers and set them to work mixing each packet of Kool Aid with 3/4 or 1 cup of water
Designate one bowl per color dye
Then, simply take your hard-boiled eggs and dip them in the Kool-Aid using tongs, spoons, or whatever you have to hand. After a few minutes, your eggs will be sweetly dyed and ready for the big day. And maybe a little sticky 🙂
2. Every-Bunny's Own Easter Egg Baskets
One of the greatest things about Easter is the eggs! Whether chocolate, hard-boiled, plastic or paper, you'll want to keep these precious pieces picture-perfect for their big debut on Sunday. Using a few spare paper plates, some safe paints and a little tape, you and yours can each craft your very own unique baskets right at home!
You'll Need:
Two paper plates (per basket)
some tape
staples or glue
craft paint
You'll do:
Turn the plate upside down on a craft-safe children's activity table (so the bit where you would normally put your food is touching the surface of the table). Unleash your imagination on the plate, covering the whole side in your favorite Easter designs. Then, wait for the paint to dry.
Once it's dry, turn the plate back over so your design is now face-down. Using a ruler and pencil, draw two lines on the unpainted side of your plate that meet exactly in the center, so you have a cross that divides the plate into four equal quarters. Then, very carefully cut three quarters of the way down each line into the center of the plate.
Now carefully lift the four quarters upwards and twist each one slightly to the left. The four pieces should fan together into a basket shape. Tape, glue, or staple the sides together so that the basket holds its shape.
For the finishing touch, cut the rim off of your second plate and then cut that rim in half. Place the resulting half-moon over your basket and attach it to the sides of your basket with glue, tape, or staples.
Et voila! Your one-of-a-kind, uniquely artisanal basket is ready for a whole weekend of bright tissue paper, beautiful eggs, and wonderful memories! These pieces make great centerpieces for a charming picnic table buffet outside in the garden. Still building your outdoor bounty this season? Try our handmade wagons or old fashioned wheelbarrows as a place to start!
3. Crafty Scavenger Hunt!
Are the kids finding all of your hidden eggs in two shakes of a lamb's tail? Slow them down by leading them on a clue-driven scavenger hunt through the house and garden. If you have plastic eggs to hand,get sly like a fox and open them up to fill them with clues that lead to the final prize: the real eggs!
If you're hosting a big party with kids of different ages, it can be a good idea to send the older ones on a more complex hunt while providing simpler clues for the littler ones. No matter what, you'll have the chance to sit back, relax and rediscover the comfort of your outdoor seating while they wake the garden from its winter sleep with their hunt for Easter treats.
4. Don't Crack Up — Easter Egg Roll!
Nothing burns off springtime energy like an Easter Egg Roll! Dating back to old Britain, this tradition is a simple way to bring everyone together and use up some of that Easter energy. Anyone able to walk and hold a spoon or stick can take part! (Though if you'd rather enjoy the ruckus from your rocker, we totally understand.)
You'll need:
A long, flat space with a soft surface, ideally a lawn
Some hard-boiled eggs, decorated or plain
Some spoons
A few willing participants
How We Roll:
Line the competitors up and designate a finish line at least fifteen feet ahead of them (or more!). Equip each person with an egg and something to move it with, such as a spoon, stick, or similar item that you have on hand.
When everyone is ready, start the race! The goal is for the contestants to persuade their egg to the finish line without destroying its shell or touching it with their hands. Prodding, flicking, shuffling or poking with the spoon or stick are all common techniques – but there's room for creativity!
Whoever crosses the finish line first with an intact egg wins! To the victors go the spoils (chocolate? the first piece of Amish Easter Desert?) and to everyone else go the (hilarious) new memories.
We hope that you get a chance to enjoy some of these Easter activity ideas, and that you make them your own over the years!
From all of us here at DutchCrafters, have a very happy Easter!