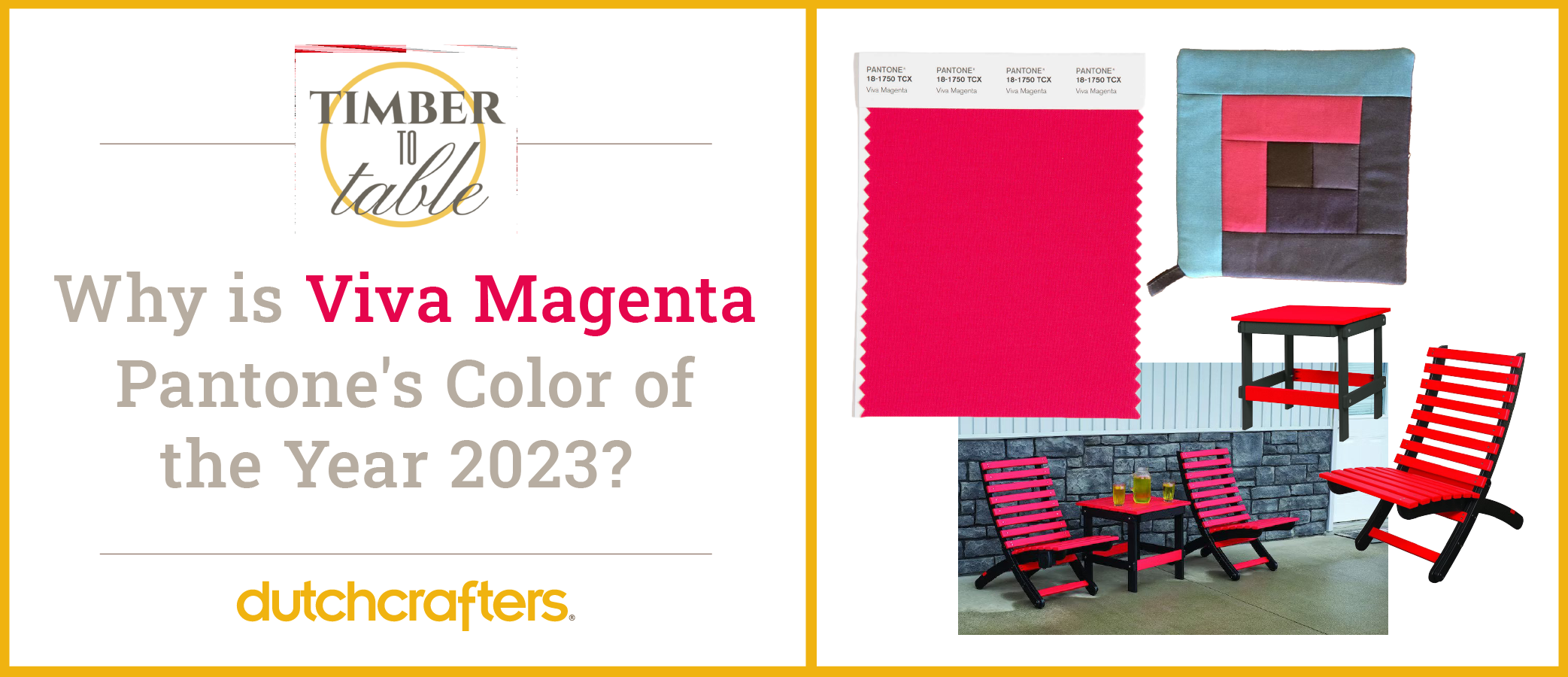 Why Is Viva Magenta Pantone's Color of the Year 2023?
The Pantone Color Institute has been selecting a Pantone Color of the Year since 2000. Pantone began this practice to bring together the design community and create discussion about color and its effect. Pantone has joined color and design across the board for years, selecting a new shade each year based on what trends they've observed in fashion, home décor, technology and more.
The reveal of Pantone's Color of the Year has become a much anticipated event, with the revered color experts sharing the origins of the color, what it stands for, how it reflects current culture and ways to incorporate it in daily life. Selected as Pantone Color of the Year 2023 is the shade viva magenta, a bold and powerful pinkish red shade.
Why was Viva Magenta chosen as Pantone's Color of the Year for 2023? Let's take a look.
Viva Magenta Defined
Viva magenta comes from the red family. It's described as a shade that exudes strength, bravery and fearlessness. It's joyous and optimistic, powerful and empowering and encourages self-expression, pulsating with red and pink hues that are rich and fun.
A Reflection of Current Culture
Described as "a crimson red tone that presents balance between warm and cool," the color of the year is also a reflection of current culture. Pantone offers viva magenta as a "hybrid shade that symbolizes our presence in the physical and digital world." The new color of the year is rooted in nature and reflects the movements toward sustainable living and the health of the planet. A more intense appreciation of nature has many people bringing more plants and living things indoors. They're engaging in travel, outdoor play and other activities that offer more time spent outside. With all these things suppressed for an extended period during the pandemic, now is the time to break out of patterns of isolation and hiding, and viva magenta is the color to take us there.
One furniture trend for 2023 is infusing more of our own personalities into home design, and viva magenta is a shade rich with color and ideal to use as a means of expression.
Viva Magenta for Everyday
Viva magenta, with its natural red hues and pink shades, can easily complement other shades of magenta. You'll be seeing viva magenta all around you as the year continues to roll out, in things like home décor, shoes, watches, pet toys, makeup and more.
If you find you love this new, vibrant shade here are a few ways to use it in your home.
Add an accent piece in viva magenta, like an accent table, chair or lighting fixture.
If a neutral base is your style, bring in viva magenta with things that add a pop of color like accent pillows, vases, floral arrangements or lighting fixtures.
Last year, Pantone's Color of the Year 2022 was veri peri, defined by Pantone as a dynamic periwinkle blue hue with vivifying red undertones that represented courage and creativity. The blues were calming and hopeful, while the red hues brought energy and inspiration. Now, viva magenta takes those natural reds and pinks and goes bold.
Viva Magenta forges ahead with strong hues rich with confidence. As we try to put the pandemic behind us, perhaps we're ready to go forward with more strength, fearlessness and self expression than we've had in recent years. Viva magenta is a color that gets out there to celebrate life.