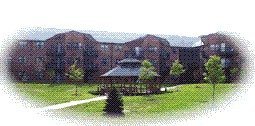 Lutheran Village at Wolf Creek, a member of the Lutheran Homes Society, is a residential community designed around the needs of senior citizens. With options for assisted living, independent living, and an extended care outpatient facility affiliated with the local hospital, Wolf Creek has an option for any senior citizen in need of a strong faith driven community. Along with full medical and therapy physicians, Lutheran Village also has a community mall and shopping center creating a social centerpiece and neighborhood feel.

DutchCrafters was contacted by Lutheran Village at Wolf Creek when they were in need of an outdoor chair that would survive the elements. We set them up with one of our Amish made Fan Back Glider Benches.

The unique thing about this chair in our Comfo-Back Series is the Polywood it's constructed with. Polywood is made from all recyclable materials and is considered very eco-friendly, rust, mold and warp proof, and easy to clean and maintain.