We're excited to introduce you to the Amish Zeigler Solid Wood Desk Chair, a highly customizable office chair for any office design. This contemporary design is made to your specifications with hundreds of combinations of base, wood type, stain, and upholstery options. 
Wood Desk Chair
In this era of low-quality materials, plastic frames, and short lifespans for furniture, you'd be wise to seek out a wood desk chair! Solid hardwoods are natural, durable, and stand the test of time. The Amish wood shops of the 2020s combine outstanding materials with modern designs and functions to create fantastic desk chairs. This Zeigler chair is an outstanding example. Let's dive in and see what makes it special. 
Made to Order
As with most Amish furniture available at DutchCrafters, the Zeigler is made to order just for you! So long as you are able to wait for the custom build process, DutchCrafters is here to deliver you your perfect desk chair, built to your specifications. 
A Highly Customizable Desk Chair
This chair is one of the most customizable Amish desk chairs available online. Its options go beyond the basic color selections you can find elsewhere. It starts with the frame itself. 
Upholstery Options
Choose from eight different upholstery materials including premium fabrics, stain resistant fabric, genuine leather, and high grade leather alternatives. Each material is available in dozens of color and pattern options. 
Arms Available
This chair is available with or without arms. Though it's shown in the video without arms, we recommend adding solid wood arms, as seen here, to perfectly match the base.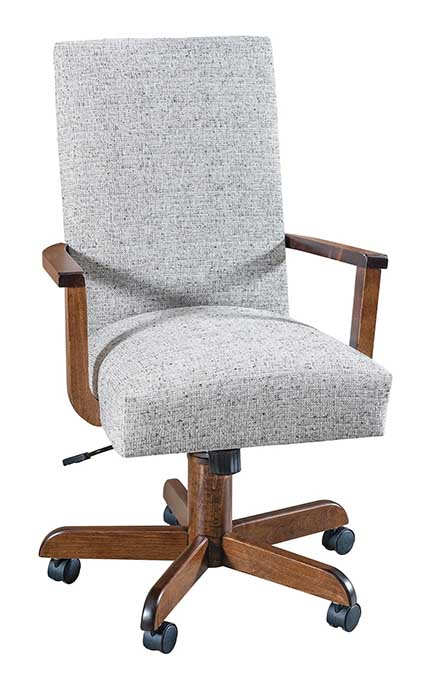 Base Design
We're thrilled to offer six base designs, as seen in the video, on this one office chair. These designs range from contemporary to Mission style. Select whichever one matches your room style the best! 
Casters
Consider an upgrade from Traditional Casters to smooth, silent Soft Casters!
Trim Style
Another optional design element is the possibility of adding nail head trim to your upholstery. 
Wood Type and Finish
Finally, select your preferred wood type and finish color. 12 wood types are available, including oak, cherry, brown maple, and walnut wood. Each wood type features a unique grain pattern, weight, and color tone. Compare your options and choose your favorite; you really can't go wrong with any hardwood available here. Each wood has over a dozen stain colors available. We're happy to send you stain samples to view in your home or office before making a final selection. 
Contemporary Design for the Modern Office
This clean, no-frills design is ideal for the modern office. It's comfortable, with cushioned seating and optional arms and soft casters. The durable upholstery and solid wood construction are built to last far longer than most modern manufactured office seating. And, most importantly, it offers the functionality you expect from a desk chair, with height and tilt adjustments built in to the base. 
Custom Order the Zeigler Wood Desk Chair
Custom order your Zeigler Wood Desk Chair and enjoy its comfort and stunning design for decades to come! Or browse all Amish Desk Chairs here at DutchCrafters, the home of the largest collection of Amish furniture online.