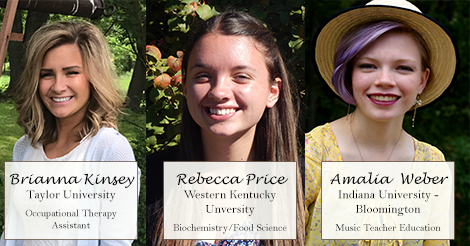 DutchCrafters Announces 2017 Scholarship Winners
DutchCrafters Amish Furniture announced Brianna Kinsey, Rebecca Price, and Amalia Weber as the winners of its 2017 Heritage Scholarship. The three incoming freshmen received $500 each to help them continue their education. Selection criteria included grade point average, a statement of financial need, and a 750-word essay on how their heritage has shaped them and their aspirations.
Brianna Kinsey, Shirley, Ind., plans to attend Taylor University and become an occupational therapy assistant. Adopted at the age of 10, she credits her adoptive family "for providing her with a firm foundation for her future." She writes, "I want to be able to make an impact on all of my patients in a similar way that I have been impacted by those who cared for me."
Rebecca Price, Shepherdsville, Ky., believes the careers of her family before her have given her the "heritage and knowledge" she needs to pursue a career as a food scientist. Passionate about serving the community, she plans to continue her service work while attending Western Kentucky University.
Amalia Weber, Hersey, Mich., plans to get a degree in music education at Indiana University's Bloomington campus. A euphonium player, she credits her German heritage and ancestors for her passion and work ethic. She hopes to "inspire students to find themselves through music."
Founder and CEO of DutchCrafters Jim Miller established the scholarship in 2011 to encourage students to make connections between their future and their heritage. "Looking within myself, and within my own heritage, was one of the most fundamental and critical factors in the founding of DutchCrafters and our subsequent success in business."
The Heritage Scholarship has now awarded $9,000 to deserving, accomplished students attending colleges throughout the U.S.