Preparing For Your Amish Furniture Delivery

Thank you for your interest in DutchCrafters Amish Furniture! We want to ensure that your positive experience with DutchCrafters continues throughout the shipping and delivery process.
Our shipping and delivery procedures vary according to your order and also according to your preferences.
Flat-Rate Shipping
Standard Delivery
DutchCrafters offers $249 flat-rate standard shipping for final destinations in the contiguous United States on an entire order of qualifying products. We also have a few products that have free standard shipping. This rate applies when an entire order is shipped together. Separately shipped items may incur an additional shipping fee. Additionally, there are a few products that ship free.
This shipping method includes standard outside delivery only. Your furniture will arrive on a truck with one driver. It will be taken off the truck and placed within your property, but not carried inside your home or office. You are responsible for bringing the furniture inside. When your order is ready for shipping, the delivery company will contact you directly to set up an arrival time.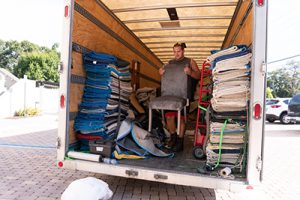 Most of these delivery companies are blanket-wrap shippers. This means that the furniture is primarily wrapped in blankets instead of boxes and other packaging material. This produces less waste while providing better protection for the furniture.
The flat-rate shipping fee does not apply to B2B sales over $10,000. A shipping quote will be provided for these B2B orders.
White Glove Inside Delivery
For qualified orders, DutchCrafters offers flat-rate White Glove Inside Delivery Service for an additional $150. With this delivery option, one or two drivers will unload every piece and carefully unpack them. They'll bring the pieces into the correct rooms of your home or office, then will perform light assembly. Finally, they'll even clear your home or office of wrapping materials. It's our most personal, valuable way to ensure your satisfaction, and the perfect way to welcome your new heirloom to the family.
They are not able to mount or anchor pieces to the wall, such as murphy beds, mirrors or hutches. There are a few pieces of furniture that may not come fully assembled and assembly is not provided with inside delivery. These include:
Cribs
Cradles
Murphy beds
Grandfather clocks
Bunk beds
Pool tables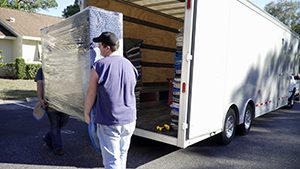 If you order standard delivery and later decide you would like inside delivery and setup, please contact your customer care specialist to arrange for our White Glove Inside Delivery Service before we begin scheduling your delivery. After we begin scheduling your delivery, we cannot add the White Glove Inside Delivery Service and the Standard Delivery guidelines will apply to your order. There are some locations where inside delivery is not available.
Flat-Rate Delivery Process
When your order is complete, we will send an email to you with delivery details.
Our professional standard and inside delivery shippers handle and ship our furniture very carefully. The company that will deliver your furniture will contact you prior to delivery to schedule the delivery appointment and to go over the process.
Our shippers make deliveries during standard business hours, Monday through Friday, 8 a.m. to 5 p.m. Some weekend and evening deliveries may occur. Our shippers will do their best to accommodate your schedule, but we cannot guarantee a specific time or day.
Flat-Rate Delivery Information
If a customer chooses to delay receiving their furniture, DutchCrafters will store the order free-of-charge for up to one month. After one month of storage, the customer will be responsible for storage fees of $50 a week.
Circumstances that delay your furniture delivery may arise that are beyond our shippers' control – these include weather, traffic, natural disasters, and other uncontrollable events.
Someone must be present during the delivery. If you have a delivery appointment with a shipper and fail to keep that appointment, you may be charged additional redelivery/storage fees and your delivery may be delayed.
Some pieces do not ship completely assembled, or may come in two pieces – such as leg tables or large hutches.
Please note that the driver will NOT put together any cribs, dressers with mirrors, or furniture that needs to be mounted to the wall, even with White Glove Inside Delivery Service.
It's important to remember that we do not offer refunds on shipping costs or returns on furniture that doesn't fit in your home or office, through doorways, in an elevator, or up the staircase, so advance planning is essential.
Some pieces of furniture are too large to fit through narrow spaces, angles or sharp turns and cannot be delivered into the room of your choice.
We cannot raise furniture inside windows or remove windows or doors.
We do not disassemble, move, or otherwise dispose of existing furniture in your home.
Prepare the room(s) that are receiving furniture by removing rugs, securing or removing low-hanging light fixtures or chandeliers, and moving other pieces of furniture out of the way. Pets should be secured in other rooms. The service does not include this prep work.
Both Standard and White Glove Inside Delivery require the following:

The road must be paved.
The road must be a minimum of 10 feet wide.
There cannot be any low hanging branches on the road, and there must be a clearance of at least 14 feet.
The street must have no vehicle weight restrictions.
The road cannot have sharp turns or curves.
Drivers must be able to safely turn around after they complete delivery.

Contact us at 941-867-2233 prior to delivery scheduling if your home or business location is difficult to reach, or if any of the above restrictions apply. We will work out a way to deliver your furniture, but please be aware that this may result in additional charges and/or delays.
If you need to change your shipping address after the shipping process has started, there may be a reconsignment fee.
Inspecting Your Furniture
All of our furniture is insured for shipping and carefully packaged for protection. It is your responsibility to inspect your furniture to ensure that it has not been damaged.
Please unpack the furniture before the shipper leaves to ensure that there is no damage. Insurance will not cover the damage if it is not noted at the time of delivery.
If possible, please contact us at the time of delivery if the furniture is damaged. If it is after business hours or we cannot be reached, please inform the driver but accept delivery of the furniture. Then contact us during business hours, and we will work with you on the most appropriate solution for the damage your piece received.
Damages not reported within three days will not be covered. Please email photos of damages along with your order number to customerservice@dutchcrafters.com.
Ground or Freight Shipping
Most non-furniture and outdoor items, as well as a few furniture pieces, will arrive via common carrier. Some of these products ship free. Others have a shipping cost that is determined by weight and location, as well as handling and packaging fees, and is calculated at checkout.
Some freight shipments require the customer to take the products off the truck. A lift gate is not included. A lift gate is a device that will lower the product from the truck to the ground. If you need a lift gate to assist you, it is available for an additional $75. If you have any questions about this, please contact us at 941-867-2233.
General Delivery Guidelines
We cannot deliver to a PO box.
Taxes may apply, depending on the state.
Additional fees may apply for remote locations or locations that require a ferry.
We do not deliver outside the contiguous United States. Customers wanting to ship outside the contiguous United States can have their order delivered to a freight forwarder and work with that business to deliver to the final destination.
Free Warehouse Pickup
Avoid delivery charges and scheduling conflicts by picking up furniture or other large items at our DutchCrafters warehouse in LaGrange, Indiana. If you would like to pick up your furniture, it is as simple as selecting the LaGrange, IN Warehouse Pickup during check out. Our warehouse in LaGrange is our only pickup location. Transfer fees may be charged to B2B orders over $10,000.
Pickup Process
Once your order is complete, we will send an email to you with pickup details.
Pickup Information
Pickup is available by appointment during warehouse business hours.
Please bring an appropriate-size vehicle.
While DutchCrafters will provide some wrapping to protect your furniture from the elements, it is the customer's responsibility to bring any additional packaging (blankets, pads, rope, etc.) at the time of pick up.
Please allow ample time to inspect and sign for your order and have it wrapped and loaded into your vehicle. You will be asked to sign a release form for your merchandise upon picking it up at our warehouse.
DutchCrafters warehouse staff will help load the merchandise into your vehicle but they may require assistance. You will be fully responsible for unloading when you get home.
You are responsible for any assembly, if needed.
DutchCrafters is not responsible for any damages to merchandise or vehicle during transportation.
One More Thing
DutchCrafters is committed to keeping you informed about the status of your order, and delivering your new furniture to your home or business in perfect condition. If you are not completely satisfied, let our award-winning customer service team know as soon as possible, so that they can provide a solution.