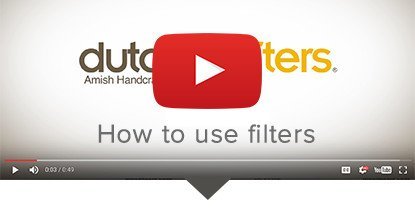 Filter Products
Authentic Amish-Made Dining Tables
Integrity You Can Count On:
The Amish philosophy places the utmost commitment to family and community. Reflecting upon this commitment, the integrity of an Amish-made dining room table is second to none. Amish craftsmen deeply understand the true value and importance of a finely-crafted, high-quality American made dining table. An Amish handcrafted dining room table exemplifies strength, integrity, heritage, and beauty. These superior solid wood dining tables provide Americans across the country with a warm and inviting dining room allure that continually promotes and fosters casual, open discussion and friendly, heart-warming laughter.
The renowned Amish furniture artisans we've chosen to work with will typically never build a dining table with a table top less than 1" in thickness. Neither will these furniture artisans use a hardwood alternative such as plywood or particleboard to achieve that thickness - they know anything less than hardwood is substandard and just won't handle the wear and tear of time. Make no mistake, an authentic Amish dining table is built with the finest hardwoods and intended to endure a lifetime without ever needing replacing.
This holds true for all of the solid wood furniture found on DutchCrafters.
Call to Speak with an Experienced and Knowledgeable Amish Furniture Specialist…
Your satisfaction is our number one priority! So don't hesitate to call us if you have any questions! At DutchCrafters, we have an experienced and knowledgeable Amish furniture specialist on-call 5 days a week. Our furniture specialists are here to offer you advice and suggestions, send you free stain samples, and to answer all your question as they may arise. Toll free: 866-272-6773.