DutchCrafters Sarasota Furniture Showroom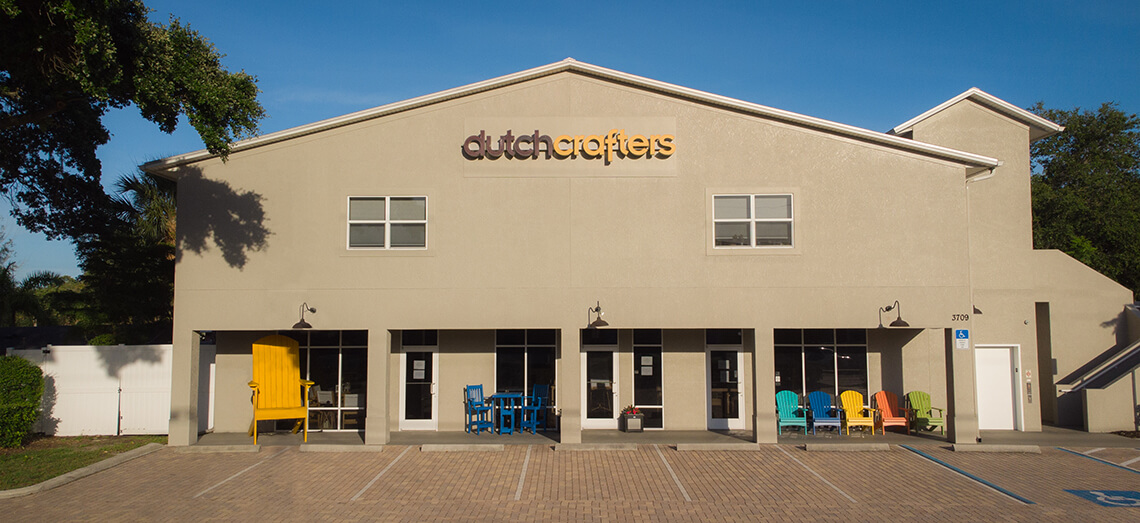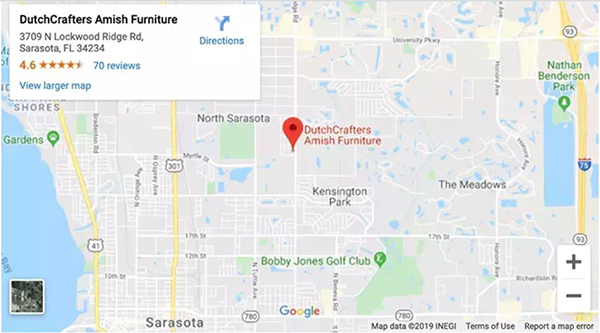 Make an Appointment with a Furniture Specialist
You are welcome to visit our store anytime. You can also schedule a one-hour in-store or virtual appointment with one of our furniture specialists in our Sarasota Showroom, who are happy to recommend pieces, offer styling advice and answer any questions you have.
---
Our Store and Sarasota
The DutchCrafters Showroom is more than just a store to see our Amish furniture; it's also where we can show you our passion, our team and the craftsmanship that goes into each piece of our Amish furniture. During your visit to our Sarasota, Florida store, our friendly furniture specialists will be happy to introduce you to our most loved Amish furniture items and our design center with countless wood, finish and upholstery options. The furniture we have on display in our Sarasota Showroom is only the beginning of your shopping experience. You can sit with our furniture specialists and look through our countless furniture options available online to help create your dream custom fine furniture.
Whether you're stopping in to furnish a whole room or just personalize a space with a few finishing touches, our Sarasota team is here to help you every step of the way. Our staff pride themselves on our spotless store and unparalleled customer service to provide the best furniture shopping experience in Sarasota. Ready to get started? Then stop by, we can't wait to meet you!

We love our Sarasota home in the Sunshine State. Our store is conveniently located near interstate 75 and the popular Lakewood Ranch area. Our proximity to the legendary Siesta Beach makes us a vacation destination for tourists and locals alike. Come see the sights and visit our showroom while you're in the area. Here are some things to do in Sarasota, Florida.
DutchCrafters began in 2003, with Jim Miller and his wife Linse exploring the backroads of Amish country to find exceptional solid wood furniture. Learn more about the DutchCrafters story here.
---
Special Sales
Save up to 50% on select showroom floors models. Take advantage of large savings on furniture you can take home today. Don't wait. These pieces won't last.
---
Events
November 11, 2 PM – Woodworker Meet-and-Greet: You're invited to meet one of our talented Amish builders and see his exquisite creations that are part of the Barkman Furniture Collection. Learn about woodworking and the process of designing Amish furniture. Enjoy complimentary refreshments and participate in a DutchCrafters exclusive product raffle.
Every Saturday, 9 AM – 6 PM – Sip and Shop Saturdays: Discover the timeless beauty of Amish and American-made furniture while enjoying your favorite beverage. Furry friends are welcome!
---
Awards and Recognitions
We are proud of our relationship with the local business community and the recognition they have shown us as a place to shop with confidence. National recognitions can be viewed on our About DutchCrafters page.
Local recognitions include:
Sarasota-Manatee Top Workplaces 2022, 2021, 2020
Sarasota Herald Tribune Readers Choice Winner 2023
Greater Sarasota Chamber of Commerce Medium Business of the Year Finalist 2023
Greater Sarasota Chamber of Commerce Medium Business of the Year 2021
Greater Sarasota Chamber of Commerce Retail Business of the Year 2017
Florida Company to Watch 2016
---
Designer and Real Estate Trade Programs
We love to partner with interior designers and realtors to help them provide their clients with the best service when purchasing furniture for their homes or businesses. Learn more at these links.
---
Take a Look Inside
Take a look around our store from the comfort of your home. Please note that the furniture displayed on our floor is changing every day. What you see in this tour and these videos may not be what is available on the store floor right now. Products viewed in the videos can be ordered with your custom options.
Click play to explore an interactive 360° tour of our showroom with links to product details.
Enjoy a video walkthrough of our showroom and patio.
---
Visit Us on Instagram
Follow us on Instagram. Check out photos of in-store inspiration and everyday happenings. Share your photos of your DutchCrafters Amish Furniture and tag us @dutchcrafters.