Our home city of Sarasota, Florida has some great sights to see! If you are planning a visit, here's a helpful guide with some of the top family-friendly attractions to visit during your stay (and of course come see us at our store as well).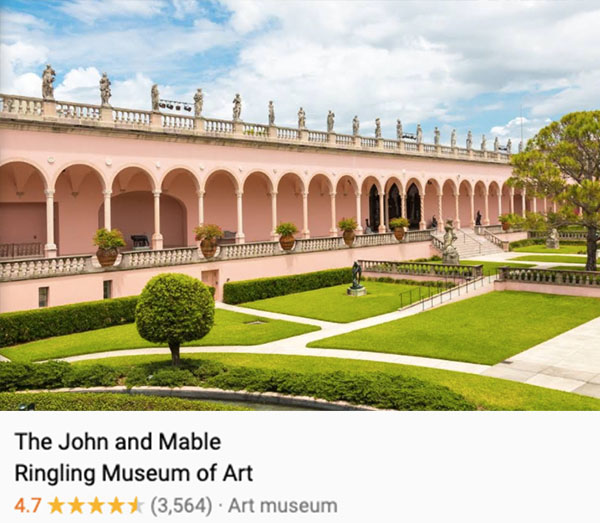 Learn, laugh and fall in love with the beauty to be found at the Ringling Museum, where circus scion John Ringling and his wife Mable left their legacies. Sights to see at the Ringling include the Museum of Art, the Circus Museum, Ca'd'Zan Mansion, Asolo Theatre and the Bayfront Gardens. The campus is home to beautiful art and architecture along with the history of the circus and several entertaining and educational programs.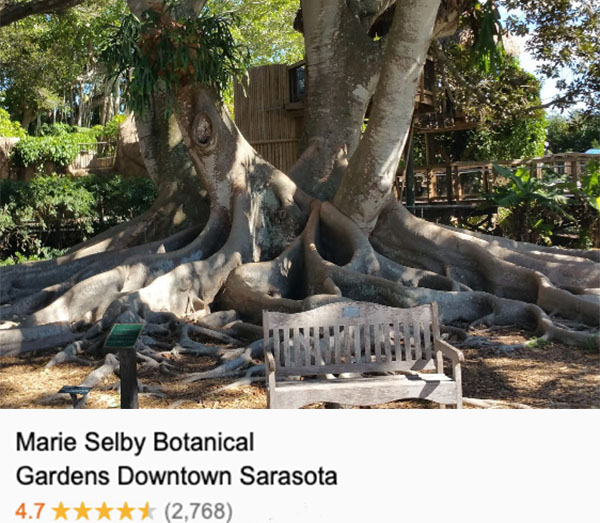 Located on the shores of Sarasota Bay, Selby Gardens features a variety of plants — from succulents and wildflowers to bromeliads and palms — and art exhibits. Take a guided tour of the living museum, and don't miss the Banyan trees with their rambling roots that the kids will love climbing on.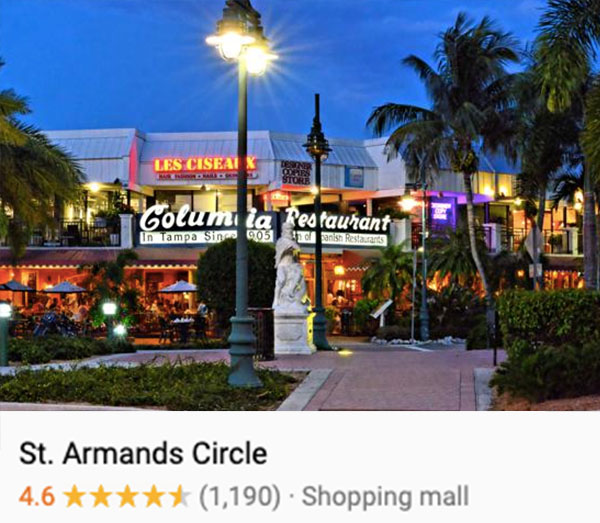 Any time of day is a good time on St. Armands Circle. Located just off the white sands and crystalline waters of Lido Beach, St. Armands is a hub of fine dining and shopping. Get some ice cream and stroll out to watch the sunset. Host to numerous car and boat shows and art festivals, there's always something fun going on at the circle.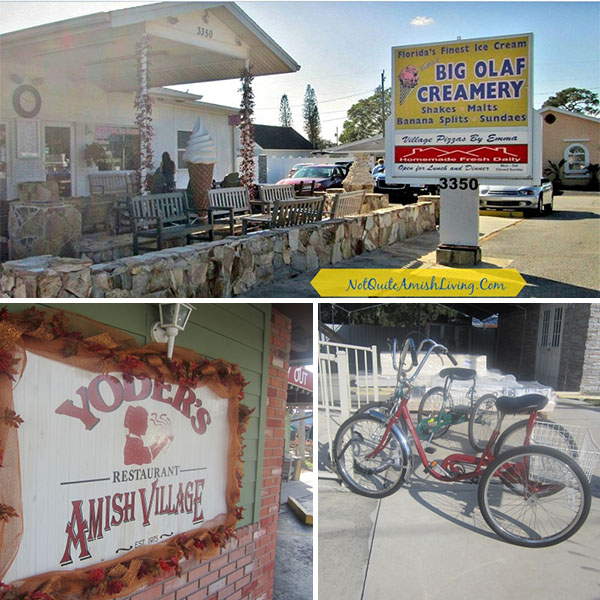 Pinecraft is a neighborhood of about 3,000 Amish and Mennonites. It's a popular vacation destination for Amish from all over North America, especially in the winter. You'll see many Amish folks riding adult tricycles as their mode of transportation. Both locals and visitors enjoy dining at Der Dutchman and Yoder's restaurants, and getting some fresh ice cream from Big Olaf Creamery.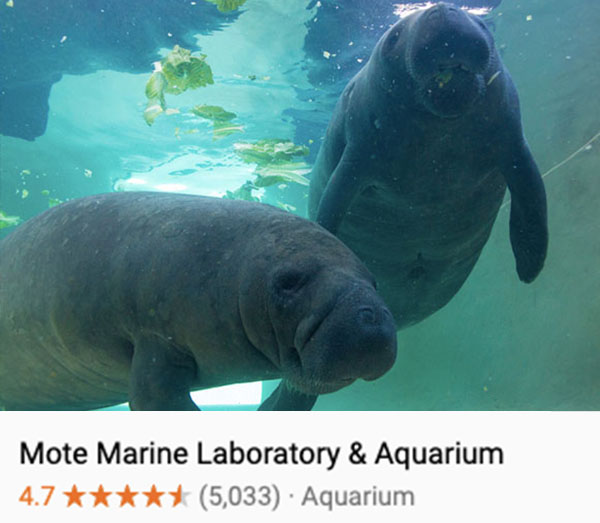 Mote Marine Laboratory and Aquarium is a nonprofit laboratory, research center, and rescue primarily focused on the conservation and sustainable use of the world's ocean through research and education. At Mote you will find tanks full of a variety of fish species, manatees, turtles, otters, reptiles and much more! Take a tour while you're visiting—you won't be disappointed.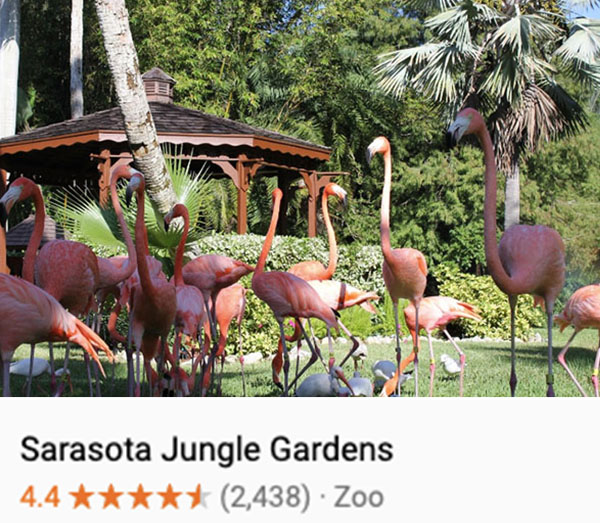 Established in 1939 with the mission to "educate and inspire our community through interactive experiences with animals and nature," Jungle Gardens is one of Sarasota's oldest attractions. Over 200 native and exotic animals live on 10 acres of lush tropical landscaping full of fun jungle trails to follow. The flamingos are favorites, and there are daily bird and reptile shows.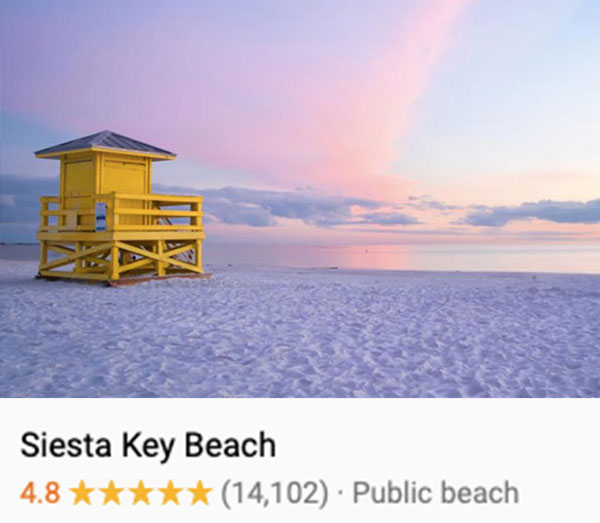 Siesta Key Beach is rated one of America's best beaches. When you're done enjoying its trademark white sands and surf, the colorful outdoor Siesta Key Village is right nearby, with fun places to eat and shop. The public beach offers a good amount of paved parking, as well as volleyball nets, and great playground areas for the kids.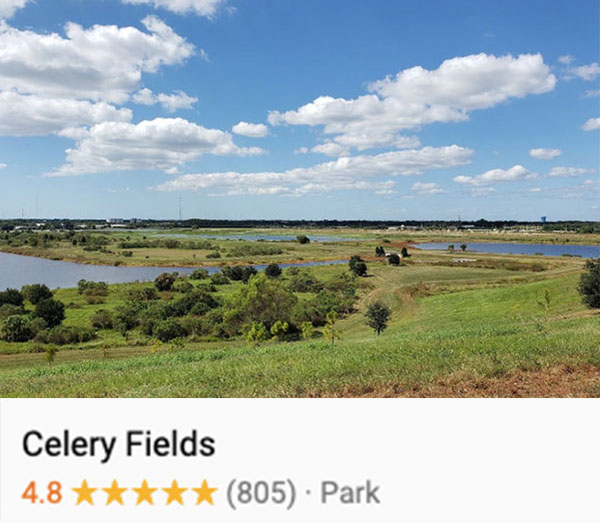 If you enjoy strolling in the fresh air and catching sight of beautiful birds, the Celery Fields is a place to stop when you're in Sarasota. The Celery Fields 400+ acres act as a home to or respite for 246 recorded bird species. Walk, bike, fish, kayak or enjoy a gorgeous sunset from its observation mound. Construction of the Celery Fields dates back to 1923, when an experimental farm was started, and it was decided that celery would be the main vegetable planted there.
We hope you enjoy these things to do in Sarasota, while also visiting the DutchCrafters Amish Furniture Store of course!
Want more? See what our team members have to say about some of these popular Sarasota spots and more in our Guide to Visiting Sarasota, Florida on our Timber to Table Blog.