Solid Wood Amish Dining Room Sets
Our Amish dining room furniture sets bring the best Amish dining tables and chairs together to provide you with custom-made collections that will support your family and community activities throughout the years.
Explore our showcase of Amish dining room furniture sets to see what best reflects your personal style. Whether it's an Amish farmhouse table, a drop leaf table, a pub dining set or a French country table we can help bring your vision to life with heirloom furniture made proudly here in America.
Why Buy an Amish-Made Solid Wood Dining Room Set?
Furniture is a long-term investment, and Amish Made furniture lasts for generations. Do not settle for furniture that will only last for a few months when you can invest in a piece that will remain in your family for years to come.
Solid wood gives you a luxurious feel without the fuss luxury furniture often assumes. Choosing a Solid wood piece of furniture not only allows for custom options while ensuring you are making the best decision for the environment.
How Much Does a Solid Wood Dining Room Set Cost?
Handcrafted, Amish-made, solid wood dining room sets cost between $2,700 and $9,000. The average price of a dining room set from DutchCrafters is around $4,000!
Fine furniture is more affordable than some folks think!
What Will Determine the Price of My Solid Wood Dining Room Set?
Your price tag will vary based on the options and features you choose.
Options Include:
Wood Types
Table Extensions
Additional Storage
Additional Display Pieces
Table Base Types
Quantity of Chairs
Table Sizes
Premium Finishes
And More!
How to Find the Right Solid Wood Dining Room Set for Me?
Not sure what size table or the number of chairs you need? Check out The New Dining Table: What Size Dining Table Do I Need?
The average space requirement per person sitting at a dining table ranges from 24" to 30", based on casual to more formal dining. The average width of a dining side chair is 19".
What Makes a Comfortable Dining Chair?
People are different, and so are the options for chair seats and back styles.
How do chair seats vary? They are available in wood or upholstered, and the differences do not stop there. Wood seats also have assorted styles and profiles. The most common and most comfortable is the scoop style. It is contoured where it counts the most. Upholstered chairs are available in two styles, web or spring support.
Chairbacks can provide the much-needed support and relaxation for your tired back at the end of a long day. So, which type is best? The steam-bent slat back. And while the steam-bent slat back provides the most support, other styles are just as sturdy and ensure a cohesive look when paired with the matching table.
Arms are the final consideration in comfort. While they may provide ergonomic support, they also cost more and take up 5-6 inches more width. Armchairs make for a more relaxed setting.
Which Style of Dining Room Set Would Fit My Home Décor?
Use our style filter to choose the best fit for your home décor! Choose the perfect table from 15 unique style selections.
Should I Buy a Round Dining Table?
Table shapes, though often neglected, are just as important as the size of your table. The most common sizes are rectangular, square, and round.
Longer top shapes, such as oval or rectangular, are ideal for long narrow spaces. At the same time, square or round-shaped tables are often used for rooms with a square shape, breakfast nooks, or open-concept spaces to make entertaining easy.
How to Know What Size Dining Table to Get
The size of your table will dictate the number of guests you can seat comfortably.
Extension tables (tables that provide leaves) are more flexible. They are ideal space savers on a day-to-day basis but allow for expansion on special occasions.
Room size is a factor. Allow your table adequate space, so you don't damage the walls by backing your chairs into them. The rule of thumb is to allow 36" to 48" from walls to your table's edge.
How Much Dining Storage do I Need?
Are you a big entertainer? Do you have a large family? It is not always convenient to store all your dinnerware in the kitchen, especially if you have additional pieces for entertaining guests.
Look for options to include buffets, hutches (cabinets), and servers when selecting a dining set. Ensure you have a cohesive, matching set and save money on shipping!
Should I Choose a Leg Table, Trestle Table, or Pedestal Table?
There is a lot to think about when considering a new solid wood dining room set. Which style, wood type, finish, and size will best fit your household?
Let us not overlook the importance of choosing the best base type for you.
There are three basic styles of table bases to choose from at DutchCrafters. How do you know which kind works best for you?
What is a Solid Wood Leg Table?
Leg tables offer four standard support legs and allow plenty of space to squeeze in extra seats at the ends. They offer the most open under-table space of all three styles. Leg tables allow for easy vacuuming, leg room, and a comfy area for your dog to wait for scraps politely. Good boy!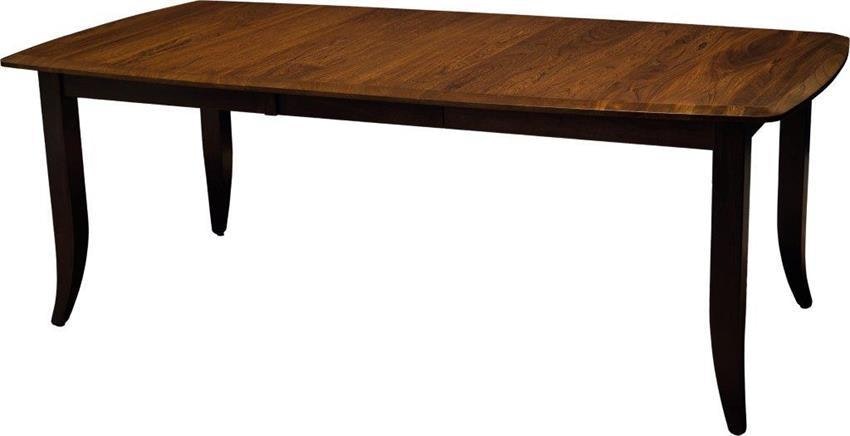 What is a Solid Wood Trestle Table?
The legs of a trestle table are reinforced with a support beam. Trestle tables offer the most stability with extra-base support. Their tops can extend without moving the base. Check out our complete selection of solid wood trestle tables.
What is a Solid Wood Pedestal Table?
A column in the center supports pedestal tables. This style provides you with unencumbered leg room around the table. Pedestals can create corner seating and a clean look. They are great for hosting dinner parties or friendly card games.
The pedestals create a premium and majestic visual on some of our tables. Imagine hosting dinner on a handcrafted masterpiece.