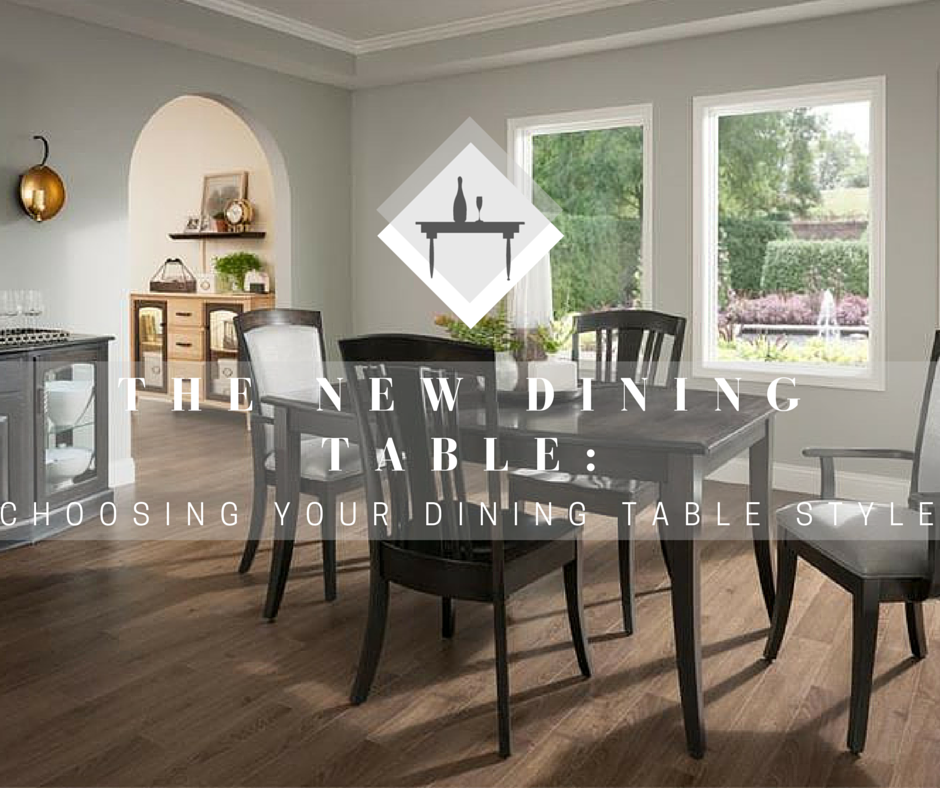 The New Dining Table: Choosing Your Dining Table Style
Creating a dazzling dining room begins with the perfect table. With so many designs to choose from, it can be hard to know where to start. So, since we've already tried to help out with what size dining table you might want, and also what dining table shape would fit, let's try it one more way: What's your dining table style? Here are four styles, by personality:
If Versatility is Your Middle Name
Some days you're feeling a Scandinavian vibe (bring on the sky blue and pale yellow!), other days you lean bold (that purple wall is interesting . . .), and still other days you feel like you just might want a house full of antiques.
This clean, simple, mission style table is classic, leaning toward transitional, thus allowing everything around it to change without blinking an eye. The double trestle base supports the extension tabletop, so if you suddenly need to seat a pair of in-laws plus some neighbor's children, you've got the room. The options for complementary surrounding décor are endless, as are the entertaining possibilities.
If You'd Like to Bring Some OOMPH to Your Game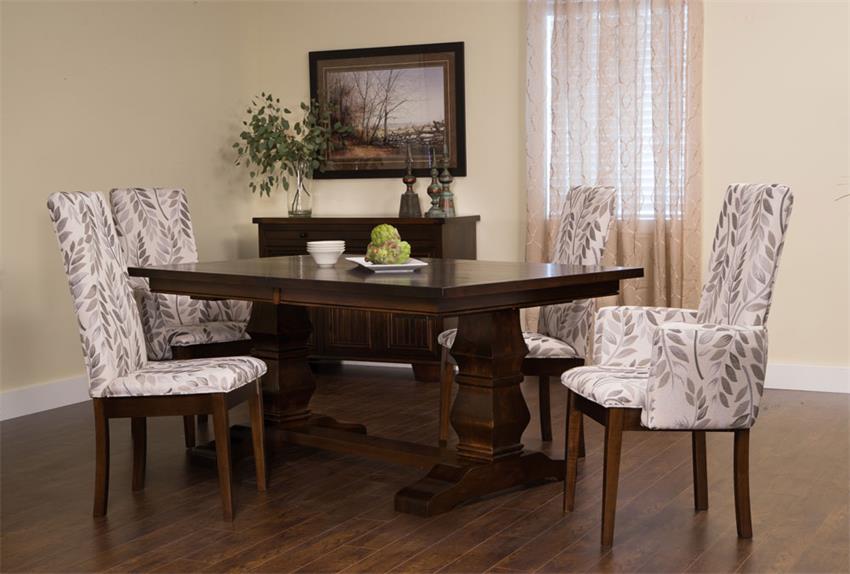 Is it feeling fluffy in here? Didn't think so.
The marked grandiosity of this table serves a couple different purposes. If your home is a little delicate – maybe with floral upholstery, lacy curtains, or intricate vases overflowing with lilacs – you can easily balance it out with this strong, visually sturdy trestle dining table. On the other hand, the same hearty features would make this dining table style an ideal accompaniment to a deep, masculine space — as long as it already plays home to other equally impressive pieces. Finally, if your dining space is large, or less of a space than part of an open-concept plan, this powerful, extending table will fill it with might.
Might that be nice?
If You're a Traditionalist, and You're Starting Small
So you've got a corner that's quite obviously meant for mealtime, and your style leans more Blue Willow and Wedgewood than Riviera Paradise and Night Shade. Or, you don't plan on pursuing corner dining long-term, and would prefer to keep your dining table style options open to larger locations. Consider the traditional allure of a single-pedestal table, which trumps the (deliciously!) trendy breakfast nook in flexibility and multi-space function. Today, it's a lovely, heirloom-worthy tabletop for your family dining spot. Ten years from now, it will transition smoothly to fill a more traditional dining room, easily serving up dinner space for a crowd.
If Customization is King
This is the same Farmhouse Stowleaf Table, customized with different legs, finishes, and woods
It takes you three minutes to order a proper coffee, and five minutes to ensure that the server gets your salad order right. You tailor your clothes and are constantly building additions, or otherwise modifying your home. You like it how you like it, and conventional, boxed solutions usually aren't suitable. You don't see why a dining table should be any different (guess what? Neither do we).
We suggest that the extra-detailed, disciplined personalizers out there start with the basics – here, we've chosen a thoroughly customizable rectangular farmhouse table. All you need to know at the outset is what dining table shape you like, and then it's yours to play with. Tapered, plain, grooved, or curved leg (the table above actually has eleven leg options)? Pub or counter height? Stained or painted? Distressed or glossy? Fancy skirt or straight?
If we ask you what your dining table style is and you answer "It's my style, thankyouverymuch," then this is the kind of table for you.
Looking for more tailored-to-you options? All of our dining tables are customizable to some extent — some down to the details for the personalizers as above, some pre-configured for your convenience. View all of our dining tables to find more options.