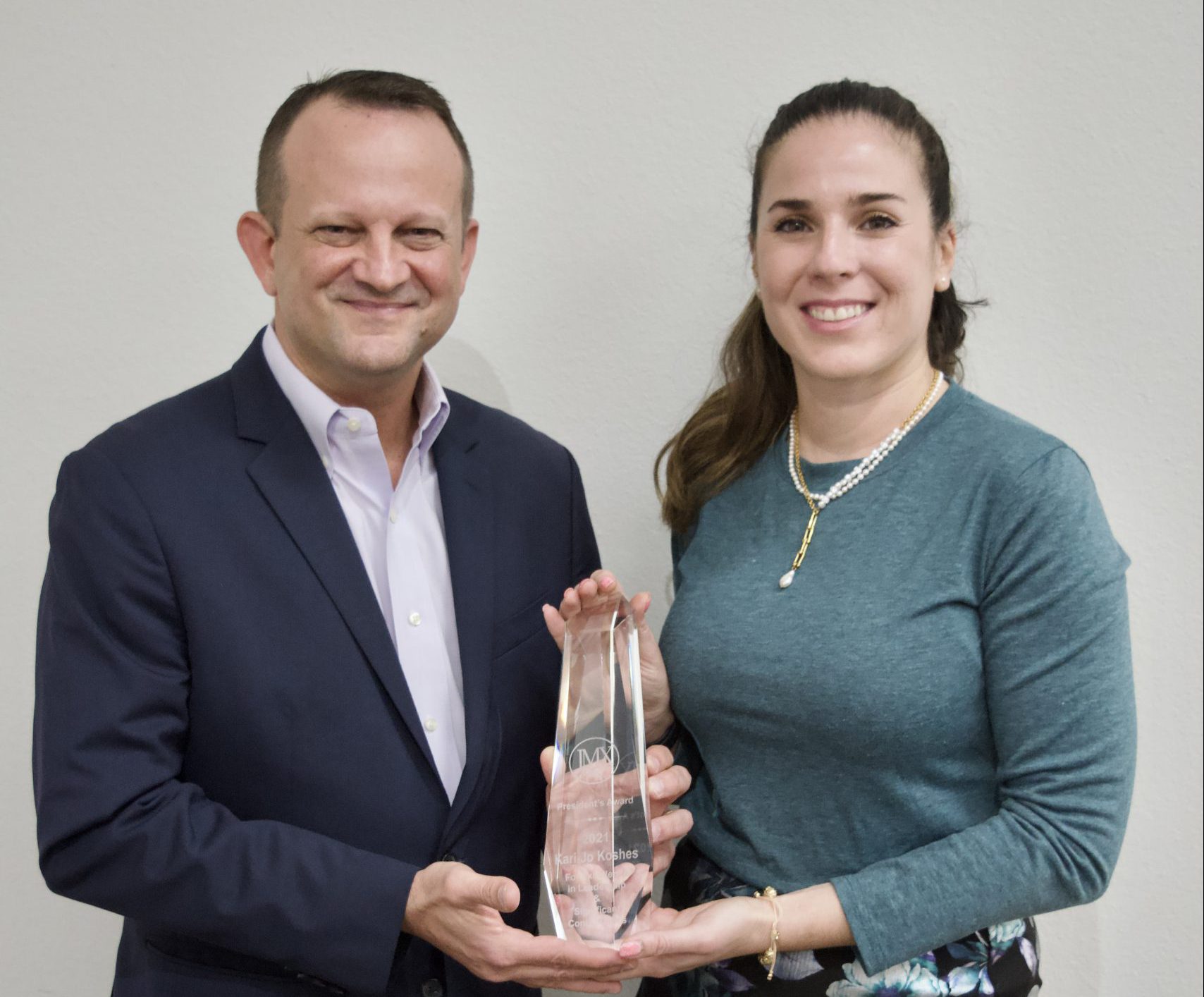 JMX Brands Honors Kari-Jo Koshes with President's Award
JMX Brands Director of Stores and Fulfillment Kari-Jo Koshes received the specialty retailer's President's Award during the company's annual awards ceremony on February 11, 2022.
Koshes was hired in 2013 as the assistant to JMX Brands CEO Jim Miller. Before being promoted to her current role, Koshes served as shipping coordinator, Customer Experience Team assistant manager, and showroom and fulfillment manager.
At the awards ceremony, Miller highlighted Koshes' "seasoned leadership at JMX Brands" and "impressive contributions in 2020 and 2021 that are already bringing value and setting the stage for much more to come."
Under the leadership of Koshes, the company expanded its warehouse from 7,500 to 23,000 square feet, organized and expanded fulfillment and warehouse teams, and created an inventory and packing model that has provided huge competitive advantages for JMX Brands' Amazon platform. Koshes developed a team of drivers to deliver directly to customers, including the purchase of four delivery trucks and hiring excellent drivers in a very competitive environment. This new development is projected to save JMX Brands hundreds of thousands of dollars in shipping costs along with improving the delivery experience for customers.
Alongside Vice President Linse Miller, Koshes led the redesign of the DutchCrafters Sarasota, Fla. Showroom, launched a DutchCrafters Outlet store in LaGrange, Ind., prepared for the next showroom in Alpharetta, Ga., and is currently exploring locations for another showroom. Under Koshes' leadership, the DutchCrafters showroom in Sarasota, Fla. had a record-breaking year in 2021.
"Kari-Jo's contributions over three dimensions of the company, in slightly over two years, are pivotal," said CEO Jim Miller. "They will help us achieve our vision, reduce costs, increase revenues, and improve customer experience."
Koshes holds a bachelor's degree from University of Central Florida, as well as an MBA and DBA from Colombia Southern University. She graduated from Leadership Sarasota in 2019. Koshes is one of two employees to win the Work Without Veneers award twice, which is given quarterly to a JMX Brands employee who embodies the company's core values of authenticity, sustainability, creativity, giving and excellence. Koshes was also awarded the JMX Brands Colors Award, which is given quarterly to an employee who made significant achievements and added notable contributions to JMX Brands.
"It may be that Kari Jo's greatest contribution comes in how she cares for, enables, challenges and holds accountable the people on her teams," said Miller.
The JMX Brands President's Award annually recognizes one employee for excellence in work and game-changing contributions. For her notable achievements, Koshes was presented with a trophy and monetary bonus.