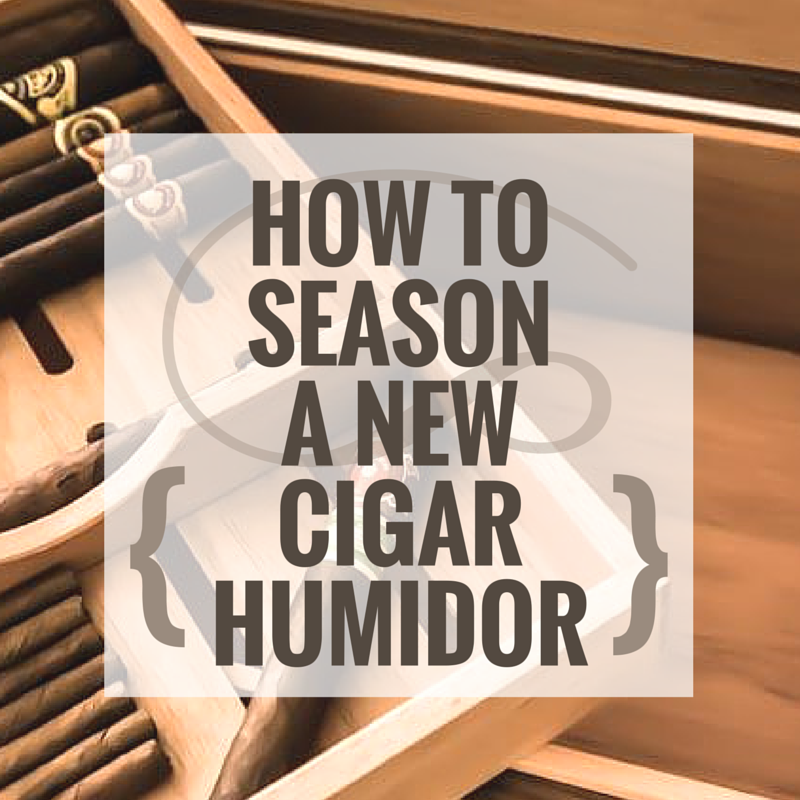 How to Season a New Cigar Humidor
Note: This blog post was originally written in November 2015. While we no longer sell Amish-made, solid wood humidors, the information in this post is still helpful for seasoning a new humidor.
The use of a finely calibrated cigar humidor will ensure your favorite stogies never go stale, keep their intended taste and aroma, and are ready to smoke when you're ready to enjoy them.
[Tweet "Read this before you store a single cigar!"]
To begin, you'll want to store your cigars in a relative humidity between 68% and 72%; this will assure an increased shelf life, which gives you the freedom to purchase cigars without the intention of smoking them soon after.
[Tweet "You'll want to store your cigars in a relative humidity between 68% and 72%."]
In just a few simple steps, your new humidor can be seasoned and ready to store your favorite cigars.
Calibrating a Hygrometer
In order to bring your humidor to the proper relative humidity, you'll need to calibrate your hygrometer. Start by placing salt in a bottle cap (about ¾ of the way full) and dampening it with distilled water (be careful not to oversaturate the salt – you don't want a gooey consistency). Place both your hygrometer and the cap of salt into a sealing sandwich or freezer bag, allowing some of the air to remain inside. Keep the bag and its contents sealed for at least eight hours.
After that time, your hygrometer should read 75% relative humidity. If it does, it's reading correctly and you're ready to go. If not, adjust the hygrometer accordingly to read 75%. You can double-check this with the bag and salt method to ensure it's calibrated properly in the future, as well.
Seasoning Your New Humidor
Once your hygrometer is reading correctly, you can begin to season your new cigar humidor, which will protect the proper moisture level required for cigar preservation. You'll need a bottle of distilled water, a sponge, and another plastic sandwich bag to start.
It's critical to only use distilled water in your humidor in order to avoid the minerals typically found in tap water. These tap-water minerals can produce mold inside the humidor, which will lead to problems down the road.
[Tweet "It's critical to only use distilled water in your humidor"]
First, remove the tray, hygrometer, and humidifier and set them to the side. Lightly wet a clean sponge with distilled water. (At this point, you don't want to oversaturate the sponge – avoid any puddles of water in your humidor). Wipe everything down with the distilled water, applying enough to darken the Spanish cedar without causing puddles or dripping water. Wipe down the tray in the same way. Once you're done, put the damp sponge on a sandwich bag in the humidor, taking care not to let any wet part of the sponge sit on the wood. You can then place the tray back in and close the lid.
Now let the box sit for 24 hours with the lid closed. After that time, reinstall the hygrometer and humidifier (moistened with distilled water) and close the box again for another 24 hours so that everything can acclimate.
After the second 24 hours period, check the relative humidity in the box. Ideally, you're looking for a 68% – 72% reading on your hygrometer to maintain the proper moisture you'll need to keep your cigars fresh. If you are getting a lower reading, you will need to repeat the wide down process and let everything sit for 24 more hours to absorb the moisture, testing again until you've achieve the desired humidity.
To lower the level, leave your humidor open for a couple of hours and close the lid periodically until your desired levels are reached.
Once you've seasoned your humidor and your relative humidity is at the desired level, you can fill your humidor with your favorite cigars at no risk.
Maintaining Your Humidor
Now that you've seasoned your cigar humidor and are ready to enjoy it, here are a few things to remember that will help your humidor achieve the best results and help maintain the overall quality of your cigars:
Keep your humidor away from direct sunlight or air/heating ducts in your home. Ducts can cause temperature swings that will ultimately affect the humidity inside the box.
Leave the box closed as often as possible, ensuring that it doesn't lose moisture prematurely
Periodically check the humidity levels of your box and remoisten as needed with distilled water, adding it directly to your humidifier.
Rotate your cigars, moving one from the outside towards the middle and vice-versa. This will keep the cigars ont he end from drying out.
With proper attention and care to your humidor, the cigars inside will be flavorful and aromatic any time you're ready to enjoy them.