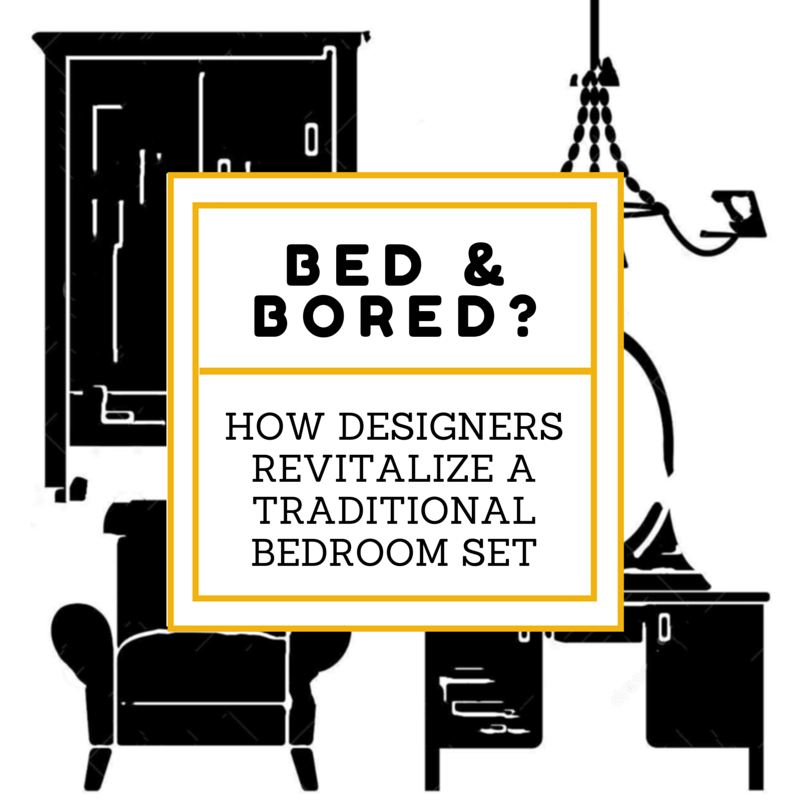 Bed and Bored? How Designers Revitalize a Traditional Bedroom Set
Your chosen color scheme is en pointe, your traditional bedroom set is positively sumptuous, and now your master bedroom could stand in proud company with a five-star hotel room. Only . . . you don't particularly want a hotel room. You want a home. Your home. Let our designers show you how to lift a traditional bedroom set out of anonymity.
Take Stock of Your Traditional Bedroom Set
Let us give you a for-instance: Some of our Amish bedroom sets come complete with two nightstands, a dresser with matching mirror, an armoire and chest of drawers – and that's in addition to the bed! Others, like the Four Poster Johnson Bedroom Set below, have fewer pieces and a little more room to play:
So when you're considering new furniture pieces or accessories to add to the bedroom, consider what you could conceivably be missing, first.
Define the Style of Your Bedroom Set
Before you can begin to give your bedroom some extra spice, you'll need to determine its current heat level. Some bedroom furniture comes pre-packed with a punch, like this thoroughly rustic bedroom set, where the head- and footboards, the drawer fronts and the pulls all include bark and twigs:
Don't get us wrong – we think this level of commitment to a style is amazing, but we're certain that it's not for everyone, and also certain that pairing this rustic style bedroom furniture with another highly stylized accessory (like an Eames chair in the corner, for example) would cause a fair amount of cringe.
Have a gander at your bedroom set. If a style doesn't jump out at you, you're free to accent as you please! If your furniture style is more defined (midcentury modern, minimalist), just opt for transitional or traditional accessories and arrangements to keep the winces away.
So now that you've laid the groundwork, let's get to the fun part! Here are some additional bedroom furniture options for a masterful master:
Snuggle up to a Bedroom Chair
Oh, the possibilities! Often a welcome respite from a hectic household, a corner chair in the bedroom is also an opportunity to add pizzazz to a traditional bedroom set. We lean toward upholstered seating for this kind of chair (it keeps the bedroom feeling plush) and playing with your bedroom accent color here. Use the chair to hit a bright yellow note in grey bedrooms, for instance,or a deep red tone in true neutral bedrooms.
Bold stripes would introduce a more modern theme to your bedroom, thin stripes typically feel more coastal, and muted florals would carry a romantic mood to around the room.
Make a Nook
We love a reading nook for a bedroom, both for escapism and for display. A bookcase allows you to add some of your favorite trinkets or art to the most personal room in the house while carrying on the cozy.
Add a Writing Desk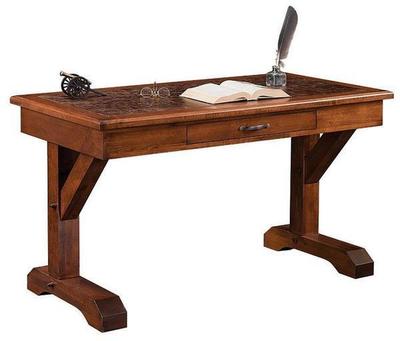 A large master bedroom is an ideal spot for an informal home office, complete with a desk like the Shakespeare Writing Desk. If your style leans more coastal, then look for a whitewashed, distressed secretary desk. If your bedroom is leaning modern, a sleek glass and metal desk or even lucite could work!
Consider A Vanity
If desks or chairs don't quite loosen your bedroom bind, you can always get more fancy with a bedroom vanity! An exquisite, luxurious space to prep makeup, store jewelry and set your curlers, a bedroom vanity can go mod just as easily as it can go Old Hollywood – simply swap out the heirloom, solid wood vanity shown above for a pared-down and mirrored model. Very Mad Men.
Don't forget that rugs, lighting, plant life, and art can all pile on the bedroom personality, as well! Let us help you find the traditional bedroom set that adapts to your lifestyle at DutchCrafters.com.