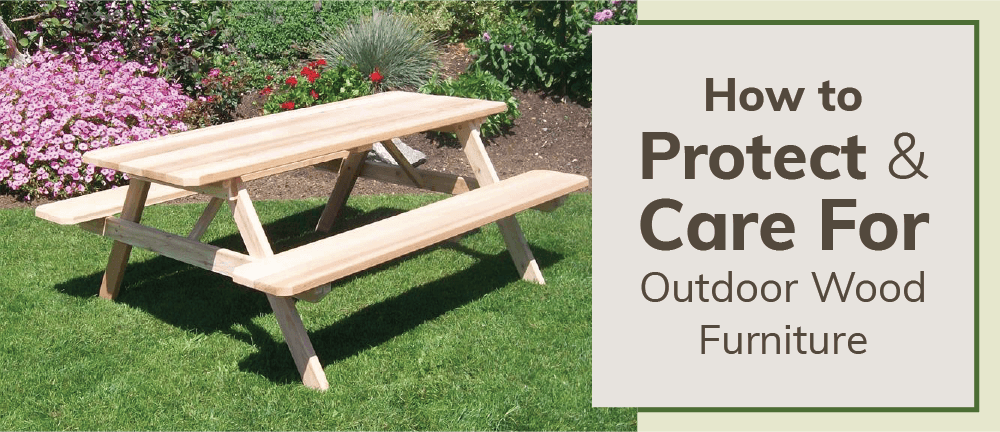 How to Protect and Care for Outdoor Wood Furniture
As we spend more time at home during this time of social distancing, some of those projects we always mean to get to can rise to the top of the list. Like outdoor wood furniture. When was the last time you cleaned yours? To extend the life of your outdoor wood furniture, occasional cleaning is recommended. What's the best way to go about cleaning it, and what are some tips to help protect it?
Let's take a look.
Cleaning Outdoor Wood Furniture
Dusting First is a Must
Grab a cloth or a brush and go over your outdoor wood furniture carefully, cleaning off loose dirt, dust and debris, and getting rid of cobwebs or leaves.
While you're dusting is a good time to carefully inspect your outdoor wood furniture for any loose screws or parts that need to be tightened or replaced.
Getting It Clean
Next, wet your outdoor wood furniture with a gentle spray from the hose. Use a cloth or rag that's moistened with water and a mild soap (Dish soap like Dawn is fine. Mix ¼ cup per gallon of water.)
For deeper cleaning, you can use a soft scrub brush. Always wipe or scrub in the direction of the wood grain.
It's recommended to clean your outdoor furniture at the beginning and end of summer, the season when you'll likely be using it the most.
Dry Thoroughly
Dry the wood with a rag or cloth then set it out in the sun to dry completely.
What About the Cushions?
If your outdoor cushions come with cases that you can remove, simply take them off and follow the instructions for washing them.
For other outdoor cushions:
Vacuum first to remove dirt and dust. You can also dust them with a cloth if you prefer.
Mix dishwashing detergent in warm water (1 tbsp detergent will do) for a gentle cleansing solution. Dip a sponge in the solution and scrub the cushions.
Rinse with a hose.
Towel dry cushions and then let them air dry.
Tips for Protecting Your Outdoor Wood Furniture
Clean It When You See It
If you notice bird droppings, grime, or a stray glob of sunscreen on your wood outdoor furniture, clean it off as soon as you notice it. This will help prevent permanent damage or staining.
Cover Up
If you know you won't be using your outdoor furniture for an extended period, consider investing in furniture covers, even if the wood is strong enough to weather the elements. Covers provide added protection for your outdoor wood furniture against the wet rain and drying sun, which will help extend the life of your furniture.
Bring It Inside
Another effective way to preserve your outdoor wood furniture is to bring it inside. If space allows, bring in wood outdoor furniture that you know you won't be using for an extended period of time.
Consider storing outdoor furniture during the winter months when there's not a need for it.
Avoid Power Washers
Power washing your outdoor wood furniture is not recommended. Even on light settings, the water pressure can be too much and can cause damage. A setting that's too strong can cause seams in the wood to open, leading to cracks later on. It's safer to stick with a garden hose.
Should I Use A Sealant?
Cedar is naturally resistant to rot and decay. It looks beautiful unfinished. Without sealant, it will eventually weather to a silvery gray color.
Adding a sealant will help preserve the colors in your cedar outdoor furniture. However, it's important to remember that sealants will need to be re-applied every few years.
Southern yellow pine is good at resisting outdoor elements too. Pine wood outdoor furniture is treated to keep it strong outdoors.
Both cedar and pine outdoor furniture should be cleaned from time to time, and if a sealant was used, it should be reapplied every few years.
Keeping up with cleaning outdoor wood furniture throughout the year will help preserve the life of your furniture.