Cheers to the Perfect Home Bar Space
With the holidays just a short time away, we're thinking about our favorite part of the festivities: entertaining.  A home bar is the perfect addition to your living or dining space. It provides a functional gathering area for friends and family alike to enjoy themselves.
A home bar is a great investment. Not only will it serve as the center of many gatherings, but it will also act as a décor piece where you can express your style. Dress it up for the holidays and down for casual get-togethers.
We've picked out our favorite Amish-made home bars (and a wine cabinet) to help you decide what will work best for your home.
The Classic
A home bar with a classic design is an excellent backdrop for all occasions. You and your guests will love gathering around the beauty of a bar as timeless as your favorite martini.
Our Amish Kennedy Bar and Wine Cabinet offers sophisticated function for your home entertaining needs.
The Rustic
A rustic home bar fits right in with the concept of creating your own drinks. This natural element goes hand-in-hand with the making of your handcrafted cocktails.
Enjoy homemade margaritas at our Amish Rustic Wood Bar.
The Hidden Treasure
Consider selecting a home bar that does double duty. For the wine connoisseur, a cleverly crafted cabinet serves many purposes.
One of the focal points of our Sarasota, Florida Showroom, the Amish Napa Wine Serving Bar opens to reveal spacious storage and is tucked away just as easily.
Here, it is pictured in store to help create a cozy atmosphere.
The Outdoor Oasis
Although summer has come to a close, you'll still want to think about outdoor entertaining for future occasions. A backyard home bar is a great way to enjoy the warm weather while also staying hydrated.
If you like piña coladas, you'll love our Berlin Gardens Poly Outdoor Bar Set with Backless Bar Stools, styled here with woven baskets for organization and fresh fruit to enjoy by the pool.
Be sure to browse all of our American made bar stools to find the perfect fit for your home bar.
Home Bar Essentials
No matter how you style your home bar, you'll want to keep a few essentials on hand at all times. Check out our handy checklist below for everything you'll need to create your favorite drinks and more.
Glassware
With a few varieties of glasses kept in your home bar, you'll be ready for any occasion. We recommend having stemmed glasses, as well as a selection of short and tall glasses. These three basics are sure to have you prepared to tackle any drink recipe.
Barware
Having these tools readily available in your home bar will make things flow smoothly throughout the night. You'll need:
Bottle opener
Ice bucket
Cocktail shaker
Cocktail strainer
Bar spoon
Jigger for measuring
Accessories
This is where your personal touch will really shine. Add a pop of personality with your favorite decorative coasters, cocktail napkins, and a delicious-smelling candle to create some ambiance. A serving tray is a nice touch as well. We also recommend having a few drink recipe books at your home bar to keep you inspired.
Print out our Home Bar Essentials Checklist to help you stay organized while you shop.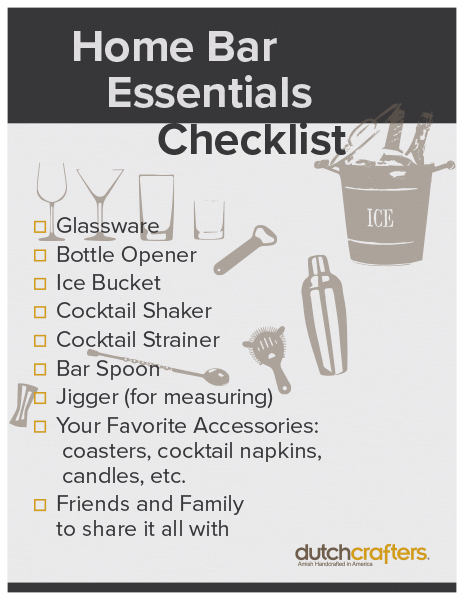 And don't forget the most important essential for your home bar: friends and family to share in all the fun! Cheers!