A special relationship exists between a boy and his dog, a teen and his first car, and of course, Dad and his favorite chair.  The chair he jumps up from to cheer on his favorite team, the seat where he enjoys a fresh cigar after a long work day, and the only place just right for his Sunday afternoon nap is his sanctuary.
What links Dad to that one special chair?
The Construction
Marcel Breuer of Hungary is credited as the developer of the first lounge chair in 1928, using chrome-plated tubular steel and natural leather upholstery.  Charles and Ray Eames propelled the lounge chair with ottoman to iconic status in the 1950s. Eames utilized the smooth curves of molded plywood covered by a veneer of rosewood to form three shells that made up the headrest, backrest and the seat of the chair.  The shells and seat cushions were of the same shape and were interlocked to form a solid backing. It has become so revered that it is a part of the permanent collection of New York's Museum of Modern Art.
Our Amish McCoy Morris Chair is an example of how far the lounge chair has come with craftsman style lines supporting the comfort of the chair.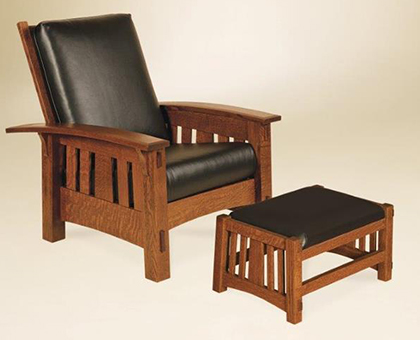 The Amish Goshen Shaker Recliner adds paneled sides combined with top-of-the-line leather to create Dad's favorite oasis.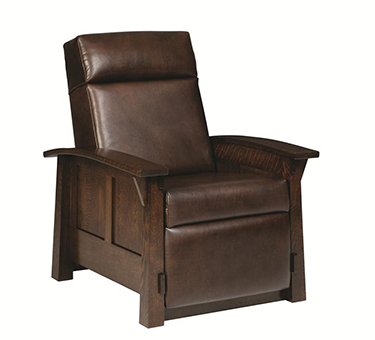 The Style
Combining a warm, inviting style with a functional design, the smooth curves of molded plywood on the Eames lounge and ottoman succeeded in making modern furniture comfortable, paving the way for future models.
Dad's favorite chair isn't just a place to sit, it has become a design statement as well as his refuge.  Our Amish woodworkers have found ways to feature the beautiful grain of wood along with building a relaxing chair, like in the Amish Heartland Mission Custom Recliner.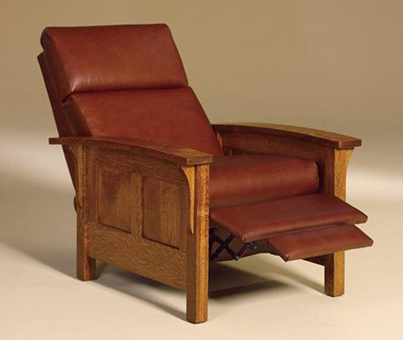 Is Dad always at his desk?  A desk chair can also become Dad's favorite seat with sleek comfort like the Amish London Desk Chair.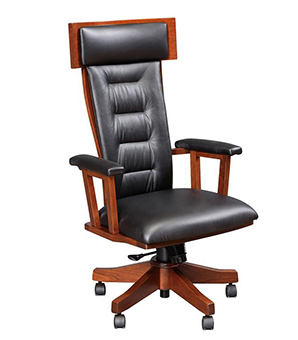 The Comfort
The ultimate lounge chair is made for relaxation.  After Dad's long day, the best go to place to spend time with family, friends or by himself should be one of comfort and support. Lounge chairs, armchairs, wingchairs and club chairs, with their deep seats and heavy upholstery, are ready to fit the bill.
For the Dad who loves to make the outdoors his sanctuary, an Adirondack design like the Amish Poly Fan-Back Adirondack Chair is perfect to settle back in.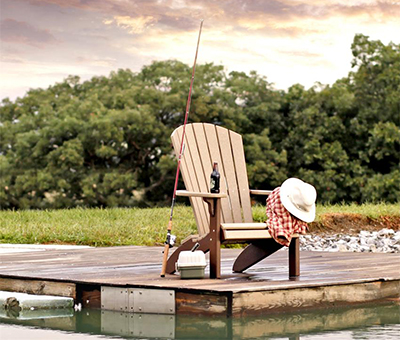 The chair is more than a seat with a back and four legs.  It's a relaxing sanctuary, a luxurious design statement and a familiar friend. There's no denying that a cozy chair is one of Dad's favorite things.  Keep the two of them together with a style that expresses him best.