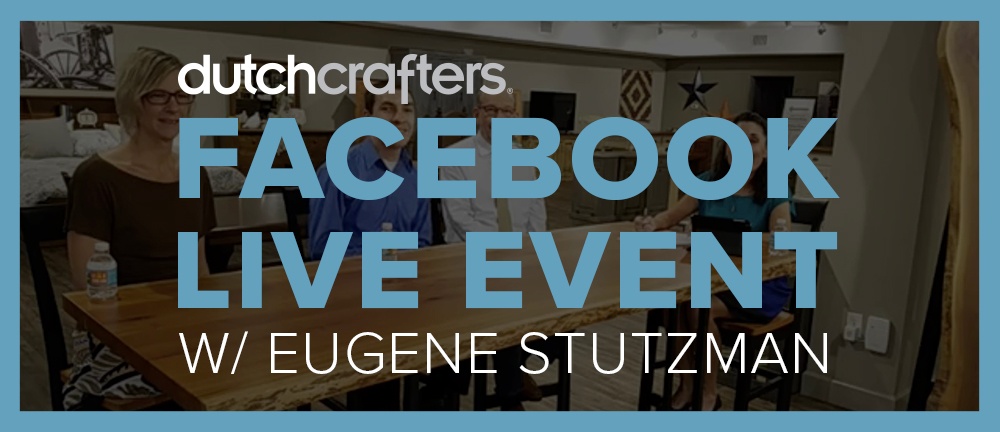 DutchCrafters Facebook Live Event with Eugene Stutzman
We recently hosted a Facebook Live Q and A session in the DutchCrafters showroom with Eugene Stutzman, Debra Gingerich and Jake Smucker, the subject, producer and director of the documentary short film, Eugene Alexander: The Fashion of Eugene Stutzman.
*Answers have been edited for clarity.
BETH: Will each of you start by telling us a little bit about your part in this film? We'll start with Debra.
DEBRA: I am the Director of Marketing at DutchCrafters, and I was the producer for this film. That mainly meant that I got to give input as Jake was filming and editing and just trying to make it as easy on him as possible to create.
JAKE: I directed, shot and edited the film and coordinated interviews with Eugene. I conducted some of the interviews and took Debra's expert advice on what we should do for the direction of the film.
EUGENE: Was I the star of the film?
JAKE: (Nodding) And subject.
EUGENE: I really enjoyed working with Debra and Jake, and I hope you all have questions for me.
BETH: Eugene, what was the first moment that you really felt like you made it and you belonged in the New York City fashion world?
EUGENE: Well, it was wintertime and we had shipped our first batch of clothes in New York to Saks Fifth Avenue. Rockefeller Center is right across from Saks and then there's the ice skating rink. Alex and I were sitting on a bench there in front of Saks and we were looking at—we had the window—and we were looking at our clothes. We were thirty years old. Being in Saks meant you had clout. That's when I first felt that yeah, we had made it.
BETH: How does it feel to see a dress you designed in a movie? What movies have you seen your dresses in?
EUGENE: We were in a lot of TV. We actually did more TV than we did films. The film studios and the TV networks in New York City have buyers whose job it is to go out and look at the garments that they might need. Our first big movie was No Way Out. They ordered two or three dresses because there's a scene with Sean Young and Kevin Costner in the back seat of a cab and all of a sudden the shot is of the cab going and the dress flying out of the window. So, they needed a very recognizable dress which this was, and they had to have a couple extra for re-takes. But if you see the movie, it's one of the interesting shots when the dress comes flying out of the cab. And then Down and Out in Beverly Hills was a comedy with Bette Midler that was a lot of fun- we worked on that and Broadcast News—a lot of movies I just can't remember now. If Alex were here he could tell you because he was very much into that. Dolly Parton, Mary Hart, Elizabeth Taylor we designed for.
BETH: Debra, you've known Eugene for a while, did you learn anything new about him through this process working on the film?
DEBRA: A lot of the stories Eugene told are ones that I have heard off and on through the years. I think one thing was actually seeing the dresses up close. I hadn't really had that opportunity before actually seeing how they're made on the inside and the outside. And that is probably what inspired me to recently purchase a Eugene Alexander dress myself because I knew that when I got it that it was going to look as good as new and it does. I knew they were beautiful dresses, but I think it surprised me to see how well made that they were all these years later.
EUGENE: If I may just add something. The customer that originally wore that dress was not like you. This was a pampered older woman and the inside of the dress had to be constructed–as you know it has boning, a super heavy-duty zipper and all this. Our customer back then, they didn't kayak, they weren't going to the gym, you know? It was a softer customer, does that make sense? So it was so great when I saw Debra's dress with this great svelte body that she has. It's just great to see that this dress which was originally made for a totally different customer is still working and looks great.
BETH: Eugene, what was your creative process like? How did you and Alex come up with your dress designs?
EUGENE: You have to have your fingers on the pulse of what's going on in the culture. Like I said before, you have to understand the customer and what the functions are that they're going to be wearing these dresses to, especially on special occasions. It was very important to the customer to have something outstanding. And back then in the stores like Neiman Marcus, Bloomingdales, the sales people would be very careful, they would actually have little note cards with what the occasion was, say the Mistletoe Ball or something like that — and they would list which customer had which dress, so they wouldn't duplicate. And when the dresses would come in they would pull the notes.
A lot of times fashion is what looks new and what looks old. So it's almost reactionary in that way meaning like—oh that body looks old—we need a silhouette of a dress. You're always looking to see things maybe historically looking at old Vogue magazines from the fifties, or we would go to the Metropolitan Museum. They had great collections of dresses and we'd get inspired. And color—we all know when we're tired of a color, even me. It's funny to watch an anchor man and their little ties and their shirts which is the only expression men can do with color. You'll see trends—Chris Matthews is wearing a blue checked shirt and then all of a sudden this trend will catch on and you'll see it. This was extremely popular (indicating Jake's shirt), cornflower blue and still is. So, you watch those trends, take a big color like cornflower blue and you go to the fabric people and low and behold there's cornflower blue silk taffeta.
BETH: Jake, what were some of the challenges you faced in making this film?
JAKE: Well, working here at DutchCrafters made it easy for me to have the time and the equipment I needed to produce the film. It was a very simple film shoot. It was basically zero budget and we filmed here in the showroom, we filmed upstairs in our building, we filmed at Eugene's organ shop. If you watch the film you'll see why he now has an organ shop. But it was mostly just me filming, sometimes also setting up lights, directing and asking the questions during the interviews. In some ways that was a challenge, but I also think that helped to make the film what it ended up being. We had a singular vision for the film, and we were able to work together to make that come together. I would say that was one of the biggest challenges, but it was also exciting, it was fun.
BETH: Eugene, how do you think your Mennonite upbringing around the Amish influenced your career in fashion?
EUGENE: Well, on maybe kind of a superficial level, I believe that the simplicity of the beautifully made clothing and quilts that I grew up with, with their color blocking, gave me an appreciation of pure color and good design and the craftsmanship. Also, growing up Mennonite and a pacifist and as a conscientious objector during the Vietnam War, which Alex and I both were, we had a great social justice sense with regard to labor conditions in the garment world. Thankfully it's getting a lot better, but in the 80s it was still pretty much sweat shops that made most of our competitors clothes. My Mennonite upbringing had a tremendous value placed on human rights and social justice and non-violence. A lot of times Alex and I both were just abhorred at what was happening in the industry and we spoke out about it. And our labels proudly said Made in the USA which we could do because we paid a fair wage and all of our clothes were made right here. I would say that's the main influence of my Mennonite upbringing
BETH: Debra, have you ever produced a film before?
DEBRA: I have not produced a film before. I've worked on supporting a lot of videos and commercials and such, but not a documentary like this. And when we started, I don't think we knew the path that this was going to take. We started by being a business sponsor for a fashion show and art exhibit that would be showing Eugene Alexander dresses and started thinking about promotional videos to support that and at some point Jake looked at me or I looked at him and said, "There's a documentary in this." So that's really how it came about. Fortunately, Jake is a great storyteller. So even before we were thinking that we would use the video in this way, he was already creating a story that we ended up developing. I had the fun part, watching what Jake put together and giving my opinions here and there. It's been a delight, this project.
JAKE: I think I had the fun part too.
EUGENE: I have to say that we were unscripted pretty much and Jake—his questions and the way he would phrase them and the feedback he would give were excellent. He would let you know if you were on the right track and give you very good eye contact and very good feedback, which I'm not sure all directors do. That really was great. That really helped me a lot cause we were kind of winging it. I hope everyone enjoyed it.
JAKE: When it started out, we obviously knew that he had made great dresses and Eugene Alexander had had a lot of success in the New York City fashion industry and here in Sarasota with their shop. But once we started doing the interviews, it became pretty clear pretty quickly that the intrigue here is Eugene's life and his relationship with Alex and as I started to hear him talk about that, that's what I wanted to hear more of and that's what ended up making the film really what it is.
BETH: What were some of the most rewarding parts of making this film?
JAKE: The most rewarding part. A couple thousand people have seen the film now. The most rewarding part is still seeing Eugene's reaction to it. Cause, if I make a film about somebody and manipulate what they're saying, manipulate the story and other people like it but he feels upset by it, then I don't feel like I did him justice. But going to a couple of film festivals, especially sitting in Sunscreen Film Festival in St. Pete, Florida with Debra and Eugene was rewarding. The project was over and I got to sit back and enjoy it, and I had a great time watching the film.
BETH: Eugene, do you continue to create today? Tell us about what you're doing now.
EUGENE: Well, I do. I have a workshop, and I am building pipe organ facades for digital organs for mostly churches. And also, right now I'm building gargoyles. During my time in New York City, I got to really appreciate the great art deco architectural details that are all over the city when you look up. It's incredible. And I think the most iconic are the eight gargoyles on the Chrysler building on the 77th floor. So I've recreated them. And I'm working with Jake again, and Debra, on promoting them.
BETH: I loved the film. One of my favorite parts of the story was when you talked about getting your jackets into the stores. Would you tell us about that?
EUGENE: We ended up eventually getting an agent, which for us was the way to go. An agent in New York represents several designers, and they can have a much better showroom than you can afford on your own. Going up 7th Avenue the buildings are more couture as the numbers go up. We were the 498 Building. In the 500 Building the rents are a lot more and there you would find in those days Bill Blass and Oscar de la Renta. But before that, Alex was just trying to get into the stores to see the buyers and you couldn't. So he got a brown shirt and brown pants so he would look like a UPS driver and the jacket was in a box that looked like a UPS box. And they just let him in. He said "Delivery" and they just let him right in and he was in the buying office, and he knew what the woman at Bloomingdales looked like cause her picture was in Women's Wear Daily at the time. So he opened the box and got out the jacket and showed it to her and she really liked it. Then later on we connected through the agent.
If I could backtrack a little to something Jake said. After the film showed in Orlando at the festival, this lady a little bit younger than me came up to me and she said to me that the story told about me being a little gay boy and my mother allowing me to work on sewing and things like that just reminded her of her son. She had tears coming down. And she was telling me how great it was to see a fashion designer who was openly gay and that it gave her hope for her son because she said she worries about his safety and things like that. That just made me feel so good.
If you haven't seen it, catch the documentary short film Eugene Alexander: the Fashion of Eugene Stutzman here.
You can view the Facebook Live Q & A with Eugene Stutzman here.