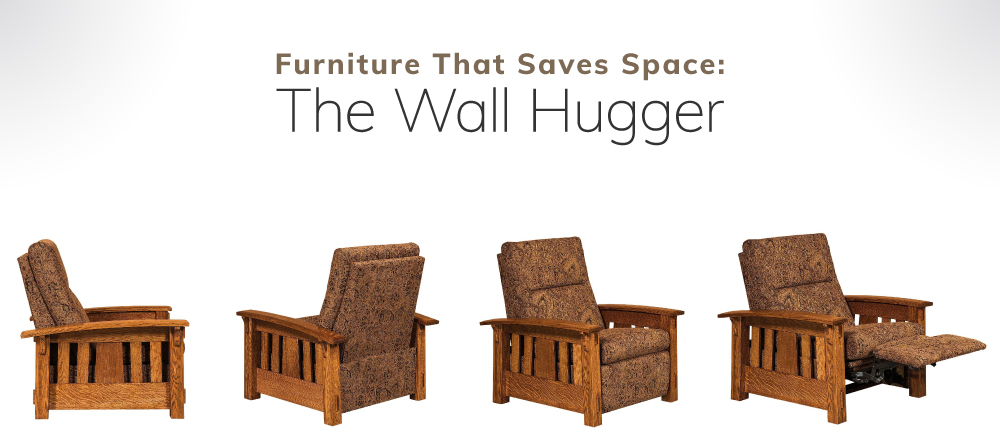 Furniture that Saves Space: The Wall Hugger Recliner
How do you preserve the Number One go-to spot for relaxing when you're short on space? We're talking about the cozy support of the reclining chair that's perfect for watching Netflix, reading on your Kindle, taking a nap or just getting away from it all. If you have a small living room, live in an apartment or want the perfect chair for your RV, there's a solution. It's called the wall hugger recliner.
WHAT IS A WALL HUGGER RECLINER?
A wall hugger recliner is all about forward movement. The way it reclines is going to take up less space than the standard recliner. Wall huggers come in all the latest styles with custom fabric or leather and it's built to take up less space.
USING YOUR WALL HUGGER RECLINER—HOW IT SAVES YOU SPACE
Wall hugger recliners move forward and away from what's behind them, leaving a small gap of about 5 inches compared to the space required for a standard recliner, which is closer to 12 inches. In a wall hugger, the reclining mechanism lowers the back down, pushes the seat forward, and moves the footrest outward. (This will make it necessary for you to be careful of what accent tables you use with it so the footrest doesn't hit the tables.)
With the seat of the wall hugger sliding forward, it saves on floor space and it won't bump whatever is behind it, jarring you out of your peaceful moments! While wall hugger recliners can be placed close to a wall or other furnishings, they cannot be placed directly up against them.
HOW CLOSE TO THE WALL SHOULD A WALL HUGGER RECLINER, SOFA, OR LOVESEAT BE PLACED?
You can position your wall hugger recliner about 5 inches from the wall versus a standard recliner that needs about 12 inches. Wall huggers are intended to be placed close to a wall or other furnishings. They extend forward when reclining so that they do not bump into whatever might be behind them.
WHAT ARE THE DRAWBACKS OF A WALL HUGGER RECLINER?
In order to be close to the wall and take up less space, there is less range for the recline. But the magic of the wall hugger means you don't have to give up your comfy spot just because you're working with less space.
WALL HUGGER SOFAS AND LOVESEATS
The wall hugger model is available in sofas and loveseats too.
OTHER TYPES OF RECLINERS
ROCKER RECLINER
This kind of recliner combines the best of two worlds with a rock and recline. This is a nice option for nursing mothers to keep them comfortable during late night feedings as well as throughout the day.
SWIVEL RECLINER
The swivel recliner adds a smooth swivel motion to a comfy rock and recline.
WHAT TO LOOK FOR WHEN CHOOSING YOUR RECLINER
Be sure to look for good support for your head and neck and a mechanism that will be easy to operate.
Ask about the framework. A solid framework with heavy duty hardware and no plastic parts is better. Hardwood frame construction will last longer.
Decide on what mechanism you prefer as in manual or power options.
DON'T FORGET TO MEASURE
You'll want to measure your space to be sure there's enough room for the wall hugger to come forward (think about tables or other living room furnishings positioned near your chair), recline back, and still leave some space for you and others to move about the room, even when the seat is reclined. Remember to leave sufficient space in front of your wall hugger recliner for the footrest to pop up without hitting anything.Measure the recliner's width and length when fully reclined. I joined DutchCrafters Furniture Specialist Sara down in the DutchCrafters store to look at a standard recliner we have in the showroom.
The Mission McCoy Power Recliner measured 66″ from top to bottom when fully extended with footrest. Sara describes this McCoy as a chair that offers an "infinite number of positions," but it will need more room than a wall hugger would to provide a recline like that.
Keeping the delivery of your furniture in mind, don't forget to measure entryways, hallways, doorways, stairyways and any spaces your furniture would have to pass through to make sure you can get it into the intended room.
What is your living room space like? What are some of the challenges of living in a smaller space and how do you make it work?