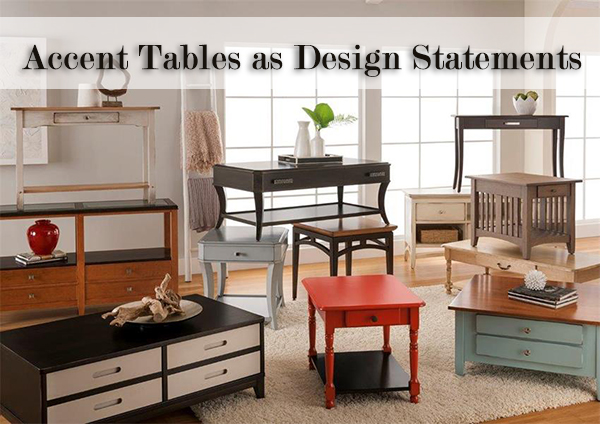 Accent Tables as Design Statements
Accent tables, whether used to hold a drink, set a magazine or prop up your feet, can also accessorize a room or communicate your design style. Changing your accent tables can turn a tired room into a furniture fashion statement. Here are some ideas for using accent tables to make a room pop.
Different Textures
Usually people don't think about texture when they are designing a room, but it is often what adds excitement and a sense of the unexpected. Texture does not only add different senses of touch, it also adds visual weight. Accent with the feel of the natural edge of wood as well as some bark texture with the Live Edge End Table with Steel T Base. Reclaimed wood also offers unique textures from the years of outdoor wear and tear on the wood, like shown here in the Reclaimed Wood Imperial Sofa Table. The feel of naturally aged, truly reclaimed wood cannot the imitated.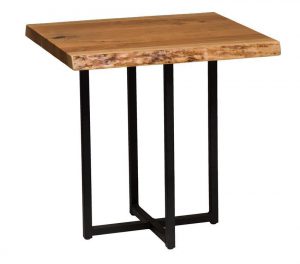 Live Edge End Table with Steel T Base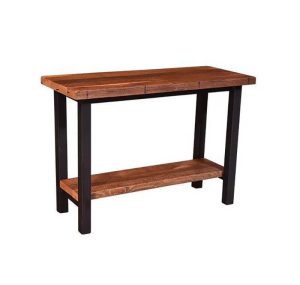 Pop of Color
There is a reason why people are often drawn to neutral colors. The eye doesn't tire of them as much as bright colors. But bright colors can add a sense of whimsy and flair to a room. Accent tables are a smart way to add a pop of color into a neutral room that is not overpowering and keeps a sense of calm along with some fun. Red is a color that always stands out in a crowd and also matches well with black and browns. A cool color, like those used on the Pine Wood Cottage End Table with Drawer adds a sunny mood to a room.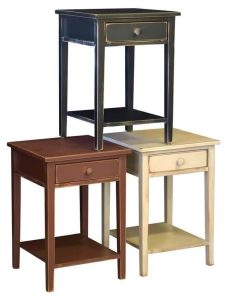 Pine Wood Cottage End Table with Drawer
Unique Pattern
Pattern is having a comeback in interior design. Even patterned wallpaper is seeing a revival. Without the ability to edit, though, pattern can get out of control. One way to bring unique patterns into a room without turning it into an eyesore is with accent tables. Whatever your taste, there are many patterns to choose from, whether it's the curved patterns in the legs of the Old Classic Sleigh Open End Table or the combination of square edges and oval curves in the Coventry Sofa Table.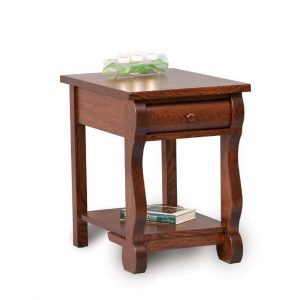 Old Classic Sleigh Open End Table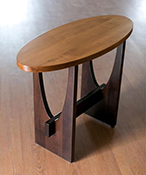 Coventry Sofa Table
Add Lines
Lines can serve many functions in a room, and the kinds of lines you choose to add to your design may depend on your goals. Long vertical lines, like in the Amish Omni Sofa Table, lift the eye upward and can make things appear taller.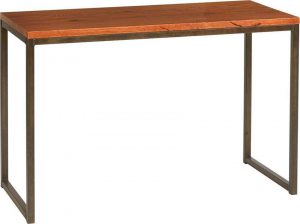 Mix and Match Designs
Mixing up designs and styles is often suggested as a way to add the unexpected to a room. But, honestly, most people can't pull it off without the room looking like all of the leftover furniture from the rest of the house was thrown into one space. Sidestep those mistakes all together by letting one or two pieces of furniture do it all for you. Mix wood types and stain colors, like shown in the Amish Christy Round End Table. Or mix up delicate steel with a thick slab of wood, like in the Urban Reclaimed Hairpin Coffee Table.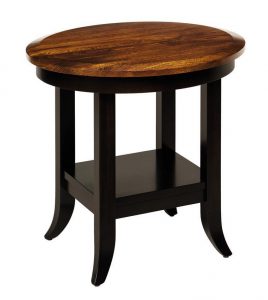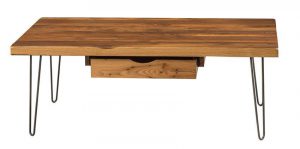 Urban Reclaimed Hairpin Coffee Table
Go Glam
Probably some people turned up their noses when they read, Go Glam. Adding glamorous accents (that may also be a little kitschy or over-the-top) is not for everyone but it will certainly catch the eye and make a statement. If you are the kind of person who likes the unique and stand-out pieces, the Amish Hand Forged Buckingham Iron Table may be for you.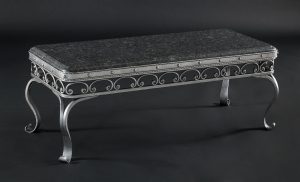 Amish Hand Forged Buckingham Iron Table
Bring the Outdoors In
Solid wood furniture offers many opportunities to add a sense of the outdoors inside. For those who crave the feel of the outdoors as well as a statement piece, rustic hickory furniture like this Sofa Table or Coffee Table are the perfect mix of natural and unexpected.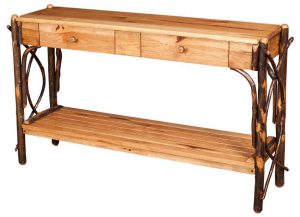 Rustic Hickory Northwood Sofa Table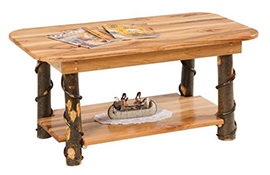 Boone Rustic Hickory Coffee Table