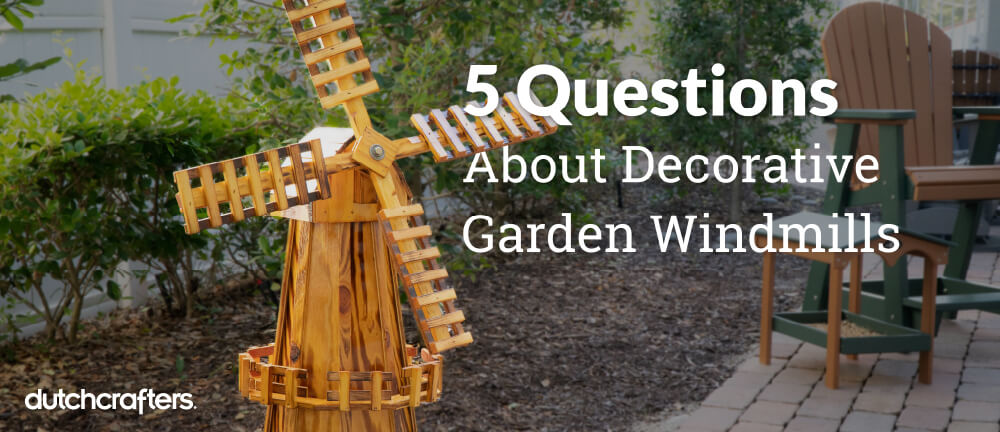 5 Questions About Decorative Garden Windmills
Decorative garden windmills make a lovely addition to home or business. They offer a warm greeting and a unique look. Whether you use them for yard, garden, or landmark, some questions may arise. Here's some helpful info on what to expect with a decorative garden windmill.
A Little Windmill History
Windmills, also called wind pumps or wind turbines, go way back. Who made the first one in the United States? That honor goes to Daniel Halladay from Connecticut, who began inventing them in 1854. His windmill inventions helped pump water on farms. Windmills also helped with the expansion of railroads that needed water to operate steam driven engines. More than six million windmills were installed and used in the United States between 1850 and 1970.
Parts of a Windmill
The first windmills were made with four blades and a tail-like piece to turn into the wind. Models eventually developed into a multi-blade system that's still used today for pumping water. Iron and steel are popular materials to make windmills with since it is not costly to repair them. Decorative models for home and garden are often made with poly (made from recycled plastic) or wood.
Decorative Amish Garden Windmills
Decorative garden windmills are charming to use as a yard or garden accent. They can complete an outdoor scene and can also be used to cover areas you'd like to conceal. Their colors and stature also contribute nicely to providing an easy to spot landmark for home or business.
Questions About Decorative Windmills
How do you anchor the windmill?
Amish garden windmills like the Amish Made Poly Two Tone Dutch Windmill come with 2 ½ inch holes to accommodate the appropriate anchor kit for concrete slab, wood or ground. Anchors are not included, but can be purchased at your local hardware store.
Can decorative windmills be used to cover a well or pipe?
Some Amish windmill models are hollow and can be used as covers for an unsightly area or fixture. Be sure to measure the area and check the windmill dimensions for the right fit.
Do the blades really turn?
Yes. The blades do react to the wind and will turn. Some, like this Amish Pressure Treated Dutch Windmill, have a swivel option that allows the head to swivel too.
Is assembly required?
Minor assembly is required for some windmill models. This medium sized Amish Two Tone Poly Windmill weighs approximately 32 lbs and requires minor assembly.
Can I choose colors for my windmill?
Poly windmills are made from recycled plastic and come in a wide variety of colors from neutrals to brights. You can easily add a pop of color to your yard or garden.
Are your windmills made with solid wood?
Yes. For our solid wood Amish windmills, you can choose from aromatic red cedar or yellow pine wood. Cedar is popular for its rich red hues and its ability to naturally repel insects, and pine is valued for its durability and affordability.
How can I customize a decorative Amish windmill?
Customizations include choice of color for poly windmills, stain for wood windmills and various size options.
Amish made windmills are built to last and will brighten your outdoor scene for many years. Remember to measure your space when selecting a decorative Amish windmill for yard or garden to ensure just the right fit.