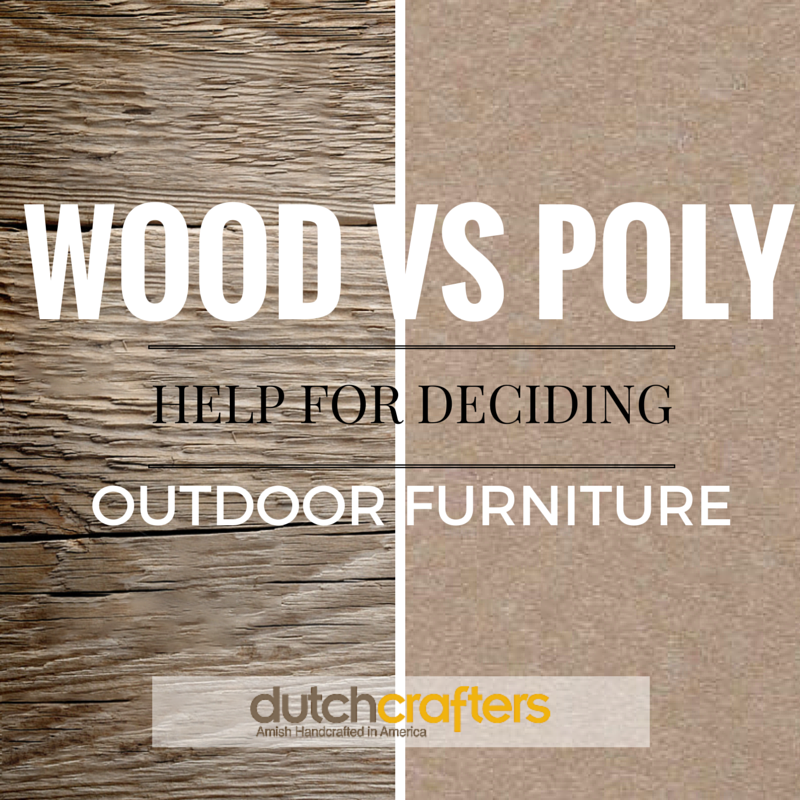 Wood vs. Poly Outdoor Furniture: Help for Deciding
This blog post was updated on April 1, 2019.
One of the most basic and biggest decisions that you'll make when choosing outdoor furniture is whether you want to invest in Poly lumber or solid wooden material. The choice you make here will have a huge bearing both on how the furniture will look and how it will hold up to the elements.
We picked the brains of our furniture specialists, our customer service team, and the bosses to get some expert perspectives and some personal preferences about choice between outdoor wood furniture or Poly material outdoor furniture. What we found is that each material has its benefits, and that the choices don't end once you've settled the Poly-vs-wood debate.
Poly
Made from 100% recycled milk jugs, our Amish woodworkers use eco-friendly Poly lumber to craft everything from the classic, simple Adirondack chair to entire outdoor furniture sets and arbors. Here are some of the reasons our experts might choose Poly furniture:
1) 100% Recycled Material Saves Some Earth
The environmental sustainability of the poly lumber used to craft our outdoor furniture really hits home for some people here. Keeping detergent bottles and milk jugs out of landfills makes us feel like we're actually helping to preserve the beauty of nature — which is what gets us outside in the first place.
2) Over Time, You'll Probably Save Some Money
Poly furniture is definitely an investment in your outdoor space. However, considering it typically lasting 20 years or more — even in the most extreme climates — you can be reasonably certain that you'll get a substantial return on said investment. Our poly outdoor furniture is specifically made for a life spent outdoors, and most of our pieces are backed by a generous 20 year warranty for residential use to prove it.
3) You'll Save a Headache or Two
Poly furniture is maintenance free – really. It doesn't fade, crack, or splinter, and its composition resists mold and mildew. It's impervious to the salty sea air down here at the DutchCrafters headquarters in Florida, and it stands up to our Northern customers' snow-laden decks and lawns come winter.
The last point is really the one that sums up some of our favorite points about poly outdoor furniture – it's just plain easier.
But is "easy" all you're looking for?
Wood
Available in several different species, each with different strengths, wood outdoor furniture is time-honored, variable, malleable, and many of our specialists adore it for exactly those reasons. Here are some of the benefits they point out:
1) Don't You Want it to Weather?
If we're recalling the windswept, rocky New England coast in the springtime, we see it complete with soft grey or weathered white wood chaise lounges by the shore line. It's a character thing – wood furniture carries a story in its frame as a matter of course, and that story only grows more interesting and beloved as the familiar cracks and faded look emerge over the years.
 2) Why Not Keep Nature Natural?
If you're looking to enhance the beauty of your outdoor space, why not make the most of what nature is already giving you? Our wood outdoor furniture is regionally sourced and sustainably harvested from forests that many of our woodworkers have responsibly managed for generations. That feels pretty eco-friendly to us!
3)  What's Your Definition of Value?
Wood outdoor furniture is the more economical choice in the short run (it had to be said). And since some wood varieties are exceptionally resistant to bugs, fungi, and decay (like cedar) and others resist warping and rot by nature (like cypress), some of our experts agree that wood outdoor furniture can provide just about everything that our poly furniture does, and at a lower price point.
So, where are we at with this?
It really is going to come down to deciding what, exactly, is most important to you and your outdoor space. If you're looking for easy, bright, maintenance-free durability, you'll probably prefer poly furniture. If you're looking for organic, graceful, and [eventually] rustic character, then wood furniture will likely be your first choice.
Keep in mind that even after you think you've settled on a material, we anticipate that the array of wood types (plus stain options) and the sheer number of poly colors (plus accessories like cushions or pillows) may sway your decision. Go with it, keep an open mind!
Your outdoor furniture should speak to you, to how your family wants to enjoy the outdoors, and to your lifestyle. You actually already know what you want — now you have the information that you need to shop our outdoor furniture to find it.