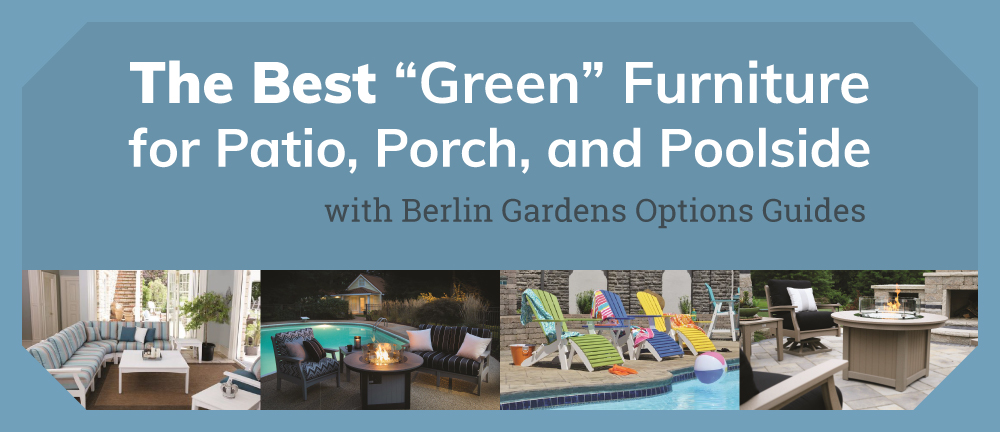 The Best "Green" Furniture for Patio, Porch and Poolside
The furniture makers at Berlin Gardens believe in taking life outdoors with poly furniture. Out to your favorite spot on the porch or lanai, out to the yard for some bird watching or to play with the kids, or out by the pool to enjoy the warmth of the sun with a good book and a delicious drink. They take you there with "green" furniture that's good for you, your lifestyle and the environment.
I've been to the Berlin Gardens shop in Ohio to see their outdoor furniture being made. Here are a few of the things I saw:
Amish men and women at work in the shop
Various machinery handled by Amish craftspeople to assist in a variety of tasks from making precise cuts to stuffing cushions
A room filled with stuffing for outdoor cushions
An array of bright colors everywhere from the product parts to the shavings on the floor
The Best "Green" Furniture
Berlin Gardens makes the best green furniture for patio, porch and poolside. It's made with poly lumber that is born from the milk jugs we recycle. This green furniture is sometimes referred to as "miracle furniture." Something that starts with recycling can be turned into highly durable, colorful, comfortable furniture.
On my lanai there's a beige colored table and chair set made of aluminum that my husband John and I inherited from his parents. Then there's a sectional John made himself in cedar wood with bright red cushions. Some years back, it was time to take down our girls' swing set that was made of pressure treated wood (pine I think). John cut it up and made it into two wood tables and chairs that we use in our backyard. He did this because I was having such a hard time parting with the swing set and all the memories it stood for. I like my outdoor wood furniture, it has a weathered look to it and sentimental meaning behind it. Yet I know the day will come when we won't be able to keep that swing set turned backyard furniture any longer. When we do have to replace it, we're planning on going with the green furniture that just keeps growing in popularity—poly outdoor furniture.
What Makes Poly Furniture "Green Furniture"
The green furniture that's taking on the outdoors is made of poly. Poly lumber is made from high density poly ethylene, or HDPE. The HDPE comes from recycled plastic, like milk jugs and detergent bottles. The plastic is recycled, shredded and cleaned, then it's melted into pellets. The pellets are combined with dye and UV protectant, then it's formed into solid colored poly lumber and made into furniture. Every 1,000 plastic milk jugs that are recycled yields about 100 pounds of poly lumber. Those milk jugs are not clogging landfills or floating in the oceans. They are transformed into green furniture that's sustainable.
Why Poly Furniture is called "miracle furniture"
If there's one thing that can spoil the fun time outside it's having to take time out to work on cleaning your outdoor furniture. Poly furniture practically eliminates the maintenance required with outdoor furniture sets. An occasional cleaning with soap and water is all that's needed. Poly won't warp, splinter or crack, and it resists fading. It can stand the heat, and it can take the cold. It's heavy enough to stay rooted if strong winds come through. These things cannot be said about all outdoor furniture.
Why Poly Furniture is Fun Furniture
Berlin Gardens furniture offers some of the most beautiful outdoor furniture available. The color options alone are something to get excited about. You can go with neutrals on the patio or go with bright team colors on the porch that draw attention. You'll also have more time to enjoy your poly furniture since you don't have to spend much time cleaning it. It's an investment that saves money over time since it will not break down or have to be replaced.
Here are some popular Berlin Gardens poly furniture pieces with the numerous options offered highlighted in these colorful infographics.
Facts About Berlin Gardens Furniture
Comes with a 20-year warranty for home use and a 5-year warranty for commercial use
Available in solid and two-tone color combinations
Available in a variety of styles
Typically ships within 10 business days from purchase
Some assembly may be required, depending on the piece
There's no doubt Berlin Gardens poly offers benefits all around. Would you go with this green furniture or do you prefer wood outdoor furniture? Why? We'd love to hear what your favorite spot outside is and what outdoor furniture you use there.